Hello Nature readers, would you like to get this Briefing in your inbox free every day? Sign up here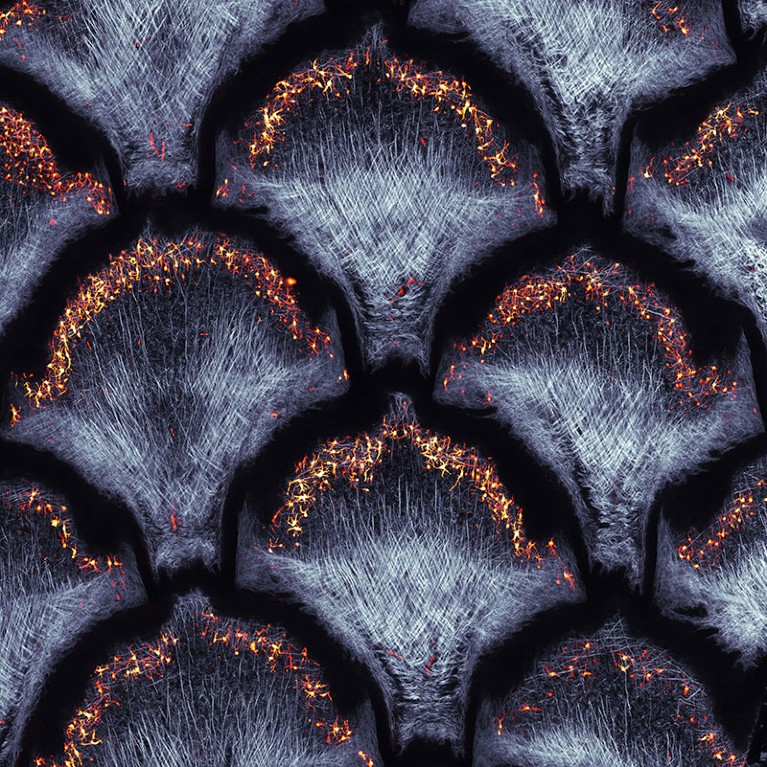 This confocal-microscope image shows the scaly skin of an African house snake (Lamprophis spp.) embryo in exquisite detail. The bright dots along the edge of each scale show dermal pigment cells, and the silvery criss-crossing strands are collagen fibres. Biophysicist Grigorii Timin captured the shot, which was a regional winner at the Olympus Image of the Year Award 2020.
See more of the month's sharpest science shots, selected by Nature's photo team.
The remains of 9 Neanderthals who died between 50,000 and 100,000 years ago have been unearthed in a cave outside Rome. According to archaeologists, the Neanderthals were killed by hyenas and dragged into the cave to be devoured. The bones were found in the Guattari Cave, the site of an earlier Neanderthal discovery in 1939. "It is a spectacular find," says archaeologist Mario Rolfo. "A collapse, perhaps caused by an earthquake, sealed this cave for more than 60,000 years, thereby preserving the remains left inside for tens of thousands of years."
Reference: Italian Ministry of Culture press release (in Italian but with some worthwhile videos)
Features & opinion
A race between the United States, China and Russia to militarize artificial intelligence (AI) is gearing up. A call by the US National Security Commission on Artificial Intelligence for "the integration of AI-enabled technologies into every facet of war-fighting" will only undermine the country's ability to lead emerging global norms on AI, argues legal scholar Denise Garcia. "Enhancing AI war-fighting capacity will decrease security in a world where the biggest threats are instability — political, social, economic and planetary," writes Garcia.
Standing up to a persecutor is tough, particularly if they are your supervisor. But you can take steps to defend yourself. Eight higher-education professionals who research bullying in academia offer sober advice about some of the options available, and how to protect your career and mental well-being in the process.