Hello Nature readers, would you like to get this Briefing in your inbox free every day? Sign up here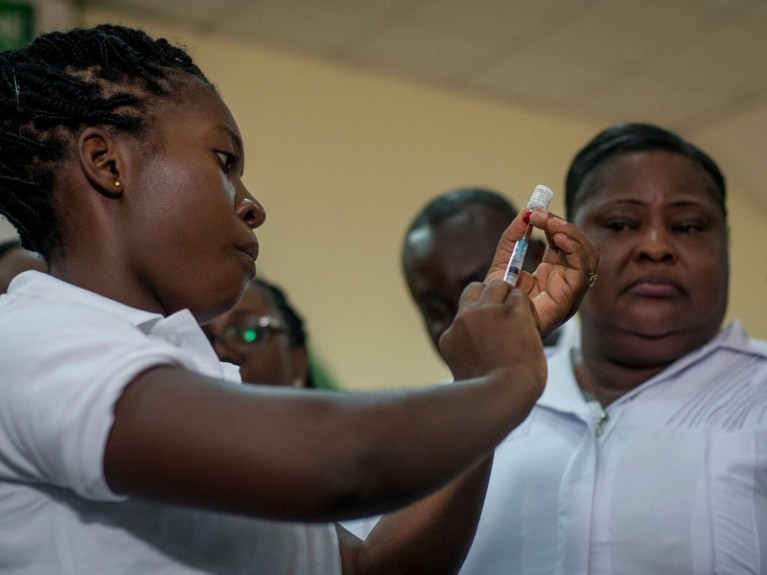 Next week, researchers will launch the next phase in a trial of a promising vaccine against one of the world's biggest killers of children: malaria. Last week, preliminary results from a small trial in Burkina Faso hinted that the vaccine, called R21, is up to 77% effective in young children. That study involved 450 children aged 5–17 months; the next one will have 4,800 participants. R21 is a modified form of another vaccine — GlaxoSmithKline's RTS,S — that has already been deployed in an ongoing study in hundreds of thousands of children in Malawi, Kenya and Ghana. R21 is designed to be both more potent and cheaper to produce.
Reference: The Lancet preprint
Features & opinion
In March 1950, an official from the Atomic Energy Commission — then the guardian of US nuclear secrets — oversaw the burning of thousands of copies of the magazine Scientific American. The contention? They contained information so secret that its publication could jeopardize the free world. The magazine burning is one of several arresting episodes recounted in historian Alex Wellerstein's book Restricted Data. Wellerstein chronicles the twisted path of nuclear secrecy from the early days of atom-splitting research, through the Manhattan Project, into the cold war and beyond.
"If it can help us to think critically about science and our goals, and to recognize that scientific progress is rooted in creative philosophical enquiry, and if it can prompt us to ask important questions, then I think we could all benefit from reading more philosophy." Genomics data scientist Rasha Shraim, who also has a degree in philosophy, shares some resources for scientists who want to think more deeply about ethics, logic and other big questions.
Microbiologist Thomas Brock dedicated his working life to the "weird critters" that thrive in the extreme temperatures of the hot springs of Yellowstone National Park. One species of bacteria he co-discovered, Thermus aquaticus, is key to the polymerase chain reaction (PCR) — backbone of the PCR test used today to detect SARS-CoV-2, among many other applications in molecular biology. Brock died on 4 April, aged 94. "He had an encyclopedic knowledge of microbiology and science in general," says his former student Stephen Zinder. "I think his real ability was to see things simply."