The United States has a new president, and is rolling out new plans for fighting climate change. Last month, President Joe Biden revealed a mammoth infrastructure proposal that would invest heavily in clean-energy technologies, electric vehicles and a modernized electric grid. Next week, he plans to use a climate summit to signal to the world that the United States is back on the climate stage — and make a heavily anticipated announcement about how much the country will curb its greenhouse-gas emissions by 2030.
The US has left the Paris climate deal — what's next?
Biden has committed to transitioning his country away from emissions-releasing fossil fuels and towards clean energy. On his first day in office, he moved to have the United States rejoin the 2015 Paris climate accord, which former president Donald Trump officially pulled the country out of last year. Since then, Biden has been laying the groundwork to reduce emissions at home while restoring the country's climate leadership abroad.
The president and his team of climate advisers hope these efforts will build momentum in the run-up to a major international climate meeting in Glasgow, UK, this November, at which countries are expected to present a new round of climate commitments. Ahead of the White House summit, set for 22–23 April, Nature looks at how Biden's climate strategy is shaping up, the international commitments he's likely to make and the roadblocks ahead.
How is Biden pushing forward his climate agenda?
The world got its first peek at his strategy on 31 March, when the White House unveiled a US$2.3-trillion infrastructure proposal that would launch historic investments in everything from roads and bridges to clean energy, climate resilience and social justice.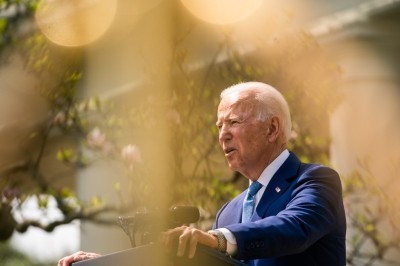 Biden pursues giant boost for science spending
In the transport sector, which is the country's largest source of greenhouse-gas emissions, the plan includes $165 billion to expand and improve railways and public transport, and $174 billion to help the budding electric-vehicle industry retool factories and install charging stations. It also calls for another $180 billion to be invested in research and development, including in clean-energy innovations. In the power sector, which Biden has pledged to decarbonize by 2035, the proposal would invest tens of billions of dollars in modernizing the electric grid, and create federal standards that ramp up requirements for energy efficiency and clean-power generation.
The plan now faces a US Congress that is deeply divided politically, especially with respect to climate change. But if the proposal passes, it will be the most significant US infrastructure investment since the launch of the country's interstate highway system in the 1950s — and much more important because of its expanded scope, says David Victor, a political scientist at the University of California, San Diego.
Are there any hints as to what Biden's 2030 climate pledge will be?
The administration has yet to divulge any numbers, but there have been some indicators. On 5 March, Gina McCarthy, who is Biden's domestic climate czar, sought input from several environmental- and science-advocacy organizations during a virtual meeting. Their recommendations were unanimous: the United States must commit to curbing its greenhouse-gas emissions to at least 50% below 2005 levels by 2030. This would extend and significantly strengthen the previous US commitment by former president Barack Obama to curb emissions to 26% below 2005 levels by 2025. It would also put the country on a path to zero out emissions by mid-century, which climate models suggest is necessary to meet the Paris accord's goal of limiting warming to 1.5 °C above pre-industrial levels.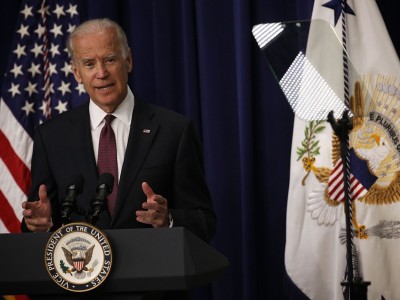 Can Joe Biden make good on his revolutionary climate agenda?
"We made it clear that 50% is the bare minimum, and we are pushing for even more," says Rachel Cleetus, who attended the meeting as policy director for the climate and energy programme at the Union of Concerned Scientists, an advocacy group based in Cambridge, Massachusetts.
Cleetus says McCarthy didn't reveal any details about what Biden is planning for the US commitment. "They were mainly in listening mode," she says. But the 50%-by-2030 pledge is gaining ground: on 13 April, executives from more than 300 major companies, including powerhouses such as Google, General Electric and Coca-Cola, signed a letter to Biden endorsing the target.
Although the Paris accord commits the world to limiting global warming to 1.5–2 °C, climate models suggest that the planet is currently on track to heat up by about 3 °C. If the world is to prevent this scenario from becoming reality, scientists say, countries must come to the climate summit in Glasgow with aggressive commitments to cut emissions — and then follow through with action at home.
There has been limited progress. The European Union has committed to curbing its emissions to 55% below 1990 levels by 2030, and the United Kingdom has committed to going even further, with a 68% reduction over the same period. Several countries, including South Korea, Japan and China, have announced aggressive climate targets beyond 2030, but the United States is now urging those countries to craft nearer-term targets that are aggressive and consistent with those goals.
Can Biden deliver on such a commitment?
Studies1 suggest that it's both technically and economically feasible for the US federal government to adopt policies that would achieve a halving of greenhouse-gas emissions by 2030 (see 'Fulfilling a pledge'). The same analyses also suggest that there are multiple avenues to that goal, and that US cities, states and businesses can do some of the heavy lifting by crafting their own climate policies and investing in clean-energy technologies.
The administration can take many actions on its own, such as regulating greenhouse gases and promoting clean-energy development on federal lands, but progress will be difficult if Biden and his fellow Democrats are unable to pass major legislation such as the infrastructure proposal through Congress. As things stand, the Democrats control both the House of Representatives and the Senate, but only by slim margins.
In the longer term, the question is whether policies adopted today will survive once Biden leaves office. Scientists say there is hope on this front. Consider the past four years: despite Trump's efforts to breathe life into the struggling US coal industry, which accounts for more than one-fifth of the country's carbon emissions, coal consumption continued to plummet in the face of cheap natural gas and renewable energy sources such as wind and solar. If Biden can create the right policies and economic incentives, the transition from fossil fuels to a modern economy that runs on clean energy will generate its own momentum, says Nathan Hultman, who heads the Center for Global Sustainability at the University of Maryland in College Park.
Will the United States be able to persuade other countries to take aggressive climate action?
The Biden administration is certainly trying to convince the world that it means business. John Kerry, Biden's international climate envoy, has been meeting with climate officials in various countries to discuss the road to Glasgow. Earlier this month, Kerry visited the United Arab Emirates, India and Bangladesh. And this week, he is meeting with with officials in China, the world's largest emitter.
There is a great deal of optimism about the Biden administration's climate plans, says Saleemul Huq, director of the International Centre for Climate Change and Development in Dhaka, Bangladesh. Kerry in particular has a long history with international climate diplomacy, and he has the trust of his counterparts abroad, says Huq, who met with Kerry and Bangladesh's foreign minister on 9 April.
The message Kerry is spreading during his visits is that the United States is back, and ready to lead with emissions reductions and financial aid. That helps boost international momentum, but what's really needed is action, says Huq. "The talk is all good, but we'll have to see what happens in terms of delivery."