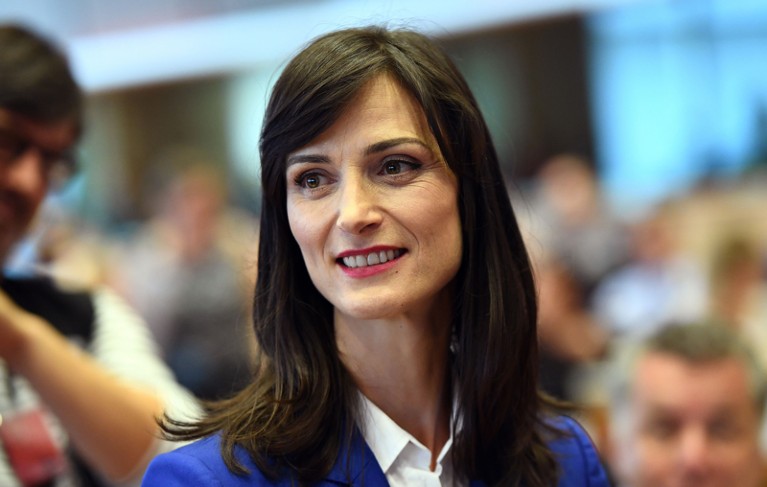 The European Union's new research programme, Horizon Europe, will distribute €95.5 billion (US$113 billion) over 7 years. The basic-research arm of Horizon Europe, the European Research Council, launched its first calls for grant applications in February. In the coming weeks, the European Commission will announce detailed plans for the rest of the scheme, followed by additional funding calls.
As commissioner for innovation, research, culture, education and youth, Mariya Gabriel is overseeing the implementation of the programme, which will be the first to include five goal-oriented 'missions' — on cancer, climate, oceans, future cities, and soil and food security — funded by a dedicated €4.5 billion.
Gabriel is a political scientist and a member of Bulgaria's conservative GERB party, and was a Member of the European Parliament from 2009 to 2017. She has served in the commissioner post since 2019, when she replaced research commissioner Carlos Moedas, from Portugal.
Nature spoke to Gabriel about Horizon Europe's priorities and the challenges that lie ahead.
After almost three years of preparations, Horizon Europe is now finally kicking off. Are you confident that the programme meets the needs of scientists and taxpayers?
Yes. With an unprecedented budget of €95.5 billion for 7 years, Horizon Europe is the most ambitious EU research and innovation programme ever. It will focus on improving our health, mobility, energy efficiency and food security, while tackling climate change and preserving our cultural heritage. Its wide scope ranges from fundamental research to close-to-market activities, and its duration allows for stability and continuity of investment.
My attention is now focused on getting the programme and the new European Research Area in motion. This requires strong commitment from the EU's 27 member states. They will need to reaffirm the EU target of investing 3% of gross domestic product in research and development, and they must update their agendas to reflect the new priorities. We have started the preparation of a Pact for Research and Innovation to reinforce the alignment between Horizon Europe and national research and innovation strategies.
How has the COVID-19 pandemic, and the demands it places on science, affected the scope of Horizon Europe?
The pandemic has hit the European economy hard, calling for an ambitious recovery plan that Europe will implement before 2023. The importance of investing in science and innovation became clearer to citizens during the crisis. The pandemic has also tested our capacity to react promptly and, in particular, in a coordinated way at European level.
We launched the first emergency call for projects in January 2020, mobilizing funds from [the previous research programme] Horizon 2020 — around €50 million. Up until now, we have invested close to €1 billion in research and innovation to fight the pandemic, from the development of diagnostic tests, vaccines and treatments, to the creation of e-infrastructures to gather and share data.
The Horizon Europe health budget has been strengthened, and we will launch new partnerships with the research community and industry. We have also started preparations for a partnership with member states on pandemic preparedness.
The introduction of 'missions' is a major change from previous European research funding programmes. How are the missions distinguished from the rest of Horizon Europe?
The missions are an important novelty of the programme. To be successful, they have to have the buy-in of the research and innovation community and wider society.
This is why we have launched a co-creation process, together with stakeholders and all commission services, to help us define the missions' scope and objectives as well as possible sources of extra funding, including from member states and regions. By the end of the year, we will define the road map of actions and the actors to be involved.
Missions are recognizable by their clear targets and concrete delivery timelines.
The Cancer mission will help to improve our understanding of cancer, to promote prevention, optimize diagnosis and treatment, and ensure equitable access to these across Europe. The aim is to save three million lives by 2023, with patients living longer and better.
The Climate Resilient Europe mission aims to scale up climate-related innovations, build demonstration projects, create cross-border partnerships and trigger societal transformation centred on citizens.
The mission Starfish 2030 aims to restore our ocean and waters, prevent and remedy pollution, and protect aquatic ecosystems in line with the EU Biodiversity Strategy.
The Cities mission will support 100 European cities in their systemic transformation towards climate neutrality by 2030.
The Soil mission's target is to ensure that at least 75% of all soils are able to provide the essential services on which we depend, for healthy food, people, nature and climate.
How do the missions, and Horizon Europe as a whole, relate to the goals of the European Green Deal and global targets?
Horizon Europe is one of the EU's main tools for achieving climate neutrality by 2050. The programme will dedicate 35% of its budget to actions related to climate, including the Climate Resilient Europe mission, the Cities mission and partnerships with industry.
We will track the use of resources, and we are also developing tools to assess and evaluate the effectiveness of our climate spending.
Horizon Europe missions and partnerships will also address United Nations Sustainable Development Goals, such as food and water security, health for all, and protecting biodiversity on land and oceans.
Horizon Europe includes calls related to culture and creativity, and for research on civil security. What was the rationale for including these areas, and what benefits do you expect?
The new cluster dedicated to culture and creative sectors is crucial for the recovery of these sectors, which are suffering significantly from the ongoing crisis. One of the main objectives will be to improve the use of digital technologies for better preservation of Europe's cultural heritage, and to explore the innovation potential of the creative sector, which includes arts, design, music and the film industries.
Like its predecessor [Horizon 2020], Horizon Europe will also have a dedicated cluster on civil security. Here, we will continue to support research and development to fight terrorism and crime, including improving the EU's cybersecurity capacity, so crucial in today's connected world.
Scientists in EU member states in central and eastern Europe tend to win fewer European grants than researchers in, say, Germany, France or the Netherlands. How will you address this?
Reducing the scientific gap between member states is a sine qua non condition for the success of the European Research Area.
Increasing the participation of lower-performing member states in Horizon Europe is one of our main priorities. The budget for widening participation in Horizon Europe — including initiatives to support national reforms in under-performing countries, facilitate cross-border collaboration and avoid brain drain — has been increased from €816 million to €3.2 billion.
What is your vision of the European Research Area seven years from now?
We have made progress, but there are signs of stagnation.
The international context has changed with the emergence of powerful players in global science. Research now requires more digitalization and collaboration. We must adapt to the new ways research and innovation are happening, and we must align research and industrial road maps to orient investment towards the green and digital transitions. We must also continue to work hard to attract the best researchers to do science in Europe — but my vision is to make European science and innovation beneficial to all our citizens in all our regions.