Hello Nature readers, would you like to get this Briefing in your inbox free every day? Sign up here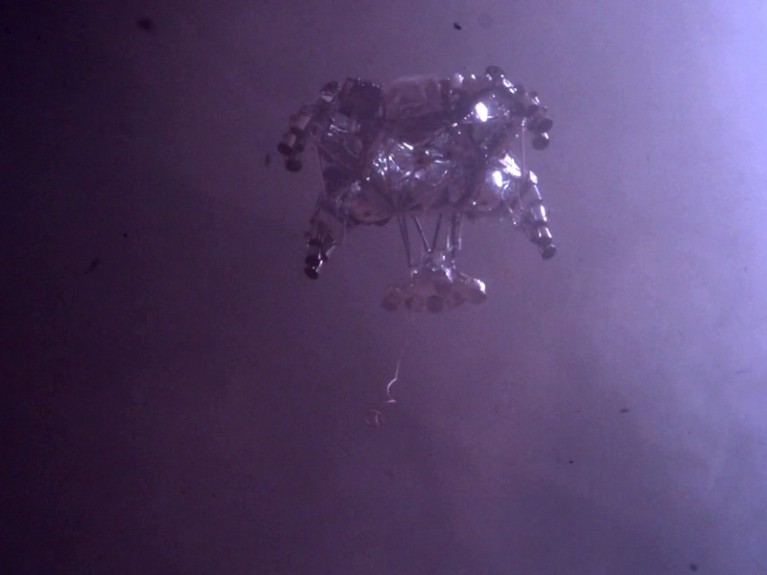 This otherworldly photo, taken from the surface of Mars, shows the underside of the sky crane that gently lowered NASA's Perseverance lander. See more of the month's sharpest science shots, selected by Nature's photo team.
Watch the spectacular video of the Perseverance rover's jaw-dropping final descent (Nature | 4 min read)
The rate of meteors hitting the Moon seems to affect the brightness of its tail, which is made of sodium atoms and is invisible to the naked eye. During the new Moon, when this moonbeam is focused by Earth's gravity, special cameras can observe the 'sodium moon spot': a bright spot in the sky with a diameter of about 3°. Fifteen years of astronomical observations suggest that the flickering spot is brightest when there are more sporadic meteors, which don't come in regular showers and can be bigger and speedier.
The New York Times | 4 min read
Reference: JGR Planets paper
A self-powered soft robot can handle the pressure 10,900 metres deep in the deepest part of the ocean, the Mariana Trench. Taking inspiration from the bones in the skull of the hadal snailfish (Pseudoliparis swirei), researchers used soft materials and distributed electronics to create a machine that can withstand extreme pressure. Its 'muscles' contract when an electric current from the robot's battery is applied, which flaps its two thin side fins. Watch it soar in the latest from Nature Video.
Go deeper with bioroboticists Cecilia Laschi and Marcello Calisti in the Nature News & Views article (Nature | 6 min read )