As my intro slide transitioned into view before the audience, I felt distant. My footsteps creaked as I walked to the podium to introduce myself at my department's annual 'get to know you' and networking retreat.
"Hey, some of you might remember me as Liz, but I'm transitioning. My name is Robin! I'm from East Los Angeles and go by 'they/them' pronouns. Nice to meet you all."
As I handed the microphone back, my words lingered in the air like static. After a roll of applause, I felt my world settle.
Coming out as queer and non-binary at the start of my PhD programme at the University of Washington, Seattle, in 2018 brought me closer to feeling that my identities would be seen and validated in my professional world as a computational biologist doing research in genomics. I have no regrets, but the decision came with compromises. In social settings and classrooms, despite having spent hours poring through coursework, I have often felt spoken over while presenting my ideas. I felt that my experiences with untoward biases were dismissed when I brought them up, and it often seemed like my peers ignored me in hallways and at social gatherings.
At one social event, I was told that I should tolerate sexism and keep my experiences with microaggressions silent if I wanted a successful scientific career. Imagining a future for myself in genomics was difficult because of the lack of role models who shared my experiences and thrived as scientists.Being a trans person in science — on top of my intersecting identities — can feel emotionally exhausting because of the inaccurate assumption that my experiences have made me more of an authority on inclusion and justice in science, technology, engineering and mathematics (STEM) than on science itself.
Challenging this assumption made me reflect on my upbringing in a neighborhood surrounded by other Latin American immigrant families. Here, my family sustained connections to our communities and culture, such as the pueblos (small towns) many of us originate from in Colombia and Mexico. Being a first-generation queer and trans student from a low-income background affected my ability to find a voice as a scientist, but I was able to do so through the support of close friends and mentors who supported my personal and scientific journeys.
In being asked to stay silent about my experiences, I couldn't help but feel that the experiences of my communities were also silenced. Internships and professional-development programmes supporting marginalized scientists readied me for a PhD programme and financed it, but it felt like the field itself was not ready for me.
Making strides
To help others to have a better experience in STEM, I share my story by writing articles and creating art, and I build community spaces for other trainees. In 2019, I founded the Genome Sciences Association for the Inclusion of Marginalized Students with a team of student leaders and with financial support from our PhD programme. Our group remains trainee-led and aims to support members' scientific and personal aspirations by offering community, mentorship and visibility through social events and professional-development workshops in the Department of Genome Sciences. We host events featuring diverse speakers and perform outreach at conferences such as the National Diversity Conference organized by the Society for Advancement of Chicanos/Hispanics and Native Americans in Science, as well as the Annual Biomedical Research Conference for Minority Students, to connect with outside trainees and mentors.
For queer and trans scientists, self-advocacy without supportive communities can be exhausting and can come at the expense of professional opportunities. Those of us who do speak up when we wish to see tangible change risk being seen as trouble, a nuisance or ungrateful for the opportunities we have earned.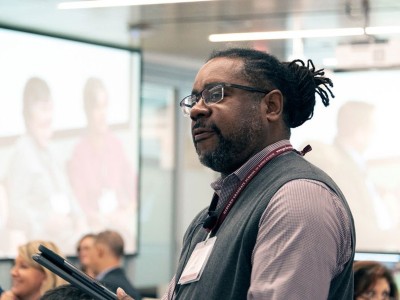 The time tax put on scientists of colour
Instead of relying on those of us who are willing to speak up, institutions should hire experts in racial justice and queer liberation to shift the burden of self-advocacy and emotional labour from Black, Indigenous and Latinx scientists with intersecting LGBTQ2IA+ identities (LGBTQ2IA+ is defined as lesbian, gay, bisexual, transgender, queer, questioning, two-spirit, intersex, asexual and other identities that fall outside of cisgender and heterosexual paradigms). We are often called on to lead discussions on anti-racism, inclusion and justice because we simply exist in STEM. With experts leading these conversations, better practices can be implemented at the institutional level without burdening researchers who are most impacted by discrimination and harassment (see 'How you can help').
Ultimately, accountability, justice and representation must be incorporated into STEM leadership and pedagogy. Coursework led by experts who can contextualize and unpack the historical inequities in STEM higher education should be offered to trainees throughout their graduate careers.
For readers who are queer and trans scientists, I have some advice: pursue goals that motivate you and provide you with space to practice self care. It's crucial to prioritize your needs and invest in relationships, projects and hobbies that make you embrace your whole self as a scientist. Regardless of where you are in navigating your identities and their intersections, know that you are not alone. Your experiences deserve to be valued because queer and trans futures are beautiful.