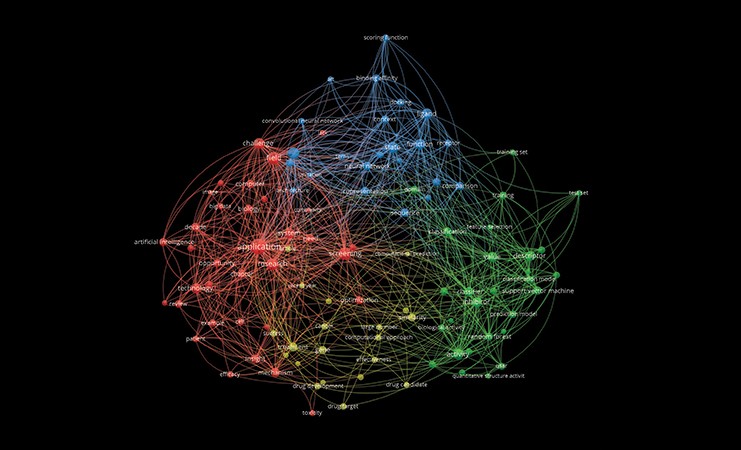 We present AI-generated summaries of three articles selected from a data set of 175 Springer Nature publications in 2019 and 2020. The data set was derived using the title and abstract search '('artificial intelligence' OR 'AI' OR 'machine learning' OR 'deep learning') AND ('drug discovery' OR 'drug design')' in Publication Year 2020 or 2019.
The results were then filtered according to Springer Nature's article classification model for article type 'original paper' and 'research article' and exported from Digital Science's Dimensions database on 14 October 2020. (Digital Science is a subsidiary of Holtzbrinck Publishing Group, which owns 53% of Springer Nature, publisher of the Nature Index.)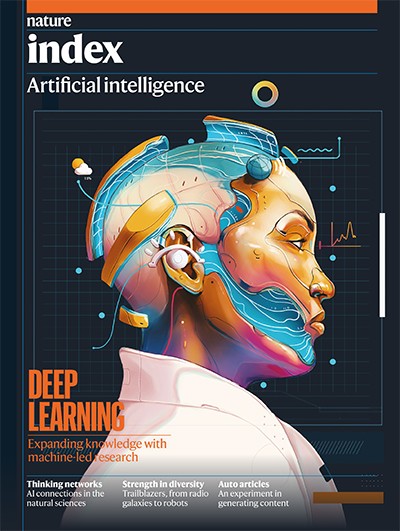 Nature Index 2020 Artificial intelligence
Two of the articles featured ranked highest in the data set on objective metrics for either downloads (Mendez-Lucio et al.) or social media attention by Altmetric score (Piazza et al.). Madhukar et al. was the second-most highly cited article in the data set. We elected to present it instead of the most highly-cited article (D. D. Nguyen et al. J. Comput. Aided Mol. Des. 33, 71–82; 2019) for the sake of consistency and ease of access. Using three articles from Nature Communications with a consistent format allows for more direct comparisons between the auto-generated text. They are also open access.
For each we present the authors' original abstract and summaries of it made by two abstractive summarization approaches, Google's T5 and Pegasus. We then show a paper summary by the Allen Institute for Artificial Intelligence's (AI²) SCITLDR, based on the original abstract, introduction and discussion, and summaries of the paper's introduction and discussion by SciBERT using a summary ratio of 0.3. The AI-generated text has not been modified, so does not conform to Nature's usual editorial standards for grammar and style.
To generate the summaries, AI² SCITLDR website was used with abstract, introduction and discussion. Google T5 (model card t5-large) with settings from GitHub was used to summarize the abstracts. Google Pegasus (model card pegasus-pubmed) with settings from huggingface was used to summarize the abstracts, with '<n>' removed from output. Based on Google BERT, AI²'s SciBERT (model allenai/scibert_scivocab_uncased) was applied to introductions and discussion sections with summary ratio 0.3
We welcome your feedback to natureindex@nature.com with 'Nature Index AI' in the subject line.
Downloads
O. Méndez-Lucio et al. De novo generation of hit-like molecules from gene expression signatures using artificial intelligence. Nature Commun. 11, 10 (2020).
Original abstract: Finding new molecules with a desired biological activity is an extremely difficult task. In this context, artificial intelligence and generative models have been used for molecular de novo design and compound optimization. Herein, we report a generative model that bridges systems biology and molecular design, conditioning a generative adversarial network with transcriptomic data. By doing so, we can automatically design molecules that have a high probability to induce a desired transcriptomic profile. As long as the gene expression signature of the desired state is provided, this model is able to design active-like molecules for desired targets without any previous target annotation of the training compounds. Molecules designed by this model are more similar to active compounds than the ones identified by similarity of gene expression signatures. Overall, this method represents an alternative approach to bridge chemistry and biology in the long and difficult road of drug discovery.
Citations
N. S. Madhukar et al. A Bayesian machine learning approach for drug target identification using diverse data types. Nature Commun. 10, 5221 (2019).
Original abstract: Drug target identification is a crucial step in development, yet is also among the most complex. To address this, we develop BANDIT, a Bayesian machine-learning approach that integrates multiple data types to predict drug binding targets. Integrating public data, BANDIT benchmarked a ~90% accuracy on 2000+ small molecules. Applied to 14,000+ compounds without known targets, BANDIT generated ~4,000 previously unknown molecule-target predictions. From this set we validate 14 novel microtubule inhibitors, including 3 with activity on resistant cancer cells. We applied BANDIT to ONC201—an anti-cancer compound in clinical development whose target had remained elusive. We identified and validated DRD2 as ONC201's target, and this information is now being used for precise clinical trial design. Finally, BANDIT identifies connections between different drug classes, elucidating previously unexplained clinical observations and suggesting new drug repositioning opportunities. Overall, BANDIT represents an efficient and accurate platform to accelerate drug discovery and direct clinical application.
Most social-media attention
I. Piazza et al. A machine learning-based chemoproteomic approach to identify drug targets and binding sites in complex proteomes. Nature Commun. 11, 4200 (2020).
Original abstract: Chemoproteomics is a key technology to characterize the mode of action of drugs, as it directly identifies the protein targets of bioactive compounds and aids in the development of optimized small-molecule compounds. Current approaches cannot identify the protein targets of a compound and also detect the interaction surfaces between ligands and protein targets without prior labeling or modification. To address this limitation, we here develop LiP-Quant, a drug target deconvolution pipeline based on limited proteolysis coupled with mass spectrometry that works across species, including in human cells. We use machine learning to discern features indicative of drug binding and integrate them into a single score to identify protein targets of small molecules and approximate their binding sites. We demonstrate drug target identification across compound classes, including drugs targeting kinases, phosphatases and membrane proteins. LiP-Quant estimates the half maximal effective concentration of compound binding sites in whole cell lysates, correctly discriminating drug binding to homologous proteins and identifying the so far unknown targets of a fungicide research compound.