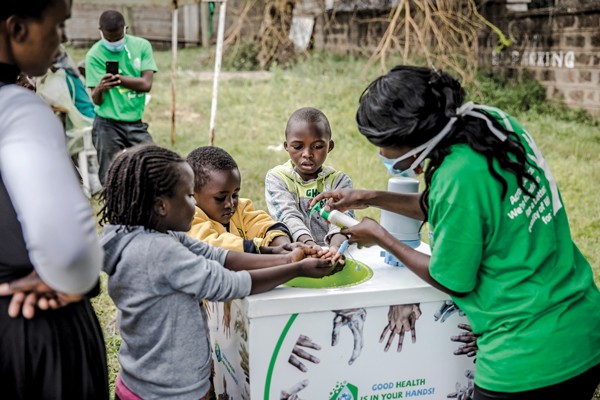 In early 2020, a simple online hand-washing demonstration went viral. The video, created by a restaurateur in India and imitated by health-care professionals and breakfast-television hosts around the world, showed a pair of hands in clean disposable gloves receiving a glob of children's paint in one palm. The hands then went through all the motions of correct hand washing and, at the end, the gloves were fully coated with paint.
This message, and others like it, have helped to make 2020 a golden year for infection-prevention awareness. During the COVID-19 pandemic, public-health officials have reached the masses with their messages about how to avoid infection. Now, having seen how various nations have dutifully scrubbed, sanitized and distanced their way to try to bring down the number of coronavirus cases, researchers and public-health specialists are keen to keep the momentum going for another reason: to stall the spread of infections that are becoming resistant to antimicrobial drugs.
Prevention first
Antimicrobial resistance is a threat to human life that exceeds that posed by COVID-19 by orders of magnitude. Unless practices change, by 2050, an estimated 10 million people will be dying every year as a result of resistant bacteria1. Antibiotics are common treatments for illnesses — whether or not they are caused by bacteria. A 2016 analysis showed that only about 70% of antibiotic prescriptions in US hospitals were appropriate2. And a systematic review of reports published between 1970 and 2009 on non-prescription use of antimicrobials showed that the drugs were frequently used to treat non-bacterial diseases3. Unsurprisingly, it also found that resistant bacteria were common in communities with high levels of non-prescription use. The resistant bacteria then spread from person to person through surfaces such as mobile phones.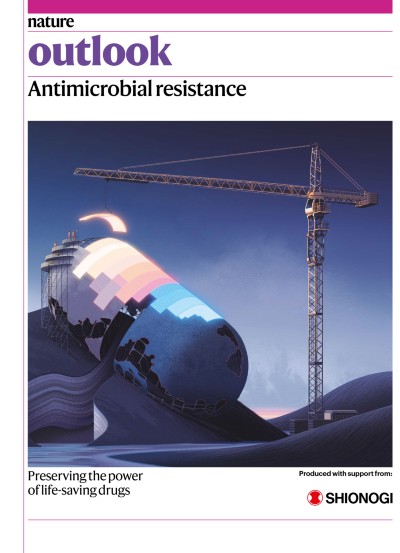 Part of Nature Outlook: Antimicrobial resistance
Preventing infection is an important facet of nearly all programmes designed to promote effective use of antibiotics, an area known as antimicrobial stewardship. According to the World Health Organization (WHO), global efforts to preserve the effectiveness of antibiotics must include strategies for preventing any infection that might be treated with the drugs, whether justifiably or not. Teena Chopra, an infectious-disease specialist at the Wayne State University School of Medicine in Detroit, Michigan, is fully behind this approach. Because infections are difficult to diagnose and treat quickly, Chopra says that the biggest impact will come from preventing infections in the community, not just in hospitals.
Pandemic lessons
Christina Vandenbroucke-Grauls, a medical microbiologist at VU University Medical Center in Amsterdam, chairs a group that monitors hospital outbreaks of resistant bacteria in the Netherlands. Over the course of the COVID-19 pandemic, such infections have almost disappeared in the country, she says. "Apparently, people are a lot more careful." The sharp reduction could be because hospital staff are more diligent about hand washing — and many suspect that this is also the case elsewhere.
Infection-control messages have been effective outside hospital settings, too. Many countries have seen a fall in the number of non-COVID-19 infections, such as seasonal influenza. In Australia, for instance, fewer people have died from flu this year compared with 2019. And Sweden declared the end of its flu season almost two months earlier than usual, despite its controversial light-touch approach to managing the spread of COVID-19.
Chopra is keen to keep this hygiene momentum going, and points out that the pandemic has revealed considerable weak spots. "This COVID-19 pandemic exposed a lot of vulnerabilities in our core health infrastructure," she says. "We dealt with a lack of infection control in alternative health-care settings, like nursing homes, schools, daycare centres, dialysis centres, nursing facilities and rehab facilities." She thinks that those who run these services need to have a more prominent role in antimicrobial stewardship.
To help manage COVID-19, Chopra recruited medical students to assist with prevention efforts in residential care facilities in Detroit. They coordinated the regular testing of residents for SARS-CoV-2, the virus that causes COVID-19, and showed the staff how to group infected individuals together to contain any outbreaks. Community-level interventions have also been crucial in other parts of the world for slowing the spread of COVID-19.
Better behaviours
Without such measures, people will continue to transfer microbes to each other. The risk of transmission can be limited by using microbe-destroying surfaces such as copper, and through rigorous disinfection with chemicals and exposure to ultraviolet light. However, such measures can be difficult to implement in communities. The only two universally effective methods are hand hygiene and staying away from others, Chopra says. "Hand hygiene is the cornerstone — not only in the hospital, but everywhere."
These strategies might seem simple, but they require people to change their behaviour, and that is easier said than done. Garth Graham at the University of Connecticut in Hartford, who developed the first US national plan to reduce health disparities, says: "Understanding of risk is the first step to getting people to adopt behaviours that help prevent infections." In 2003, for example, people changed their behaviour by washing their hands more frequently and cleaning surfaces to prevent the spread of severe acute respiratory syndrome (SARS) virus once they understood the risk. Conversely, a lack of awareness of the effect of infections such as measles and polio has contributed to a growing hesitancy by some to vaccinate.
But after people understand the risk, says Graham, they then need information on how to change their behaviour effectively. And, he says, the campaigns that provide this information need to come from a trusted source and be tailored to the target group. "Some people trust government entities. Some trust their local physician. Some people trust their church," he says.
In 2009, for example, a public-health team designed a hand-washing campaign called Hands up for Max! The team distributed posters to primary schools in the United Kingdom demonstrating the correct way to wash hands, and distributed stickers to pupils. By contrast, a campaign run by the US Centers for Disease Control and Prevention (CDC) targeted parents using downloadable posters and social-media posts with the hashtag #KeepHandsClean to drive home the message that family hand washing is an easy and effective way to prevent illness. "Public-health messaging starts with years of understanding the local infrastructure and the local community. Local organizations that have built trust for a long time with the target group are the most effective messengers."
Chopra thinks that communities will now make permanent changes to keep infections at bay. "How we function, how we talk to each other, how we greet each other — all of that is going to change," she says. Indeed, Anthony Fauci, director of the US National Institute of Allergy and Infectious Diseases in Bethesda, Maryland, has already declared the end of the handshake.
A broader view
Fervent measures aimed at preventing infection can come with downsides, however. Corinne Hohl, an emergency-medicine physician at the University of British Columbia in Vancouver, who leads the Canadian COVID-19 Emergency Department Rapid Response Network, points out that deaths unrelated to COVID-19 have increased during the pandemic in Canada and some other countries. Although the exact reason is not certain, physicians suggest that people might be choosing not to access emergency services because of fears that they might contract the coronavirus by leaving their homes.
In many parts of the world, behavioural change is unlikely to make a significant difference by itself. In some low-income countries, managing infection rates will require considerable investment in infrastructure. The WHO says that 1.1 billion people worldwide lack access to proper latrines, increasing the risk of bacterial infections that cause diarrhoea. Antibiotics can be seen as a quick fix to deal with deficits in basic infrastructure. India, which has one of the world's highest rates of antimicrobial resistance, launched a country-wide initiative in 2014, with the goals of building toilets and stopping groups from manually collecting faeces for disposal.
Preventing infection is not an insignificant challenge, but perhaps now more than ever, the world is ready to talk about doing so. "I think infection control will generate, for a few years at least, much more interest," says Vandenbroucke-Grauls. The coronavirus has brought an opportunity to raise awareness about the importance of infectious diseases as a cause of death. In the era of vaccines and broadly effective antibiotic medicines, Vandenbroucke-Grauls says, "this might be a kind of wake-up call for people — they shouldn't think infectious diseases are a thing of the past".