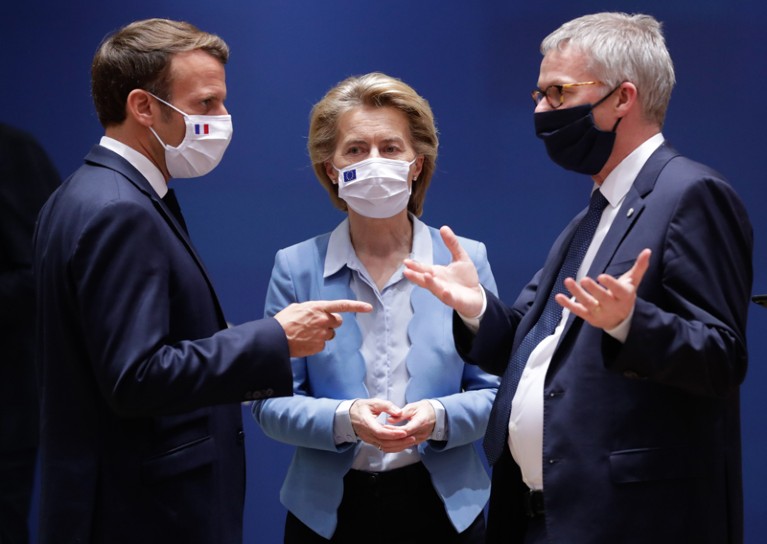 A historic €1.8-trillion (US$2.1-trillion) budget deal reached by European Union leaders to fund the bloc's next seven years — and its recovery from the coronavirus pandemic — has left scientists and research advocates disappointed.
After a marathon five-day summit of the European Council, on which EU heads of state sit, leaders agreed to give €81 billion to the upcoming flagship research programme, Horizon Europe, which starts in January 2021. But this is barely an increase over the budget for the programme's predecessor, and is almost €5 billion less than the European Commission — the EU's executive branch — suggested when the recovery plan was proposed in May.
Research advocates who had hoped for substantially more generous EU research funding reacted with dismay. "It's a 'no' for innovation, decarbonization and digitalization," says Christian Ehler, the European Parliament's spokesperson on research and development, innovation, industry and energy. "This deal will cement Europe's fall behind its global competitors in Asia and the US," he says.
The European Union's long-term budget is set every seven years, and the latest round of negotiations covers 2021–27. This budget also includes a special €750-billion fund to aid recovery from the COVID-19 pandemic, which has caused economic instability worldwide. But the council allocated only €5 billion of the recovery budget to research and innovation — significantly less than the €13.5 billion from this fund that the European Commission proposed in May. The commission has said that it doesn't plan to use money from the recovery budget on the European Research Council (ERC), the EU's main basic-research funder, meaning that the ERC is likely to see a cut to its next budget.
"In the end, the compromise was to spend less money on the recovery and lose all ambitions on innovation. This is bad news for European growth and competitiveness," says Ehler.
"This is a very shortsighted budget deal on research and innovation, which the EU of course will regret in the future," said Kurt Deketelaere, secretary-general of the League of European Research Universities in Leuven, Belgium, in a statement.
But the agreement, made at the first in-person meeting of EU leaders since the COVID-19 outbreak began to escalate in March, is not the last word in the fight over future research funding. The final figure must be hammered out after the summer break, in three-way discussions between parliamentary committees, the European Commission and national governments, using the council's agreement as a basis. The European Parliament had initially asked for €120 billion for research — a figure that is now far out of reach.