Hello Nature readers, would you like to get this Briefing in your inbox free every day? Sign up here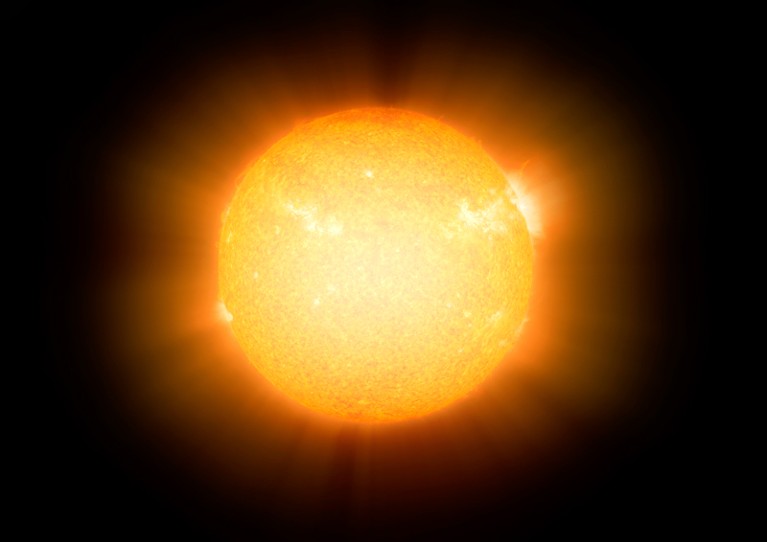 The theories for why the Sun shines date back to the 1930s, but one crucial bit of evidence was missing. Now, physicists have found direct evidence for a type of reaction, involving carbon and nitrogen nuclei, in which four protons fuse into a helium nucleus. The smoking gun? Neutrinos, elementary particles the reaction releases. These zip straight out from the Sun's core, reaching Earth just 8 minutes later. The carbon–nitrogen pathway is not the only type of fusion in the Sun, and it's not even the main one — neutrinos from all the other reactions had been detected before — but it is thought to be the dominant energy source for larger stars.
The findings, which have not yet been peer reviewed, were reported on 23 June at the virtual Neutrino 2020 conference.
Gravitational-wave observatories have witnessed a black hole, 23 times as massive as the Sun, gobbling up an enigmatic object. At 2.6 solar masses, it is thought to be too large to be a neutron star, the only other type of orb that current detectors are sensitive to. But if it is a black hole, it would be the lightest ever observed. The massive stars that collapse to form black holes should leave behind remnants at least twice that size, standard astrophysical models suggest. Astronomers tried to find clues by looking for light from the merger, but to no avail. The enlarged black hole is now "doomed to wander the vast emptiness of space, probably never emitting another peep", says astrophysicist Cole Miller.
Source: Astrophysical Journal Letters paper
As the one year anniversary of her receiving a ground-breaking treatment for sickle-cell disease approaches, it's good news for Victoria Gray — the first person in the United States to undergo CRISPR gene therapy to treat a genetic disorder. It's too soon for scientists to reach firm conclusions about the long-term safety and effectiveness of the approach. But for Gray, life is very different from the severe pain attacks and frequent blood transfusions she experienced before. "It's hard to put into words the joy that I feel — being grateful for a change this big. It's been amazing," said Gray
NPR | 7 min read or 6 min listen
Read more: Gene therapy is facing its biggest challenge yet: sickle-cell disease (Nature | 13 min read, from December)
Features & opinion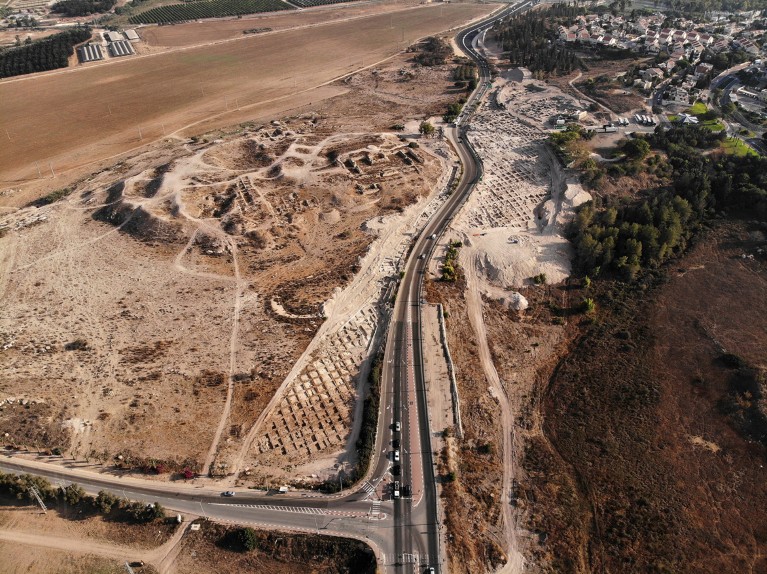 Israel is in the middle of a building boom to house its rapidly growing population, but some researchers fear the country isn't doing enough to conserve its wealth of archaeological sites. They say that financial incentives favour paving over sites, rather than saving them.
The Himalaya straddles seven nations and has a unique ecosystem of mountain peaks that act like isolated islands to drive speciation. But this scientific wonderland has one of the world's highest rates of deforestation, is facing rapid warming and is the site of border conflict between two nuclear powers, India and China. Environmental scientist Maharaj K. Pandit offers a vision of the Himalayan highlands transformed into a peaceful nature reserve, and that the huge public funds squandered on managing conflict are invested instead in infrastructure for health care, education, conservation and welfare.
Twenty years ago, the race to sequence the human genome ended in a tie — thanks to some deft statecraft from the White House. At the announcement, bitter scientific rivals Francis Collins, then-director of the US National Human Genome Research Institute, and Craig Venter, founder of Celera Genomics, a company formed to commercialize genome data, stood shoulder-to-shoulder to share the glory. "Looking back… the fact that world leaders played a part in efforts to tie the race to sequence the human genome is striking," says a Nature editorial. "It also serves as an unhappy reminder that, although biology has continued to progress, standards of statesmanship have fallen to previously unimaginable depths."