Hello Nature readers, would you like to get this Briefing in your inbox free every day? Sign up here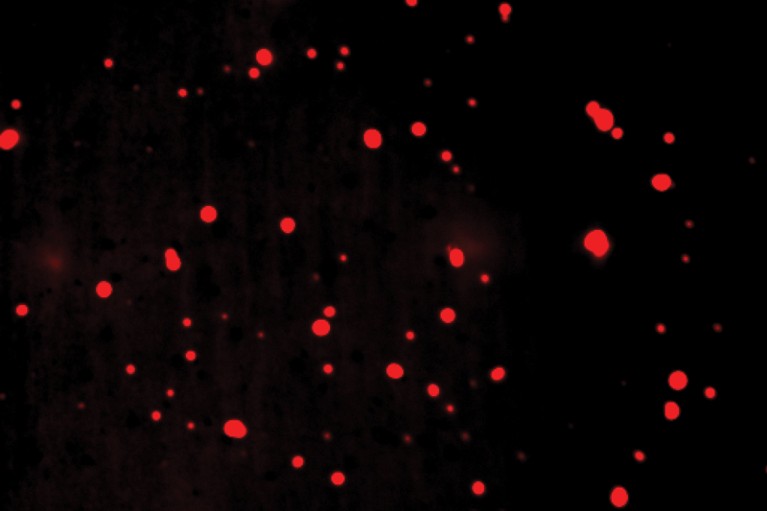 A study shows how cancer-drug compounds become concentrated in precise spots in cells like blobs in a lava lamp or oil shaken in water. The phenomenon, called phase separation, already happens with biological material in cells. Proteins, RNA and other cellular components self-organize into liquid-like droplets known as condensates, which help to compartmentalize the cell's insides. Researchers at the Whitehead Institute in Cambridge, Massachusetts, suggest that synthetic compounds can be selectively sequestered in droplets in a similar way. "Every cancer drug we've examined finds itself concentrated in these phase-separated condensates," says biologist Rick Young. The phenomenon could help to explain why so many therapies that work in the laboratory ultimately fail to treat people — and could be exploited to make certain drugs hit their targets more effectively. The findings are already leading to drug-design strategies in the fight against the new coronavirus.
Read more: What lava lamps and vinaigrette can teach us about cell biology (Nature | 11 min read, from 2018)
Reference: Science paper
The CERN Council — the body that oversees the European particle-physics lab — has given a strong, if preliminary, endorsement for the building of a 100-kilometre successor to the Large Hadron Collider. CERN hopes to raise €21 billion (US$24 billion) to build its new circular machine, starting around 2038. It would collide electrons with positrons to produce myriad Higgs bosons and dissect their finer properties. The tunnel could later be reused for an even more powerful proton–proton collider that could, in principle, discover entirely new particles. The machine won over competitors, including a linear electron–positron collider and one that would accelerate muons instead.
Source: 2020 Update of the European Strategy for Particle Physics
Features & opinion
"As scientists are increasingly acknowledging the lack of racial and ethnic diversity in science, there is a need for clear direction on how to take anti-racist action," write soil biochemist Asmeret Asefaw Berhe and microbial ecologist Bala Chaudhary. They lay out ten actions for principal investigators to work toward racial equity and inclusion in the lab.
The huge, elaborate, 5,000-year-old tomb at Newgrange, Ireland, is thought to have been built for a powerful elite. DNA of a man buried there in splendour reveals that he was the offspring of first-degree relatives: either full siblings or parent and child. Was this a strategy to maintain a dynastic bloodline? The Nature Podcast speaks to ancient-geneticist Lara Cassidy and other experts about the possible meaning of the man's parentage and his spectacular surroundings.
Nature Podcast | 26 min listen
Subscribe to the Nature Podcast on iTunes, Google Podcasts or Spotify.
Read more: Archaeologist Alison Sheridan gives an expert view in the Nature News & Views article
Books & culture
Richard Horton, editor-in-chief of The Lancet, has written "a sort of history, diagnosis and prescription" of the COVID-19 pandemic in real time, writes reviewer Stephen Buranyi. Horton's new book is haunted by the question: how did two of the richest, most powerful and most scientifically advanced countries in the world — the United States and the United Kingdom — get it so wrong, and cause such ongoing pain for their inhabitants?
Andrew Robinson's pick of the top five science books to read this week includes the devastating history of Hurricane Katrina, the next wave of universities, and a personal memoir of the HIV epidemic.
Image of the week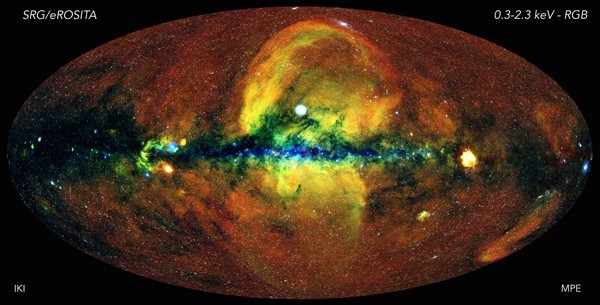 This portrait of the sky at X-ray wavelengths reveals one million sources, including many distant galaxies with 'active' nuclei. It was created by the eROSITA telescope aboard SRG, a German-Russian mission that launched last year. The map also displays hot gas in the Milky Way and its surroundings. (BBC | 4 min read) (Jeremy Sanders, Hermann Brunner and the eSASS team (MPE); Eugene Churazov, Marat Gilfanov (on behalf of IKI))