Jessica Watkins spent her PhD studying landslides on Mars. Now she is among the few humans with a shot at being the first to walk on the red planet.
In January, Watkins graduated as a member of NASA's newest astronaut class. As a planetary geologist, she is a leading candidate to participate in the agency's Artemis programme, which aims to send people back to the Moon by the end of 2024. Further down the line — Watkins is only 32 years old — there might even be a trip to Mars.
More immediately, Watkins is helping two of her fellow astronauts to prepare for a milestone launch on 27 May, which will be the first time a commercial company flies astronauts into low-Earth orbit.
Nature spoke to Watkins about her career and about the role of human endeavour in the age of a global pandemic.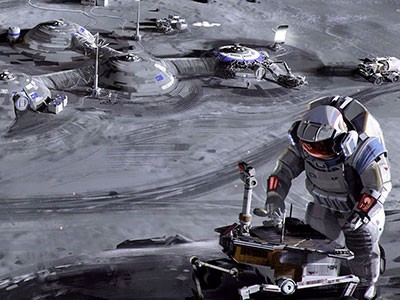 How to build a Moon base
Why did you decide to join the astronaut corps?
I have wanted to be an astronaut since I was pretty little. There was something that always pulled me towards space — the idea of exploration, of wanting to push boundaries and capabilities, both technically and physically, but also mentally and spiritually. I kind of stumbled into geology and fell in love with that. And then the stars aligned for me to end up here.
What's your favourite planet?
Mars is definitely my first love. I remember writing a book about a Martian in fifth grade. What intrigued me the most about Mars is how Earth-like it is, and how we're able to use the Earth as an analogue to understand more about Mars and Mars' history.
Now, given the direction that NASA is going in — we're talking about going back to the Moon in 2024, through Artemis — the Moon has become a significant interest as well. I'm definitely brushing up on lunar geology and what it's going to be like on the surface.
What kind of training did your astronaut class get in field geology?
That was one of the most fun parts for me. We went to New Mexico, Utah, Arizona, and a lot of the locations where the Apollo guys trained. We were literally following in their footsteps. We went to lots of lava flows, just really trying to get a good understanding of what types of rocks we may encounter and how to observe and document them — learning just enough skills to enable scientists here on the ground to do their own investigations with the data the crew are obtaining.
What would it be like for you, as a geologist, to step onto the lunar surface?
The first [Artemis] mission or two may look more like test missions, where the science might be more limited in order to prove technological capabilities. Thinking a little bit further down the line, when science is really a main goal, the landing site will drive a lot of the interesting scientific questions. Where we're thinking about going, the lunar south pole — one of the big things that we are looking for are potential ice deposits, volatile-rich regions in permanently shadowed regions.
The $2.4-billion plan to steal a rock from Mars
Do you know what your first spaceflight assignment will be?
It is a super-exciting time for human spaceflight. We have the International Space Station, which is our main destination right now, and soon we will start up the Artemis programme. We are living in this awesome time where there are lots of possibilities. It all depends on how some of those moving pieces shake out. [My first flight] could be soon, or it could be a little bit longer.
How can space exploration inspire us when the world is facing a public-health crisis?
This pandemic is asking us to band together as humans, to do the right thing to help save each other. There's something really analogous to human spaceflight in that. Human spaceflight is about humans pursuing hard things, doing it together, and doing it in spite of differences that we may have created.
Coming up [this month] we're going to be launching a new vehicle, a SpaceX launch in the commercial crew programme, the first one from American soil since the space shuttle. That will be a shining moment for us, not just for America but for all humans, to be able to see beyond.
Having that perspective allows you to see the Earth for what it is. It's one body. We're all in this together.