Despite some last-minute scrambling, the first major physics conference to be held in cyberspace was a success, according to many attendees.
The April Meeting of the American Physical Society (APS) was scheduled to take place on 18–21 April in Washington DC. But when the coronavirus pandemic made a physical gathering impossible, the organizers decided to hold the entire event online and made registration free and open to everyone.
Whereas around 1,600–1,800 people typically attend the April Meeting, 7,267 registered this time, says Hunter Clemens, the APS director of meetings. And many participants say they were satisfied. "The virtual APS meeting has been by far the best online meeting I have attended," says Niels Warburton, an astrophysicist at University College Dublin.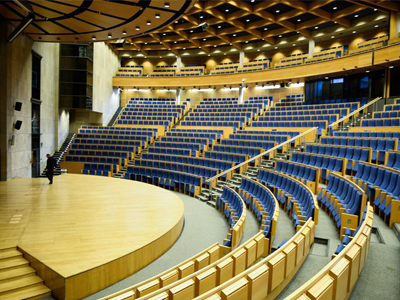 A year without conferences? How the coronavirus pandemic could change research
In early March, the APS was one of the first large organizations outside of China — where the first outbreak of the virus was reported — to bear the brunt of the pandemic. The society decided to cancel its much larger March Meeting in Denver, Colorado, just 36 hours before it was due to start. Some of that meeting took place anyway: would-be attendees quickly organized unofficial versions of the scheduled sessions online.
Inspired in part by that surge of enthusiasm, the APS opted in late March to hold its next major meeting online, rather than cancelling or postponing it, says David Barnstone, a spokesperson for the society. "It was encouraging to see all the self-organization and everyone coming together online."
The society hired a company to provide the necessary online infrastructure and technological support. During the 4-day conference, it handled 175 live sessions, running up to 15 in parallel. The online platform they used for talks provided a chat window that appeared alongside the speaker's video, which allowed attendees to exchange comments or links to relevant papers in real time.
Each parallel session was assigned a dedicated technician to make sure that everything ran smoothly and that attendees followed the APS code of conduct, says Mark Doyle, the society's chief information officer. "There could be an instance when a speaker is misbehaving, or an attendee is typing something inappropriate into the window."
The APS made an effort to recreate the social experience of a large conference by organizing virtual meet-ups, and some delegates set up their own discussions independently using messaging tools such as Slack.
A welcome alternative
Although a virtual meeting is not the real thing, it was still a good idea given the circumstances, says Xiaochao Zheng, a nuclear and particle physicist at the University of Virginia in Charlottesville. "Many other conferences are cancelled, which are big disappointments for people who had planned to attend," she says.
Lindley Winslow, an experimental physicist at the Massachusetts Institute of Technology in Cambridge, agrees. "In my field of neutrinos and dark matter, we have to do a lot of our meetings virtually. It works, but it is not as efficient as having everyone in the same room," she says. Still, she adds, because she had a newborn baby at home, "It was a bit of relief to not have to figure out how to travel."
The virtual meeting had some other advantages compared with a physical one. Live talks could be paused or rewound, a useful feature for those who missed details or wanted to spend more time pondering a crucial slide.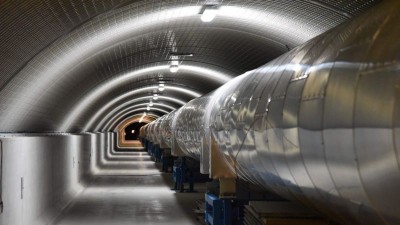 How the coronavirus pandemic is affecting the world's biggest physics experiments
And watching talks from home eased a bit of the pressure of attending a large conference that would require dashing from one session to another across a vast convention centre. "I'm kinda loving the minimal FOMO [fear of missing out] when you're just feeling tired/introverted/overwhelmed that comes along with everyone being virtual," tweeted Claire Lee, a particle physicist at Fermi National Accelerator Laboratory outside Chicago, Illinois.
"I was able to attend a wider variety of sessions than I normally would have, since switching between parallel sessions was far more seamless," says Julieta Gruszko, a neutrino physicist at the University of North Carolina in Chapel Hill. In the future, she says, it would help to have the speakers and attendees continue the discussion in the same chat window after a session. "The most useful conversations with people I don't know well or haven't met before generally happen immediately following the close of a session."
Susan Gardner, a particle physicist from the University of Kentucky in Lexington, says she was initially disappointed with the cancellation of the physical meeting, but that the conference was a positive experience for both her and her students. She praises "the hard work and dedication of the APS staff in bringing the meeting to pass in such short order".
Recorded talks
The last-minute transition to cyberspace was not completely smooth, in part because the decision came long after the conference programme had been finalized. Although most speakers agreed to present their talks online, some did not. And some sessions, including many of the talks contributed by students, had to be pre-recorded to be watched 'on demand'. This created confusion among participants, some of whom found out too late that they had to upload their talk ahead of time.
"A lot of people in my session weren't aware that the talks were being switched from live to recorded," says Kelly Backes, a graduate student at Yale University in New Haven, Connecticut, who was a speaker in an on-demand session. The APS is still allowing presenters to upload their videos after the meeting, Clemens says.
Most attendees contacted by Nature found the conference useful. "My quick take-away is that it was more successful than I thought it was going to be," Backes says. "I got a lot more out of it than I expected." She says nothing can replace the experience of face-to-face contact. But being able to watch an online talk — and then mention it when e-mailing the speaker — might help participants to establish professional connections. "Having anything to open an e-mail or a conversation with lowers the barrier to talking to people."