Hello Nature readers, would you like to get this Briefing in your inbox free every day? Sign up here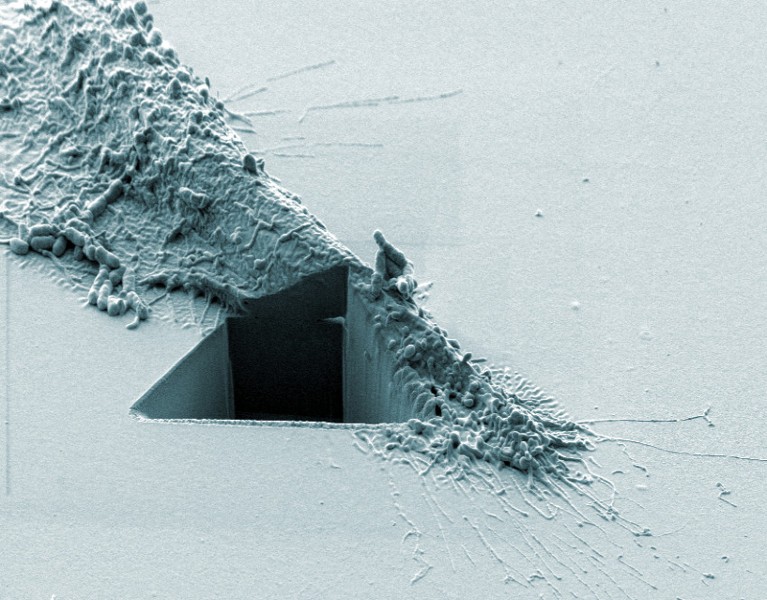 The close-up shot above shows a cancer cell that has been cut open using an ion beam. The beam has blasted part of the cell away to reveal a cross section and has cut into the silica substrate, creating a triangular shape. Ion-beam milling allows researchers to look inside cancer cells in unprecedented detail. The image by biomedical engineer Nick Moser and cancer biologist Chris Bakal was shortlisted for the science- and medical-imaging competition run by the Institute of Cancer Research in London.
See more of the month's sharpest science shots, selected by Nature's photo team.
A group of kea, a type of parrot from New Zealand, have been surprising scientists by passing a series of intelligence tests based around probabilities and social cues. Researchers found that kea can outperform monkeys, showing abilities previously seen only in great apes such as humans and chimpanzees.
Go behind the paper with behavioural ecologist Amalia Bastos in the Nature Ecology & Evolution Community.
105,586
The number of known global cases of COVID-19 — across more than 100 countries — as of 8 March. (Nature | Continuously updated)
Features & opinion
In failing to recognize that science can be political, the scientific community risks the resurrection of dangerous ideas, argues science journalist Angela Saini, who wrote the influential 2019 book Superior: The Return of Race Science. "Geneticists today rightly treat eugenics as a laughable proposition," says Saini. "But this ignores how these ideas manifest in the real world … The people on the receiving end of the worldview that drove eugenics understand how alive it remains."
In this four-part podcast series, researchers explore the stages of writing a top-notch paper. In the final episode, they delve into the article of the future, examining the rise of lay summaries, the pros and cons of preprint servers and how peer review is being crowdsourced and opened up.
The seeds of Toshiko Mayeda's chemistry career were planted in the rough ground of a US internment camp for American citizens of Japanese ancestry. Later, despite having only an undergraduate degree in chemistry, Mayeda helped to define our chemical understanding of Earth and the Solar System. In its series on unrecognized or undervalued scientists, Chemistry World explores Mayeda's mastery of mass-spectrometry methods.