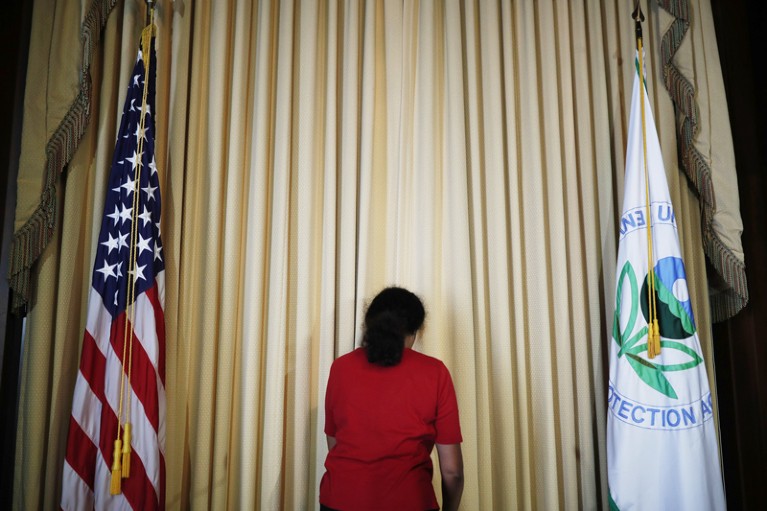 Throughout my past two years as a PhD student, I've had time to unpack how I feel about my previous position as a scientist at the US Environmental Protection Agency (EPA). I worked there for four years as an environmental protection specialist in the Office of Water, where I analysed pollution to sources of drinking water and led programmes to protect coastal ecosystems. I left in 2018, one year after President Donald Trump's appointee Scott Pruitt took office as administrator with an intent to diminish the agency's powers and its use of science.
My departure was not a reaction to Pruitt's leadership, but I had little respect for it. Like a rough break-up or an undercooked meal, my stint at the EPA has taken a while to digest. What I've come away with, however, is the realization that my time there — even, and especially, under the Trump presidency — has given me powerful skills that frequently serve me well as a PhD student. Here are some of the things I've learnt.
Wear many hats
A few months ago, my PhD adviser asked me to draft a quick flyer to communicate our research in marine ecology to the public. I pulled one together using InDesign (a publishing-software application), sent him the result and received a surprised message: "Oh my gosh. You made this?!" The flyer was distributed to thousands.
His surprise, in turn, surprised me. At the EPA, communications skills are an entry-level requirement for many scientists. Every office in the agency lives and dies by budgetary decisions from Congress, so our ability to reach constituents is crucial. My colleagues and I constantly took pains to deliver not only sound science, but flashy materials to convince all Americans, from rural Ohio to urban California, that we were a friend, not a foe. It became second nature for me to adapt technical data for use in a web app, a presentation or even a radio jingle. Singer, songwriter, speech-writer, designer, developer … all these roles were just part of the job.
As a PhD student (I'm based at Stanford University, California, and at Arizona State University's Center for Global Discovery and Conservation Science in Tempe), I've come to realize the value of this versatility. A mentor recently told me: "Read your own manuscripts as if you are your fiercest critic." Our naysayers can take many forms: they can be coal lobbyists, penetrating reviewers, or honest farmers trying to earn a living. Our output is at its most powerful when aided by a full set of tools designed to reach every one of these people.
Embrace setbacks
One of my EPA colleagues helped to develop an environmental policy to control water pollution. She painstakingly prepared the rule, which was then rolled out under Barack Obama's administration, only to see it dismantled by the Trump administration. Environmental policy is a labour of love, and its victories and failures often seem beyond our control.
The same thing happens in academia: we all face dysfunctional experiments and rejected manuscripts. But in public service you are reminded that failures come and go with elections. At the EPA, we marked time not by years, but by administrations. For each of us, the administration during which we began our employment became our 'alma mater': the period of feast or famine when we were initiated into a reality in which idealism means, ultimately, patience.
I remember this lesson now, as a PhD student. Each new generation of scientists confronting climate change must strive persistently towards environmental solutions, but we must also assume frequent failures — for it is these that fuel our successes. For example, a federal policy reversal might trigger action by states or non-profit groups to develop water-protection measures, or to bring much-needed public attention to long-standing environmental issues.
Do a verbal literature review
Government agencies are famous for the career stability that they provide. Some of my colleagues at the EPA were 'lifers', or people who had worked at the agency since its inception in 1970. When I began a new project at the agency, my literature reviews were both verbal and virtual: I would mine the agency's online databases but would also make time to chat with senior employees. More often than not, my colleagues were a better source for the information I needed, and their historical knowledge could uncover a buried protocol or crucial record more efficiently than my search engines could.
As a PhD student, I've learnt to rely not just on my Web of Science research but on numerous conversations with seasoned experts. And I make sure that my reading includes literature from previous decades, which often doesn't rise to the top of a web search. This practice is reinforced by mentors in my lab, who often find research gems by filtering explicitly for studies that are more than ten years old.
Seize creative freedom
At the EPA, I acted on behalf of an agency that, in turn, represented the interests of the US public. To represent the Pruitt administration, and a mission I didn't believe in, was a task apart. The research I pursued at the agency was shaped by legal mandates and public opinion — and, under Pruitt, by a leadership that sapped morale through endless uncertainty, coupled with budget cuts, lay-offs and efforts to weaken regulations. For example, I coordinated a grant that was withheld until I formally removed all instances of the phrase 'climate change'. Throughout my time there, my creative freedom was limited.
Now, my work feels unconstrained — guided not by an external agenda, but by my own curiosity and sense of purpose. I spend most waking moments measuring, analysing, reading and writing about the topic I love most in the world, surrounded by inspiring people who support my goals. In an era of politicized science, our time as PhD students is all the more precious, a rare and radical period of intellectual liberty. This is yet another reason for every institution to defend graduate training as the positive and imaginative experience that it deserves to be.