The artist who co-authored a paper and expanded my professional network
Matthias: In February 2016, the French artist Karine Bonneval contacted my ecology laboratory at the Free University of Berlin to ask about a residency. I and my colleagues focus on soil biodiversity, and we hadn't been asked to host an artist before.
I was curious to see how such schemes work, and thought Karine would either be inspired by what we do, visually or conceptually, or her visit would lead to nothing for my group or for her.
But what happened was different: I received inspiration from her ideas, and one visit turned into several over the course of the next four years.
Karine did turn some of my lab's topics of interest into striking pieces of visual art that formed part of an exhibition of sculptures and installations. She also made a film (with actors!), some of which was shot in our greenhouse. It was called Become-plant — and featured humans who turn into plants. My favourite piece in the exhibition was a big, beautiful composite photograph symbolizing community coalescence, a term that describes how entire microbial communities encounter one another and mix together.
But I also really liked her sound installations; this work involved a carpet of soil from which 'fruiting bodies' made out of clay emerged. The clay structures served as 'listening stations', at which visitors could hear the noises made by soil animals. Her creative outputs during the residency, in many cases, can be traced directly back to discussions we lab members had with her about our current projects and recent papers.
But she asked one question that no soil ecologist would ever pose: "What sounds do fungi make as they grow through soil?" At first I dismissed her query as a silly one, but I couldn't stop thinking and reading about it. In the end, a new research question was born, which resulted in a paper listing Karine as a co-author1.
The paper explores the role of sound or vibrations as a source of information in soil — a medium that we think of as dark and quiet, and that houses organisms that communicate through chemistry. At the time, we had a US collaborator, Johannes Lehmann, who was visiting us from Cornell University in Ithaca, New York. He subsequently had a grant proposal funded on this topic following his return to the United States.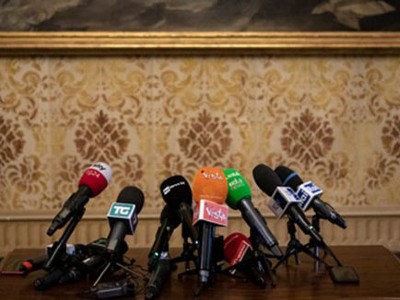 Collection: Science communication
A second unexpected outcome was our discovery that artists are very good networkers. Karine helped to connect me with scientists from fairly distant disciplines, including Fanny Rybak, a French bioacoustician at the University of Paris-Saclay. Fanny gave Karine an anechoic chamber — a container designed to isolate the interior from external sounds that she brought to the lab for sound experiments on fungi. (I didn't even know what an anechoic chamber was.)
Karine taught me new techniques to either think about or use in our scientific work. She introduced me to thermal cameras, which she had worked with previously.
After Karine's residency ended, the Slovenian artist Saša Spačal spent time with us, and she helped our postdocs to make beads with growth medium that we used to create artificial environments structured like soil. She also advised us about using loudspeakers for teaching purposes.
Lab residencies: four things Matthias learnt
• On the basis of my experience of working with these two artists, I would say that, on the artist's side, having a respect for the scientists' time is key. The artists' interactions at work with me and other lab colleagues always took place in a set amount of time, usually 30–45 minutes in mostly scheduled slots. We used this time productively, either to discuss ongoing research and fascinating questions, or to suggest other lab members for the artists to talk to.
• Artists need to understand how scientists generally work. Fortunately, both artists we hosted were familiar with this from the outset because they had already completed lab residencies. Our conversations were very down to earth, and to the point. From our end, these were similar to talking to a new collaborator who is not working in exactly the same area of ecology.
• On the scientist's side, openness is required, as well as a willingness to share, to invest some time and to talk about one's interests with a different target audience. This means toning down scientific jargon, or as Saša put it, "communicating outside one's normal social circle".
• Buy-in from the lab group is important. There were always plenty of lab members who were interested in engaging with our artists. So it was pretty easy to integrate the artists in our group, and they participated in our regular meetings throughout their residencies, including our journal club and data club, as well as lunches and nights at the pub.
Overall, this was a positive experience for the lab, and for me personally. Spurring innovation and outreach, seeing my scientific work transformed into art, making new connections and my learning about new methods were all excellent outcomes.
I will always welcome future artists in residence, and recommend that other lab groups give this a try.
Who knows what ideas might emerge as a consequence. I look forward to future visits by Saša and Karine — and also to those by you, if you are an artist and happen to read this.
Karine's time in the lab
Karine: My interest in plants came about while I was growing up in the French Atlantic port city of La Rochelle. My botanical knowledge initially came from books and museums connected to the city's grim past. La Rochelle has links to the slave, sugar and fur trades, and a lot of exotic species and seeds arrived there from overseas.
After finishing art school in Strasbourg, France, I travelled to French Guiana and saw its tropical rainforests. This experience taught me so much about myself and my relationship with plants. Until then, I had a domesticated way of seeing them — purely as things in pots or a garden, not as living beings.
When I got back, I realized that just reading about botany and its European history wasn't enough. I needed to talk to experts, so in 2014, I contacted the University of Paris-Saclay in connection with its science and society dialogue project, La Diagonale Paris-Saclay.
The university had launched a grants scheme for art and science collaboration, and its communications team searched for a scientist in the plant field for me to collaborate with. They put me in touch with Claire Damesin, a plant ecophysiologist who worked at the institution, and together we made a film project called Dendromacy. This is a neologism, a newly coined word, and refers to intimacy with a tree — encapsulating how humans and trees breathe together, and how we share our breaths with trees. We used an infrared camera, used in industry to detect gas leaks, to capture the gas coming out of a tree trunk.
Berlin residency
During my first visit to Berlin in 2015, when I was on a three-month art residency in the city, I fell in love with the Berlin-Dahlem Botanic Garden and Botanical Museum. Some French scientists suggested that I get in touch with Matthias because I was keen to continue my research and collaborate with a plant ecophysiologist in the city.
Matthias' lab is in the botanic garden. He's very busy, but was intrigued about my work and invited me to meet him. He liked that I was curious about soil and knew a little about ecophysiology.
At that first meeting, Matthias recounted how people respond when they discover he works with soil, saying things such as: "How come? It's dirty and dead." My response was: "But it's full of life, I guess it's noisy. When there is noise, there is life."
The following day, Matthias e-mailed me to say he'd spent the previous evening looking for papers about what we later called "the sound of soil". But there were none.
My interest in soil and sound actually began the year before we met. I was working with the ceramicist Charlotte Poulsen at The Centre of Contemporary Ceramics in La Borne, France. We had created trumpet-shaped pieces of clay and hid speakers inside them. They played recordings of the many first languages of the ceramicists living locally. As I'm not a ceramicist, Charlotte offered technical help for my new project, and assisted me in creating the listening stations coming out of the soil.
Fanny Rybak, whose research focus is animal vocal communication, advised on the bioacoustic recordings. She said we couldn't record roots or fungi, only invertebrates, to denote soil health. Fanny's lab records the sounds of sea and pond organisms to chart the evolution of biodiversity over time. We used some of her tools, a small anechoic chamber and a sensor with an accelerometer, in the soil project.
The artwork that I created was partly made in the Berlin studio I used during my residency. The big pieces were done in Charlotte's studio. Working with clay is dirty — so it's the kind of activity you don't want in a lab most of the time.
When you join a lab as an artist in residence, you should not be a 'taker'. You have to use your time to chat with researchers, attend meetings and find out more about the areas that the scientists are working in. You must work around their schedules — and they can take years to finish a project. You have to stay open-minded and curious.
While working with Matthias, I met Johannes Lehmann, who contacted me six months after our meeting to say his new 'sound of soil' research proposal to track soil health for targeted pest control had got funding. He invited me to Cornell last October for a residency, where I continued my research.
I now find myself in the middle of a fertile constellation of scientists. It's like being in a creative cloud. I really love it.
doi: https://doi.org/10.1038/d41586-020-00575-7
This is an article from the Nature Careers Community, a place for Nature readers to share their professional experiences and advice. Guest posts are encouraged.
References
1.

Rillig, M. C., Bonneval, K. & Lehmann, J. Soil Syst. 3, 45 (2019).