Unlock ways to share data on peer review
Flaminio Squazzoni

Flaminio Squazzoni is director of the BehaveLAB at the Department of Social and Political Sciences, University of Milan, Italy.

Petra Ahrweiler

Petra Ahrweiler is a professor at the University of Mainz, Germany.

Tiago Barros

Tiago Barros is a product lead at Publons, London, UK.

Federico Bianchi

Federico Bianchi is a postdoctoral researcher at the University of Brescia, Italy.

Aliaksandr Birukou

Aliaksandr Birukou is editorial director, computer science at Springer Nature, Heidelberg, Germany.

Harry J. J. Blom

Harry J. J. Blom is vice-president, publishing development, and head of the editorial department in astronomy at Springer Nature, New York, USA.

Giangiacomo Bravo

Giangiacomo Bravo is a professor at the Linnaeus University, Växjö, Sweden.

Stephen Cowley

Stephen Cowley is a professor at the University of Southern Denmark, Odense, Denmark.

Virginia Dignum

Virginia Dignum is a professor at Umeå University, Sweden.

Pierpaolo Dondio

Pierpaolo Dondio is a lecturer at the Technological University Dublin, Ireland

Francisco Grimaldo

Francisco Grimaldo is vice-dean of the School of Engineering at the University of Valencia, Spain.

Lynsey Haire

Lynsey Haire is head of electronic editorial systems at Taylor & Francis Group, Oxford, UK.

Jason Hoyt

Jason Hoyt is co-founder and chief executive officer at PeerJ, London, UK.

Phil Hurst

Phil Hurst is publisher at the Royal Society, London, UK.

Rachael Lammey

Rachael Lammey is head of community outreach at Crossref, Oxford, UK.

Catriona MacCallum

Catriona MacCallum is director of open science at Hindawi, London, UK.

Ana Marušić

Ana Marušić is chair of the Department of Research in Biomedicine and Health at the University of Split School of Medicine, Croatia.

Bahar Mehmani

Bahar Mehmani is reviewer experience lead in the Global Publishing Development Department at Elsevier, Amsterdam, the Netherlands

Hollydawn Murray

Hollydawn Murray is data project lead at F1000 Research, London, UK.

Duncan Nicholas

Duncan Nicholas is director of DN Journal Publishing Services, Brighton, UK.

Giorgio Pedrazzi

Giorgio Pedrazzi is an assistant professor at the University of Brescia, Italy.

Iratxe Puebla

Iratxe Puebla is senior managing editor at PLoS ONE, Cambridge, UK.

Peter Rodgers

Peter Rodgers is features editor of e-Life, Cambridge, UK.

Tony Ross-Hellauer

Tony Ross-Hellauer is a postdoctoral researcher at the Know-Center, Graz, Austria.

Marco Seeber

Marco Seeber is an associate professor at the University of Agder, Kristiansand, Norway.

Kalpana Shankar

Kalpana Shankar is a professor in the School of Information and Communication Studies, University College Dublin, Ireland.

Joris Van Rossum

Joris Van Rossum is research data director at the International Association of STM Publishers, Oxford, UK.

Michael Willis

Michael Willis is EMEA regional manager of peer review at Wiley, Oxford, UK.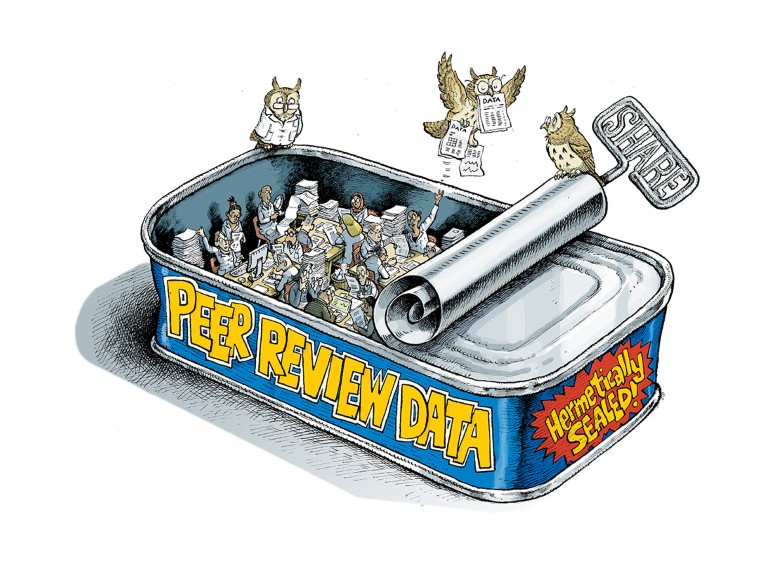 Access options
Prices may be subject to local taxes which are calculated during checkout
Nature 578, 512-514 (2020)
doi: https://doi.org/10.1038/d41586-020-00500-y
Authors A.B. and H.J.J.B. are employees of Springer Nature (which publishes Nature); Nature is editorially independent of its publisher.
Related Articles
Subjects