Nearly half of female scientists in the United States leave full-time research after having their first child, owing to increased family responsibilities that often conflict with workplace expectations. But an initiative from the US National Institutes of Health (NIH) aims to help junior scientists to navigate family commitments and major life challenges by offering supplementary grants that permit them to step away from the laboratory for up to one year.
The scheme, announced in January, provides up to US$50,000 to NIH-funded postdocs and to principal investigators who have their first independent NIH grant, such as the 'bread and butter' R01. Scientists experiencing "critical life events", such as giving birth or caring for a sick relative, can use the money to keep the lab running in their absence by buying equipment or hiring help.
"It's a huge step forward," says Abigail Stewart, a psychologist at the University of Michigan in Ann Arbor who studies gender and science. Studies show that, although women and men receive NIH postdoc grants at roughly the same rate, only 26% of these women obtain R01s at the completion of their postdoc, compared with 35% of men. These findings point to the 'leaky pipeline' in the scientific enterprise, in which female researchers drop out of science at a higher rate than do male researchers because they cannot meet their family obligations while spending long hours in the lab.
Because biomedical researchers often have to complete several postdoctoral fellowships and, on average, receive their first R01 at age 43, early-career scientists who hope to have families are particularly likely to leave research. "At that stage, an individual has invested a lot of years in their training, and they've passionately loved their field for a very long time," Stewart says. "Having this type of funding available could make it more imaginable to more women scientists that they can have a full life with a family."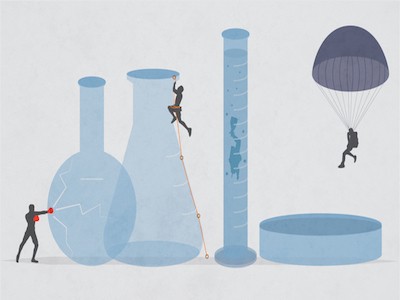 Collection: Work–life balance
"I think it's a great programme and could help a lot of postdocs," says Monica Guo, a postdoc at the Massachusetts Institute of Technology in Cambridge. Last September, she co-authored an online letter to NIH director Francis Collins asking for more support for graduate students and postdocs who are raising families. The letter garnered more than 1,700 signatures.
A spokesperson for the NIH Office of Extramural Research says that the agency had been planning the supplement programme before it received the letter. "NIH is dedicated to fostering a well-trained biomedical-research workforce, which also involves supporting family-friendly policies and programmes that balance work and family life for all biomedical researchers," the spokesperson says. They add that the number of awards disbursed will depend on the availability of funds and on indications that the supplement helps research to progress.
Stewart suspects that it might be at least five years before the NIH can assess whether the programme is a success. And Guo worries that junior scientists won't take advantage of the supplements. Anecdotally, she says, similar, smaller initiatives from individual NIH institutes have tended to have low application rates, because scientists either have not known about them or feel that stepping away from the lab for an extended period, or having awkward conversations with their mentors or supervisors about doing so, would be too difficult.
Mary Blair-Loy, a sociologist at the University of California, San Diego, says that although the new grant could be useful, it doesn't address the underlying problem of bias against mothers in science and concerns that they won't be as productive as their male or child-free counterparts. She says that hiring and promotion practices tend to underscore a widespread belief across US academia that academic scientific research demands levels of dedication and concentration that are incompatible with ordinary caregiving responsibilities.
Blair-Loy's unpublished research shows that female scientists with children publish as many papers and win as many grants as do other scientists.
In the meantime, however, she sees the supplemental-grant programme as a helpful step. "I really hope it is used by men as well as women, and is seen as a legitimate competitive, positive thing on the CV of any young scholar," she says.