Hello Nature readers, would you like to get this Briefing in your inbox free every day? Sign up here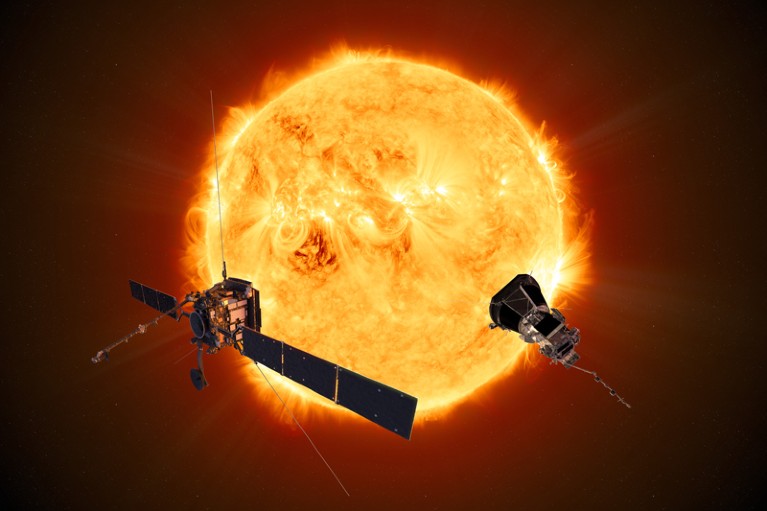 A European Space Agency mission that will take the closest-ever pictures of the Sun launched yesterday. The Solar Orbiter will take about two years to journey to Mercury's orbit, where it will spend four years taking pristine measurements of the solar wind. If the mission is extended as hoped, the spacecraft will then alter its orbit to give scientists their first-ever images of the Sun's poles. The Solar Orbiter will join NASA's Parker Solar Probe, which launched in August 2018, and the brand-new Daniel K. Inouye Solar Telescope to create what astronomers are calling "the golden age of solar and heliophysics research".
Behavioural ecologists are reeling from allegations that a spider-behaviour researcher fabricated data in at least 17 papers on which he was a co-author. The scientific community has identified seven papers that have been retracted or are in the process of being retracted; another five retractions that have been requested by Pruitt's co-authors; and at least five studies containing possible data anomalies. Behavioural ecologist Jonathan Pruitt denies that he fabricated or manipulated data in any way.
Features & opinion
In 2015, Ashmita Das started Kolabtree, a website that connects freelance researchers with companies looking for scientists. "It's really hard to get in touch with a scientist if you want something done," says Das about the seed of her idea. "Nowadays, you can't sell a cupcake without the help of a researcher."
Authors of new submissions to Nature will now be offered the option to have anonymous referee reports published, along with their own responses and rebuttals, once a manuscript is ready for publication. Referees can also choose to be named. Making peer review public will reveal "the often fascinating and important discussions between authors and reviewers" and shed light on how science is really done, says a Nature editorial.