The neurobiologist studying how the brain changes as it ages
Xiaoming Zhou is a neurobiologist at East China Normal University in Shanghai. Here he speaks to Nature about his research into age-related hearing loss, and explains why he hopes that brain training could help to lessen declines in sensory perception generally, and so ward off neurodegenerative diseases.
What is your current research focus?
We want to better understand the neural basis for why a person's hearing function declines as they grow older. For example, we have performed research to see whether we can reverse age-related changes to the auditory systems of rodents.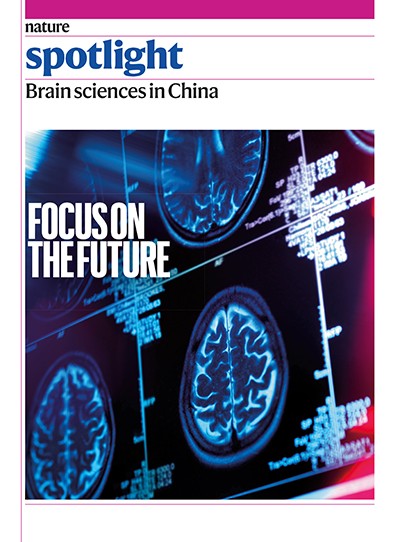 Nature Spotlight on brain sciences in China
We gave the animals a set of tasks, such as learning to discriminate between sounds of different frequencies or intensities. These exercises caused the rodents' hearing to improve, and also promoted changes to the hippocampus, a part of the brain structure closely associated with learning and memory.
The relationship with the hippocampus suggests that new kinds of brain training might help to attenuate our declines in perception and other brain functions, such as learning and memory, as we grow older — and so have the potential to stave off neurodegenerative diseases.
How is ageing-related science developing in China?
As has happened in the rest of the world, a rapidly ageing population has brought significant concern to policymakers. However, as far as I know, only a few neuroscience laboratories in China are specifically focused on learning more about the underlying mechanisms that cause changes in brain function as we age. This is despite the fact that such research could have a considerable impact on the welfare of older people in the future.
Nevertheless, the volume of research carried out in China in this area has increased dramatically — probably because of the huge growth of the country's scientific community as a whole in recent years, but also because funding for neuroscience research has risen.
In what areas of ageing-related research is Chinese science making most progress?
I think we could make the most progress in our research on Alzheimer's disease, a neurodegenerative disorder that causes difficulties with memory, cognition and behaviour in many older people. It is one of three brain-related diseases that will be the focus of a forthcoming national neuroscience initiative called the China Brain Project.
So it is foreseeable that a considerable number of Chinese scientists in related fields, such as neuroscience, medicine and artificial intelligence, will work together as part of this plan to study the mechanisms of Alzheimer's. Of course, it's hoped that these studies will receive huge financial support from the central government, and this should help to propel our research.
What needs to happen for China to make greater leaps in scientific research?
The environment for scientific research, including the management of staff, academic evaluation and financial support, needs to be further improved. For example, researchers spend a lot of valuable time doing administrative work, such as making applications for new instruments and organizing their expenses — time that would be better spent on scientific research, I think.
Fortunately, the management team at my university has noticed this problem and has made a big effort to solve it, and the situation is now gradually improving. In the field of brain science, many Chinese scientists also need more opportunities to collaborate with our international peers to help advance our research. Patience and persistence are very important, too, of course.
Nature 578, S3 (2020)