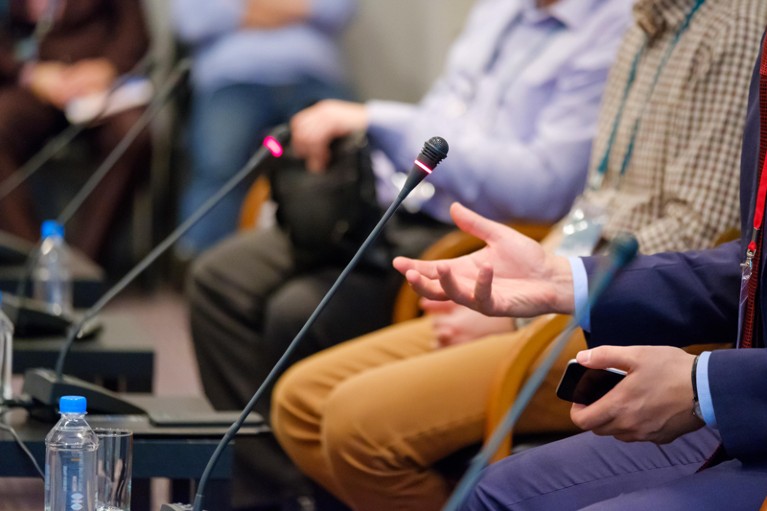 That women from under-represented minorities receive few speaking invitations to the world's largest Earth-science conference has again shone a spotlight on science's diversity deficit (H. L. Ford et al. Nature 576, 32–35; 2019).
Conferences are essential for research communication, and taking part is important for career progression. But turning the dial on diversity — and stopping it from slipping back — is proving difficult. Our investigation this year of 'manels' and 'manferences' — panels and conferences dominated by male speakers — showed that sometimes a heroic effort to diversify them one year is followed by business as usual the next (Nature 573, 184–186; 2019).
At Nature, we are aware of our own shortcomings — that our authors and referees, for example, include too few women — and of our responsibilities to turn things around (Nature 558, 344; 2018). This week, we begin a more concerted push to promote diversity across our editorial and publishing activities, including concrete commitments in the events that we organize (see go.nature.com/36jtfr).
In 2019, Nature and other journals in the Nature Research portfolio hosted, or co-hosted, more than 30 events in a range of disciplines. But despite informal efforts to make our conferences more inclusive, women and people from minority groups still make up only a small proportion of our speakers. We are therefore formalizing our efforts into a published code of conduct. This will apply not only to Nature Conferences but to all scholarly events organized or co-organized by Springer Nature.
The code commits us to having no male-only organizing committees for Nature Conferences planned from this point. We will invite equal numbers of women and men as speakers, whether we're selecting for keynote presentations or from abstract submissions. We also commit to having no manels at our events, and to monitor and report progress against these goals at the end of each calendar year. Planning for most of our events in 2020 is already advanced, so the full effect of our commitment will be seen from 2021.
Nature Conferences must be welcoming, safe, collaborative and productive for all attendees. Our code states that we expect participants to be considerate of diverse views and cultures, and respectful and collaborative in their discussion and critiques of ideas. Appropriate sanctions will be applied where the code is not followed.
We also commit to supporting diversity more broadly, including in geography, ethnicity, culture, career stage, disability and sexual orientation. With time, we aim to develop our code further to address this explicitly.
Scientific events must be more inclusive. We hope that this initiative − like similar ones in many other organizations − goes some way to reaching that goal.