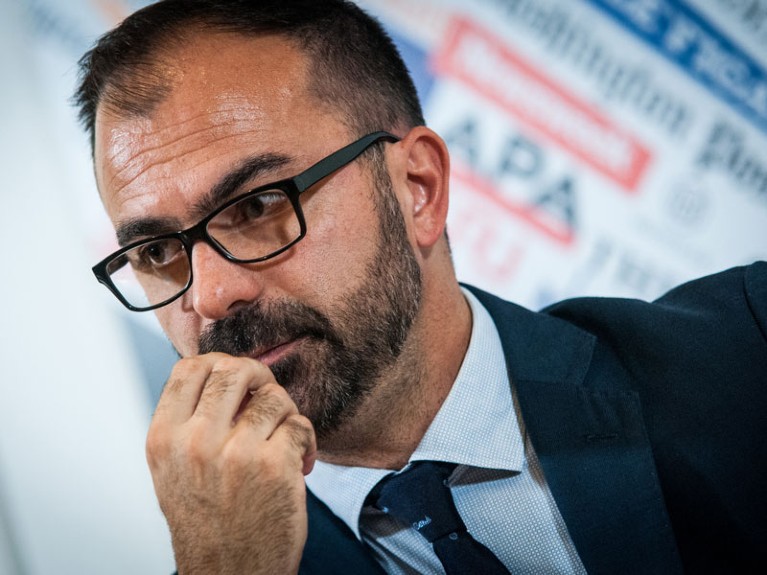 The Italian government is debating whether to set up a national research agency — an organization that could boost science funding by hundreds of millions of euros a year. But although scientists have long called for such an agency, some are concerned about the latest plans. They worry that researchers haven't been involved in discussions about the organization, and that it won't be independent of political influence.
Prime Minister Giuseppe Conte, who leads a coalition government of the populist Five Star Movement and the centre-left Democratic Party, mentioned the idea for a National Research Agency (ANR) in a September speech. The proposal will be discussed in parliament this month as part of Italy's 2020 budget bill.
Italy already has several mechanisms for funding basic science, but researchers complain that the system is haphazard, and that calls for grant proposals are often delayed. The country's existing National Research Programme has a budget of €2.5 billion (US$2.8 billion) for 2015–20. But the scheme's main source of money for basic research — the Research Projects of National Relevance programme — last made a grant call in 2017. Moreover, Italy invests only 1.2% of its gross domestic product in research — far below the European Union target of 3%.
Many scientists had hoped for an agency that would simplify research funding, but note that the ANR instead adds another organization with its own budget. And it is not yet clear how the ANR would interact with Italy's other science-funding mechanisms. The bill up for discussion states that the agency would coordinate the direction of research at universities and public research bodies, fund "highly strategic" projects and encourage Italian participation in European and international research initiatives. It would receive €25 million in 2020, €200 million in 2021 and €300 million per year from 2022.
Missed opportunity
"It is promising that the matter is part of the current government's strategy. Unfortunately, the model behind it is not yet clear," says Vincenzo Costanzo, a cancer researcher at IFOM, a molecular-oncology institute in Milan. The move is a missed opportunity to bring all government research funding under a single body in a transparent and independent manner, he adds. "We really need an agency that regulates the annual grant calls."
Researchers also worry that they have not been involved in the ANR's planning, and are concerned about the agency's political independence. According to the bill, the ANR's leaders will be appointed mainly by politicians: the prime minister would choose the director, and government ministers would select most of the agency's eight-member executive committee. Many had instead hoped for an agency overseen by research managers and scientific advisers.
Overall, the agency is a positive step, says Giuseppe Remuzzi, director of the Mario Negri Institute for Pharmacological Research in Bergamo. But the government's role should be restricted to making suggestions about appointments, and executive-committee members should be chosen by a group operating under the best practices used by the international scientific community, he says.
"I do not see a serious analysis of the current situation of our research, and a long-term vision and commitment to invest in science. The risk is an empty and dangerous cosmetic move," says Alberto Mantovani, scientific director of the Humanitas Research Hospital in Milan.
Lorenzo Fioramonti, Italy's minister of education, university and research, says that scientists should feed into the ANR's development. He was involved in the idea to create the agency, but says he was surprised that the draft law also included information on the agency's governance. "The agency's function and governance can only be decided after a discussion with the research community," he says. Fioramonti had hoped that the bill would serve only to set up the agency, with details of its management decided early next year.