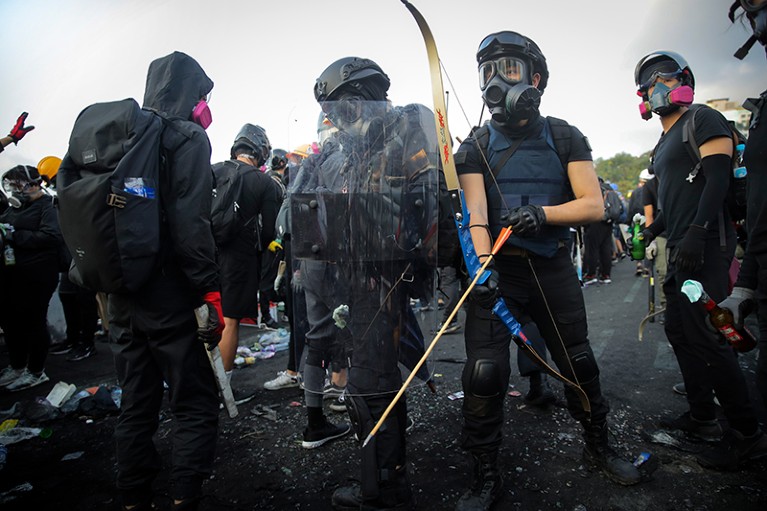 Three universities in Hong Kong have cancelled classes on campus for the rest of the term after violent clashes between police and protestors erupted in the grounds. At least another four universities have also cancelled classes — in some cases for the rest of the year — over safety concerns. And staff at most of the institutions have been told to stay away for several days.
The clashes on campuses are the latest flare up in Hong Kong, and follow six months of street protests, which started in June against an extradition bill that would have allowed people to be sent from the territory to mainland China to stand trial or serve criminal sentences.
The protests on campuses are also disrupting research, and some scientists fear that this could dissuade foreign academics from coming to Hong Kong.
Violent clashes started on the campuses of Hong Kong Polytechnic University, City University of Hong Kong and the Chinese University of Hong Kong (CUHK) last week. Officials at CUHK said in a statement that protestors — many thought to be students — had fired petrol bombs and other objects, while police had released tear gas and fired rubber bullets. University facilities were damaged, staff and students injured, and transport affected.
Worsening violence
Tensions escalated further over the weekend after protestors occupied parts of Hong Kong Polytechnic University. Police used water cannons, tear gas and rubber bullets in an attempt to breach the protestors' barricades; activists threw petrol bombs and rocks, and set objects alight, according to media reports. Images showed some protestors carrying bows and arrows — one police officer was reportedly hit in the leg with an arrow. The standoff between protestors and the police continues.
Michael Chan, a chemist studying proteins at CUHK, says that even before the university was formerly closed last week, he and his students had been unable to access their lab because vehicle entrances to the campus had been blocked by traffic or guarded barriers. "We have ongoing mouse experiments which have specific time points," he says. "Some of these mouse experiments might have to be stopped and redone." Chan says at least two of his students have left Hong Kong for Shenzhen because of the protests.
Hong Kong Polytechnic University and CUHK say that protestors have removed dangerous or flammable chemicals from laboratories.
Jianhua Zhang, the dean of science at Hong Kong Baptist University, which has also cancelled classes for the rest of the semester and advised faculty to work from home, thinks that student protestors started gathering at university campuses because they seemed familiar and safe places.
Protestors have been using his university as a camp, says Zhang, sleeping on the floor and cooking food in student centres. The disruption has not reached the levels it has at City University of Hong Kong and Hong Kong Polytechnic University, he says, but many researchers are sombre and worried. "We don't know what will happen tomorrow."
Wider effects
Zhang worries that the ongoing protests will have a wider effect on academia. "I anticipate that people will be reluctant to take offers to work with us," he says. Existing faculty might also move away if the protests continue, he added.
When the protests first erupted, more than a thousand academics from around the world signed a petition calling for the extradition bill's formal withdrawal. Although the bill was later withdrawn, demonstrations have continued.
The Open University of Hong Kong, Hong Kong University of Science and Technology in Clear Water Bay, and the main campus of the University of Hong Kong have also cancelled classes for the rest of the term. Universities say alternative teaching arrangements will be made, such as online course or assessments.