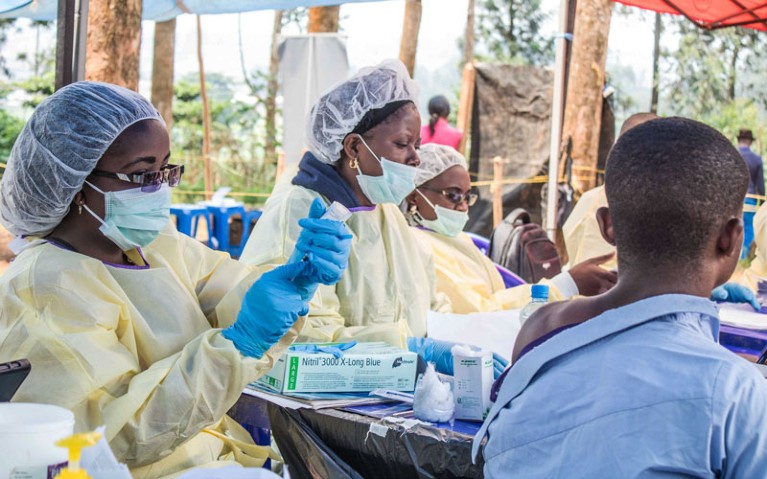 The Ebola outbreak in the eastern Democratic Republic of the Congo (DRC) is finally waning, the World Health Organization (WHO) said on 18 October. The good news came as a vaccine that has helped to contain the virus's spread moved a step closer to regulatory approval.
Fifty people were diagnosed with Ebola in the DRC between 25 September and 15 October, the WHO said. At the outbreak's peak in April, roughly 300 new infections were reported in three weeks. Since the outbreak began in August 2018, almost 3,250 people have been infected and more than 2,150 have died.
But the drop in infections is not a reason to relax efforts to contain the virus, WHO director-general Tedros Adhanom Ghebreyesus told reporters on 18 October. "We must treat every case as if it is the first since every case has the potential to spark a new outbreak," he said.
Ebola responders have pushed the virus out of Beni, a city in the DRC's North Kivu province that has been a centre of the outbreak. But the WHO still considers the outbreak to be a public health emergency of international concern. Ebola is continuing to spread in remote parts of North Kivu and Ituri provinces, where violence has complicated the fight against Ebola.
An independent emergency committee of health experts that advises the WHO will convene again in three months to decide whether the crisis still merits the public-health-emergency designation.
Green light for vaccine
There was more good news on 18 October, when the European Medicines Agency (EMA) recommended that the European Commission (EC) approve an Ebola vaccine produced by the pharmaceutical company Merck.
About 240,000 people considered to be at risk from Ebola have been vaccinated with Merck's vaccine during the DRC outbreak, but the vaccine is still considered to be an experimental product by regulators worldwide and cannot be marketed. Most Ebola specialists agree that the outbreak would have been much worse without the vaccine.
The EC will make a decision within 10 weeks on whether to approve the vaccine for sale. The EC typically follows the counsel of the EMA.
The US Food and Drug Administration fast-tracked the vaccine's application for approval in September. Its decision is expected in March 2020. Seven other experimental Ebola vaccines are at earlier stages of development.