Working Scientist podcast: How to inspire young women to consider scientific careers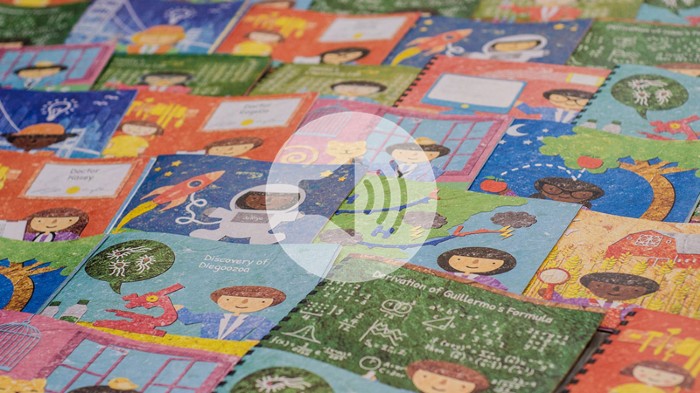 Jean Fan spent a year volunteering at a science club for high school students during her PhD programme at Harvard University and was struck by how many of them dismissed the idea of becoming scientists themselves.
"A lot of my students would make remarks like 'I'm not quite a maths person,' or would not see themselves as future scientists," she tells Julie Gould.
"I really wanted to leave them with some type of gift to encourage them to continue developing their interest in science."
As a result Fan, who was the sole female graduate student in her PhD bioinformatics programme, launched cuSTEMized, a non-profit that uses personalised educational storybooks (which she writes and illustrates) to inspire girls about scientific careers.
This week, at a ceremony in London, she won the 2019 Inspiring Science Award, one of two offered by Nature Research and the Estée Lauder Companies.
The second award, Innovation in Science, goes to Doreen Anene, a PhD student at the University of Nottingham, UK.
In 2017 Anene launched The STEM Belle, a non-profile based in Nigeria, her home country. The STEM Belle also works in Ghana and Pakistan. As its website says, The STEM Belle is "focused on levelling up the female representation in Science Technology Engineering and Mathematics fields by attracting, retaining and advancing more girls and young women to STEM subjects and fields."
Transcript
Doreen Anene and Jean Fan tell Julie Gould about their winning projects and why they launched them.
Julie Gould
Hello, I'm Julie Gould and this is Working Scientist, the Nature Careers podcast. This episode features the two winners of the 2019 Inspiring and Innovating Science Awards. Since 2018, Nature Research have teamed up with the Estée Lauder Companies to find people who have gone above and beyond to support and inspire women in science, technology, engineering and maths. One award focuses on Innovation in Science, and this year it was awarded to Doreen Anene, a PhD student at the University of Nottingham in the UK and visiting scholar at the University of Sydney in Australia. Doreen is trying to change the mindsets of young women in her home country of Nigeria about the possible careers in STEM.
Doreen Anene
It's not for women – that's a story that has been passed down. There is no reason, there is no explanation, there's no scientific facts, there's no proof, but it's just not for women. We don't know why, but it's just not for women and that's why the mentality of many young girls are clogged about what they should be and what they shouldn't be.
Julie Gould
The Inspiring Science Award this year goes to Jean Fan who is a postdoc at Harvard University. She used her computer skills to encourage young women to see themselves in a variety of scientific careers via a customisable story book, despite the challenges that they may face along the way.
Jean Fan
You're going to experience lots of situations, especially as a woman in science, unfortunately, that are going to challenge you and force you to kind of step outside your comfort zone and become more than what you think you're capable of and more than what society has told that you are capable of.
Julie Gould
So, as well as developing computational methods for analysing various types of single-cell multi-omic data, Jean spends her time running CuSTEMized. CuSTEMized was inspired by her own experience as being the only female student in her bioinformatics program. So, as a way to meet other women in science, she joined the Harvard Graduate Women in Science and Engineering student group where she started volunteering with an organisation called Science Club for Girls. This gave her the opportunity to share her science career story and experience with young girls at secondary schools in the area.
Jean Fan
When I was volunteering, a lot of my students, I noticed they would just casually make remarks like how they're not… if you asked them what was their favourite subject, they would say, 'Oh well, you know, I'm not quite a math person, but I like this,' or they would not necessarily see themselves as future scientists. So, then at the end of the year, I was wrapping up my volunteering. I really wanted to leave them with some type of gift of sorts to encourage them to continue their interest in science or continue developing their interest in science and I really wanted this message to be personalised. So then I wrote and illustrated a children's book that I personalised to look like each of my students and I used their names in the book so that it would be a story about them and how they became a veterinarian or a mathematician or a physicist, so that they could learn a bit more about all these different careers that I didn't get a chance to teach them about and see themselves as potentially deriving their own mathematical equation or discovering their own strain of bacteria that they name after themselves or something.
Julie Gould
So, it was these books that were the start of CuSTEMized, which is now a website where parents can create personalised story book characters for their children, where they go on adventures discovering different scientific career paths. But although the books are meant to be inspiring, they also shed light on one of the trickier aspects of a career in science, which is failure, and that however exciting a career in science may be, it isn't always an easy one.
There are challenges. There are ups and downs. There are times when one might fail. Why did you decide to put that in, especially when you're aiming these books at secondary school students?
Jean Fan
Yeah, absolutely. I think one of the reasons I'm here today is really because I persisted. I think it's really important to teach our kids the importance of persistence and just teach them at an early age that it's common to fail and it's okay to fail. That you're going to experience lots of situations, especially as a woman in science, unfortunately, that are going to challenge you and force you to kind of step outside your comfort zone and become more than what you think you're capable of and more than what society has told you that you are capable of. My hope is that for girls who read this book, that they'll remember when the inevitably face those challenges that they can rise to the occasion and it's perfectly okay to fail. What often distinguishes between those who fail and those who ultimately succeed is those who can get up and try again.
Julie Gould
So, you yourself said that you had to persist, so what challenges did you face in your scientific career?
Jean Fan
When I first got into computer science it was really challenging because I was in a class where I had never had any computer science education prior and everyone else, at least it seemed, already had some background in computer science. So, I really struggled and for a long time I didn't really understand why I was struggling. So, at the end of the year, I didn't do very well in my class. What the teacher did was give us little stickers on a finals exam if she thought we should continue into the next advanced computer science course and I was just so disappointed I didn't get a sticker.
Julie Gould
Oh no.
Jean Fan
Yeah, so that was a really disappointing because I had tried so hard, so I basically just ignored her and I continued taking more computer science classes and eventually went on to tinker a lot with computer science in my own free time, just making websites and making apps and widgets. And then later I actually went to graduate school for bioinformatics which is very computer science heavy and my advisor was a man so when we eventually published one of our first papers in Nature Methods, colleagues would kind of mention or insinuate that my male advisor had done all the work. And I think it's very discouraging but I just kind of had to persist and ignore them and go on to publish more papers and establish yourself as an independent thinker capable of doing science independently of your advisor. But there are a lot of these situations where you'll face people who will try to undermine you with micro aggressions and so forth and try to keep you down but I think it's important to try to acknowledge the bigger picture and the bigger goals that you've set for yourself and do what it takes to pursue those goals.
Julie Gould
As well as a personalisable book, CuSTEMized wants to make sure that young women can interact with real, relatable women in science.
Jean Fan
So, we organise these various educational programmes and hands-on learning activities locally in conjunction with libraries and other after school programmes where we bring in female scientific speakers from the local Harvard and MIT community to talk about their research in a fun way that is engaging to kids, and giving the kids an opportunity to participate and learn things. They can engineer their own little paper aeroplanes. They can conduct experiments.
Julie Gould
So, this year is Nature's 150th year and what the Nature Careers section is doing is looking at how scientific careers have changed and how Nature, science and society have recognised contributions from female scientists throughout history. So, we were wondering here at Nature Careers whether or not you have a particular female scientist from any point in history that has been a particular inspiration to you.
Jean Fan
I'd really love to quote Clara Barton who is the founder of the American Red Cross. "I defy the tyranny of precedent. I cannot afford the luxury of a closed mind." I think it's really important for women to recognise that, for example, just because a woman hasn't done it before doesn't necessarily mean that women weren't meant to do this or women can't do it. I think she is a particular embodiment of this.
Julie Gould
Now, my last question to you, Jean, do you have any advice that you would like to give to any young female future scientists or current scientists about a career in science.
Jean Fan
Yeah, I think one of the pieces of advice I really don't like to receive and that I have received a lot of is frankly to just be yourself because at least for me, what I've found is that I go through so many experiences that challenge me to become more than just myself and do more than what I think I am capable of. So, yeah, I think it's really important that when these challenges arise, that we rise to the occasion and we meet these challenges face on and persist, not necessarily just because we're trying to address a particular scientific question but because it's what future generations of girls who look up to us demand of us and I think it's important to keep that in mind, that no matter what stage you are at in your career, you are a role model to the younger girls looking up to you.
Julie Gould
Thank you and congratulations to Jean Fan. Doreen Anene, originally from Nigeria, has won the Innovating Science Award this year for the STEM Belle, a not-for-profit organisation that she started two years ago. The STEM Belle targets young girls from under-resourced schools in low-income communities in Nigeria, Ghana and Pakistan, and hopes to show them that a career in science is an option for them, whatever the cultural norms might currently be. Now, it started when Doreen spent some time finding out about the representation of women in science in Ghana. She went to some of the local schools and used games as a way of finding out what young people thought about who scientists really were.
Doreen Anene
I had a list of careers and I told them, 'Look, I'm going to call out this career and you tell me who should do this, a boy or a girl.' And I started, 'A pilot,' and everyone wailed that it should be a boy who should be a pilot. Everyone thought that a boy should be an architect, a structural engineer, a marine engineer and then I said teaching and everybody thought that it was women who should be nurses and then when I said medicine they thought maybe boys should and girls also should be doctors – it was a mix. But the summary of the whole thing is that they had an idea of who should be what. It shouldn't be classified. It shouldn't be this should be for boys and this should be for girls, and it gave me somewhat joy that I could put myself out to young people and in the later part of 2017, we got STEM Belle registered in Nigeria.
Julie Gould
So, tell us a little bit about the STEM Belle. What is it and what does it do?
Doreen AneneWe are focused on getting more girls fit for the future of STEM and we're doing this through three strategies. First, to attract them to science subjects. Secondly, to retain them in science classes. And thirdly, to advance them to science careers through STEM higher education.
Julie Gould
Now, these strategies are specifically aimed at girls between the ages of 7 and 14.
Doreen AneneBecause this is like the formative years before they get to where they have to make a choice whether to do science or arts or commercial or accounting or something. At that age, we start to break the stereotypes that have been formed around most girls. Now, in Africa, you ask a young girl a question, say, six years old, what do you want to be? You're going to hear names like petrochemical engineer, aeronautical engineer, the very big and juicy names. You hear oncologist, robotics, engineer, sound system, all really amazing stuff. But come back to the girl when she's ten, and ask her what you want to be, and she's bound to tell you something different. They start listening to things from maybe their parents, their teachers, things like why do you want to become an aeronautical engineer? Don't you want to get married? It's difficult for men to marry women who are engineers and they just start to reconsider their options and they're like oh, let me just do something that will make me marriageable or something. It's quite embarrassing, but that is the reality on ground. Put it as inequality, but there's just a lot of divide between what males can do and what females can do, and one of the things that women shouldn't do is higher education, STEM. Why would you want to be an engineer? It's not for women – that's the story that has been passed down. There's no reason. There's no explanation. There's no scientific facts. There's no proof. But it's just not for women. We don't know why. But it's just not for women, and that's why the mentality for many young girls are clogged about what they should be and what they shouldn't be.
Julie Gould
What Doreen and her team of volunteers at the STEM Belle do is invite women in science from a wide range of disciplines to come into the schools and spend some time with the girls and give the girls an opportunity to ask questions, to share their fears and to show them what it is like to be a successful scientist. Now, alongside this, the STEM Belle has also created termly academic awards for the highest performing girls from all the schools that they work with and each year, all the winners of these awards are invited to a summer boot camp, an intensive eight-day stay where they're exposed to female scientists and a variety of activities aimed at showing them what the world of science could be like for them.
Doreen AneneWe had our very first maiden boot camp between 17-25th August 2019 and it was magical. Basically, what we do on the camp was that we bought in women, most of them were the chaperones, and they just spoke to them on different careers in STEM, safety in STEM, aviation, engineering, agriculture, computer appreciation and internet utility, medicine, public health, so much other stuff, robotics, drone technology, 3D printing. We even spoke to them about how to manage expectations and reality and we talked to them about life in secondary school, the life in science classes in secondary school. We had personal development. It was really amazing. Now, all the events that we had on camp were hands-on, were all practical and there were competitions to go with each session. We didn't restrict the camp to only the students because we understand the very important role the teachers and school councillors have to play in shaping career choices for students. So, we also invited 15 teachers from across the schools that we work with in Nigeria and we had 12 of them on camp. Now, to make the camp a success, we had to bring in chaperones. These are volunteers. They are all women in STEM. Some are engineers, physicists, public health experts. One was even, she just newly completed secondary school and she studied science in secondary school and she joined us on camp. Now, during the camp, we had STEM activities, STEM awareness creation, we had STEM industry tours, we had STEM projects and the teachers also had teacher development training. So, we collaborated with some organisations to just bring together a training and deliver a training to the teachers on education for sustainable development.
Julie Gould
You mentioned that the camp was magical. What was so magical about it? What was the response from the girls that you brought into the camp?
Doreen Anene
They came with a particular mindset and I could see the change when they were leaving. The teachers wouldn't stop talking about it. They wouldn't stop writing about it. I could see the confidence that was built and the skills they left with – public speaking, collaboration, teamwork. The teachers left with new skills about teaching, and this is all reflected in feedback and responses from their parents.
Julie Gould
So, do you follow up with the girls that you meet with and that your programme works with after they've finished with your main programme?
Doreen Anene
We have a very strong database of their names, their addresses, their parents' addresses, their parents' telephone numbers. Not all of them have mobile phones and emails because most of them are not yet of age, but what we do is for those who are of age we opened emails for them and we have encouraged them to keep writing us. Then for others who are not of age, we have received many phone calls from their parents and we are following up with them through their parents.
Julie Gould
And is there hope then that some of these girls who have been through the STEM Belle programme will then come back as alumni and help inspire future generations as well?
Doreen Anene
Yes, there is. As a matter of fact, at the end of the camp, a STEM Belle ambassador emerged, so she is going to be the face of the STEM Belle for a year and during our programmes, even though she is still a STEM Belle student, we're going to be taking her round to some of our schools to just speak to other girls and let them know that this is something that they should consider.
Julie Gould
And so, what is your hope for the future of the STEM Belle, particularly now that you've been awarded the Innovation in Science Award in partnership with Estée Lauder Companies? What impact do you hope that the award will have on the STEM Belle and its future?
Doreen Anene
I think this award is going to take us three steps faster than we thought. So, the first thing that I think we're going to be doing is teachers development. Nigerian teachers are not well equipped to keep passing on knowledge. You give what you have and at some point, you need to refuel and refresh what you have so that you can give more. Of course, we have been in the southwestern part of Nigeria for two years now, and we are going to be expanding to the northern part of Nigeria and we'll just keep reaching out to see how fast and how well we can help close the gap.
Julie Gould
And to use your turn of phrase, how do you hope that the STEM Belle will unclog the minds of these woman?
Doreen Anene
So, if you look at our logo, we're telling a story, that as a woman you can be everything. You can be elegant in stilettoes, you can be confident in stilettos. Elegant in stilettoes is that you can have a home front. You can be a wife, you can be a mother, you can be stylish, you can be chic. You can be everything feminine. And confidence in stilettoes is you can have a career of your choice, you can lead in STEM fields, you can make decisions, you can sit on big tables, you can be everything, basically. That's what we're trying to say. And with these strategies that we have been implementing and the ones that we hope to as a result of this award, we're very confident that the mindset of girls will change and we hope that we continue to change mindsets across Nigeria and across the world, hopefully.
Doreen Anene
Thank you and congratulations again to Doreen Anene. Thanks for listening and apologies for the croaky voice. I'm Julie Gould.