Next week, the Royal Swedish Academy of Sciences will award the first Nobel prizes in chemistry and physics after making tweaks to its nomination procedure to diversify the pool of potential winners.
The academy acknowledged last year that women and scientists from some ethnic groups are under-represented among Nobel laureates. Wins in 2018 for Donna Strickland in physics and Frances Arnold in chemistry were welcomed, but did little to move the needle (see 'Nobel imbalance').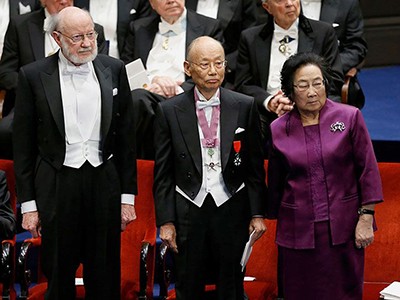 What the Nobels are — and aren't — doing to encourage diversity
The organization introduced measures that it hoped would tackle the issue by encouraging scientists to put forward a more diverse range of nominees. These included asking more women to suggest candidates, and altering the wording of the letter inviting nominations. The new language explicitly asks nominators to consider diversity in gender, geography and topic, as well as to nominate more than one discovery.
Nature spoke to the academy's secretary-general, biomedical scientist Göran Hansson, to see what impact the measures have had.
Did the changes you introduced to the letter make a difference?
We've gone through the nominations and although I cannot give you any exact figures, it looks like there is a positive trend, with more women being nominated. It's small, but it's a trend. We will follow this very carefully for several years to see if there is statistical significance before we draw any firm conclusions. But it looks like we may be on the right track. With time, there will also be a gradual change in the population of scientists who are potential candidates, so that will help too.
Did increasing the proportion of women among the nominators help?
That did not seem to have any impact, unfortunately. Women are no more likely to nominate women than men are, that's the conclusion. That's something we will follow up, but that's how it looks at the moment.
Last year, you told Nature that if the academy's measures didn't bring about significant change, you would look again at how to boost diversity. Will you take further measures?
We are ready to make more efforts if this is not sufficient, but it's too early to tell. We need this to be in effect for some time. The debate in itself matters as well, and we've taken quite some measures. Two weeks ago, one of our members — Pernilla Wittung-Stafshede, who is a professor of chemistry at Chalmers University in Gothenburg, where she heads a programme on these issues — lectured us and we had a discussion. We are continuing the debate and we are making sure to elect women to the academy [from which the prize-awarding committees for the chemistry, physics and economics Nobels are drawn]. Last year we elected more women than men to the academy for the first time in history.
Are you trying to boost diversity beyond gender?
Yes. In the nomination letter we also mentioned ethnicity. We cannot say yet whether it has had any effect, because we started by evaluating gender. But even before we changed the nomination letter, one of the countries that had increased its number of Nobel laureates the most was Japan. So that augurs against any bias towards what the Americans call Caucasians. We see enormous investments in science now in East Asia, and we see more people from East Asia being nominated than ever before. So long-term, I'm sure that will pay off.
But we have a balance to strike here. Alfred Nobel explicitly stated that we should not consider nationality when we award the prize. He wrote in his will that the most worthy individual shall receive the prize, irrespective of whether they are Scandinavian or not. So we will never introduce quotas for nations, ethnicity or, for that matter, gender. It's important that the individual who receives the Nobel prize gets it because she or he is the most worthy recipient. And there should never be any question about that.
That assumes that the worthiest recipients naturally rise to the top. But sociologists find that racism and sexism are systemic in science and suggest that without active measures to counteract them, the Nobels — and other prizes — will remain biased in favour of white men. How do you respond to that?
We realize that the Nobel laureates become role models, and it's important to have role models who are women and from diverse ethnicities. At the same time, we have to identify the most important discoveries and award the individuals who have made them. If we go away from that, then we've devalued the Nobel prize, and I think that would harm everyone in the end.
Will increasing diversity remain a high priority for you and the committee?
The issue is discussed more or less continuously. We will continue to work actively. We are of course dependent on changes in the world outside the academy and the Nobel committees. The most important changes must take place in schools and universities: women must be encouraged to study sciences and be given equal opportunities throughout their careers in academia. Within ethnicity, we hope that more countries around the world will build up their science. Science is an expensive activity and requires stability, so the opportunities are very different in different parts of the world. We all hope that this will gradually change in such a way that individuals from many more countries will have more opportunities to pursue careers in science and to make discoveries.