The sourdough loaves that led two scientists to fame on The Great British Bake Off
Rahul
When I was growing up in India, we didn't have an oven, so baking was alien to me. In 2010, after graduating from the University of Calcutta, I moved to the United Kingdom for a PhD in optical metrology at Loughborough University. I joined the university gardening society to make friends, and some of the members would bring in baked goods. Once, a woman brought a sourdough loaf — and it tasted amazing.
She gave me a 'starter' (a mixture of flour and water that encourages the natural yeast to grow for bread-making), and I began experimenting with bread. I was on a tight budget for a few years, so I made mince pies and stained-glass biscuits to hang on Christmas trees, and gave these as presents.
In 2015, I moved to Rotherham to work at the Nuclear AMRC. A year later, I made my first cake: a Victoria sponge. The decoration wasn't great, but it tasted OK. I used too much buttercream icing — but I learnt from that mistake.
I got really interested in why things do and don't work in baking, as you do for science. I did massive amounts of research and went through as much literature as possible. But, unlike in science, there were videos of people's baking experiences for me to learn from.
Only four people at work knew about my Bake Off filming before the show aired last August, including David Anson, who started as a project manager at the Nuclear AMRC on the same day as me. David kept sending me the application form and encouraging me to enter.
You can't really compare scientific success with Bake Off success. But getting the call to go on the show was as exciting as getting my PhD offer. And getting 'star baker' in the second week of the competition felt a bit like getting my first journal paper published. It's a pinnacle, equally important — but in different ways.
You learn from your mistakes, as in research, by figuring out what went wrong, getting the basics right and applying whatever scientific knowledge you have to solve the problem.
For example, one early technical challenge on Bake Off was Wagon Wheel biscuits, which consist of a marshmallow and jam filling sandwiched between two shortbread biscuits covered in chocolate. But I didn't know what they were. I knew how to make shortbread. I hadn't made marshmallows, but I knew how to make Italian meringue, which helped. I had made jam, but not often, and I had made tempered chocolate before by lowering the temperature naturally and enabling regular crystallization. Basically, I broke the task down, like in science.
The gâteau vert technical challenge was similar. We had to use spinach and pistachio to colour the genoise sponge cake, creme au beurre and fondant frosting green. I had never made this cake before, but I was familiar with genoise and creme au beurre. Baking is a combination of different scientific subjects. Incorporating air into batter is basically chemistry, but Charles's law in physics governs how it expands. Gases swell when heated under constant pressure, and cakes often fail when you open the oven door and the pressure and temperature inside the oven drop. There is more to it: if you add too much baking powder, cakes rise too quickly and gas inside escapes before the structure sets, creating a dip. It's important to follow recipes to allow enough time to make structures happen.
Coming to the Nuclear AMRC really taught me about teamwork, and the Bake Off is a big team production with about 300 people on set. It is a competition, but it's also about helping each other.
In one episode, the crew stepped in after a glass container suddenly shattered at my workstation. I didn't cry, but was on the verge of breaking down. There were some negative social-media comments. I'm not on Twitter, but colleagues would let me know what was being said. One day, a lady came up to me to me in the supermarket and told me to be more confident. J. K. Rowling, author of the Harry Potter series, tweeted that I should be UK prime minister.
I didn't enter Bake Off to change my career. I put my name down because I liked baking. So when I won, I was very clear that I wouldn't leave my job or turn my hobby into my profession. I'm making a colleague's wedding cake, but that's my present to him. I figured I'd spent 28 years focusing on science and getting my PhD, compared with one year or so on Bake Off. My agent was very understanding.
I did science, technology, engineering and mathematics (STEM) ambassador stuff in schools before the competition. I do more now because I realize that a lot of people relate to me. But I still feel like the odd one out — I'm shy and introverted. In any class of children, I guess around 30% will be like me, and 50% will be outgoing.
My advice to someone who has moved countries for their career is to try new things to keep busy. Alongside baking and gardening, I paint. I'm on Instagram now, and getting into photography.
These days, I try to face everything more bravely. I still bake cakes for colleagues and friends. Money can come and go, but friends and family stay.
Yan
The audition team sees around ten people every hour, so they will taste hundreds of highly calorific cakes, pies and tarts. I took an analytical approach and went with something plain: a sourdough loaf with a salted-butter spread. I used the 'Hackney wild' starter I'd been given in a bread-making course in East London. There's a French guy in my lab, and we compare bread a lot. My wife Marian and I were in France for the Women's World Cup football tournament this year, and I spent time going around bakeries, looking, learning — always learning.
When I get text or social-media messages now using phrases such as "a baker of your calibre", I experience imposter syndrome. Why do you think that? Because I was on television? That's not a reason to believe I'm an expert.
I have a 9–5 bench role in a lab. Other contestants were home-based and had more time to practise. I felt I wasn't as good as them, but I applied Darwin's principle: it's not the survival of the fittest, but the species that can adapt the quickest. That was my advantage. I see a problem and work out how to solve it. On the first day of the competition, I was faced with a new oven. The first thing I did was work out out how to use it. The knives in the tent were very sharp. At first, I cut myself a lot. But there was nothing to stop me from bringing in my own knives — so I did.
Baking is like science, in that you fail at stuff and you learn from it, and always ask questions. If something didn't work, I wanted to know why. My biomedical training taught me about the importance of recording batch codes in case of anomalous results, so I'd often bring in an ingredient from home (gelatine, for example) because I knew how much I'd need from that batch to get it to set.
You're given recipes on Bake Off, but you have to develop them. Yours has to be unique. As in science, you can't plagiarize. I took that seriously.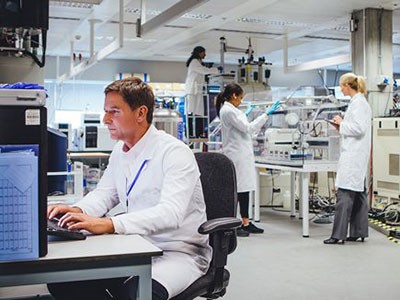 Collection: Life in the lab
Filming starts in April, and the show airs in August. It's all secret, so it takes a while before people start to recognize you. When the line-up for my series was announced, I was on the train, sitting next to a woman who was looking at a picture of me.
We weren't allowed to approach an agent until the series was halfway through. Mine was very honest with me and told me that she would try to negotiate the best offers, but that it would be foolhardy to leave a full-time job to chase celebrity, which doesn't pay.
I pick and choose what I do, mostly freebies and small charities. You do get asked at the audition if you want to win the competition, and the reasons why. Maybe some people want to get away from what they are currently doing — but that wasn't an issue for me. I love my job, and Ruth Peat, my boss at the Crick (she was also my boss at Cancer Research UK, where I worked as a cell-culture scientist), was great during Bake Off. Sometimes, we filmed during the week, and she allowed me to work extended days so I could make up the time. Filming took place mostly at the weekends, but you have to practise in the week. I'd get home from work and make mine and Marian's dinner and would eat mine standing up while I practised my bakes. Marian went to bed at 10 p.m., and I'd often finish at 3 a.m.. Then I'd get up at 7 a.m. to go to my job.
This morning at work, while I was making agar gels, I thought about making a vegan cake and using chickpea water (aquafaba) to make Swiss meringue. Chickpea water is edible and has high protein content, like egg, but it must be whisked harder to make a structure because it's less stable. Sometimes, as a scientist, I get some extra insight into the process.
I left in week seven. It was enough. I wanted to survive the first week, which I did. At the time, my only thought was getting through each week. Looking back, I wish I had taken the time to enjoy it a bit more.
My sourdough starter died at the weekend. We came back to a horrible smell. But I'd put an archive of it in the freezer, so I can revive it. She's a hardy old thing — that's one of the many things I've learnt.
This is an article from the Nature Careers Community, a place for Nature readers to share their professional experiences and advice. Guest posts are encouraged. You can get in touch with the editor at naturecareerseditor@nature.com.