Working Scientist podcast: The school physics talk that proved more popular than Lady Gaga's boots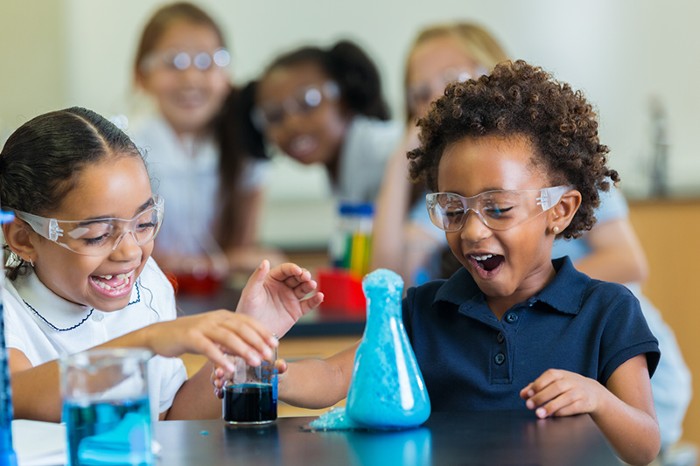 Jon Butterworth developed a taste for public engagement after repeated media appearances related to his work on the ATLAS experiment, one of two Large Hadron Collider detectors at CERN, Europe's particle-physics lab.
Butterworth, a physics professor at University College London, describes life at CERN, and how it felt to be one of 5154 authors listed in the 2015 paper that produced the most precise estimate yet of the mass of the Higgs boson.
As part of his public engagement activities, Butterworth was persuaded to auction an after-dinner lecture or school talk about the Higgs. The auction "lot" was part of a fundraising effort for his children's primary school in north London.
"Someone else at the school was Lady Gaga's designer and they brought along a pair of her boots," he tells Julie Gould. "My talk went for more than Lady Gaga's boots. I'm still doing it now. Interest hasn't died away.
"The key thing is you have to be genuinely excited about your project. We've lowered the bar so more physics stories get into the news.
"If you tell your mum and dad now that you're doing physics, you get kudos for it in the way you wouldn't have done before," he says.
Tom Weller taught physics for eight years at a west London school following his second postdoc at Harvard University, a career change triggered in part by the enjoyment he derived from organising children's science parties. "They made me recognize how much I enjoyed explaining stuff that was fun and engaging," he says in the fourth episode of this six-part podcast series about physics careers.
Transcript
Physicists Jon Butterworth and Tom Weller talk teaching, science communication and public engagement with Julie Gould.
Julie Gould
Hello, I'm Julie Gould and this is Working Scientist, a Nature Careers podcast. This is the fourth part of our series on careers in physics.
Now, in this fourth episode, the focus is on two physicists who, in their own way, have become STEM ambassadors and science communicators. One of them works at CERN. The other left academia, then started working with kids' science parties before switching to teaching. So, let's start with our interviewee from CERN. Now, in the last episode, we heard from Lewis Armitage, a physicist turned data analyst who'd spent some time working at CERN. I wanted to find out a little bit more about what it's like to work there, especially given that it's had so much media attention over the past few years, so I got in touch with Jon Butterworth. He's a physics professor at University College London and is also part of the ATLAS experiment at CERN. He's been involved in the experiment since the early days in the late 1990s, but it became a main focus of his work in 2005. Fast forward ten years, and on 14th May 2015, a paper was published in Physical Review Letters describing the discovery of the Higgs boson which had happened a few years before. Now, as well as the discovery itself, the paper was also remarkable because 24 of the 33 pages of the paper were dedicated solely to the author list. That's 5,154 authors who contributed to this research. This is an incredibly large team to be a part of and I asked Jon, how do you transition from doing a PhD where you're encouraged to demonstrate your independence as a researcher to becoming a member of a thousand-strong team?
Jon Butterworth
It's not a solved problem, I'll say that. So, I can give you some pointers to how it works, but I would say it doesn't work for everyone and some people do have problems with that and there is wasted effort, there's nugatory effort. There were people who would do a huge amount of work and then go to a meeting and find they've been working on the wrong thing or that someone else has already done that. So, it's not perfect. It's not like some nirvana of everyone working in concert and to the best of their ability which is maybe how I described it earlier. At its best it does that, but it doesn't always work. In the end, you find a support group and you find what you're good at, and so it does boil down to personal relationships often and there should be a structure there that allows you to find out who's important for what you want to work on. But really all the experiment and collaboration can do is try and set up a structure that makes that transparent so that you don't have secret clubs of people that you can't break in to, but after that, you have to make it work for yourself, basically, and ideally, as a PhD student, your supervisor should help you do that. So, there's not like one panacea. I think probably the key thing with a PhD is perseverance, and that's probably true whether you're in the lab on your own or whether you're in a big collaboration. You have to get used to the fact that you will fail very often and you'll either have done the wrong thing or you'll have done the thing wrong, whatever it is. That's research. That happens and you have to kind of pick yourself up and try again.
Julie Gould
When you are part of such a big team and you are part of a publication that has thousands of names on it, how do you use that to your advantage? It's very difficult to pull out what part of the contribution you were when you're on a thousand-authored paper, so how do you make that work for you when it comes to advancing your career?
Jon ButterworthSo, you should be aware when you're doing a job because it's useful to the experiment but it's not actually you… essentially, anyone could have done it or any physics graduate could have done it, and then you've got to think now, what did I individually contribute? So, if you're leading a paper, how is that paper different? Would that paper have been written even if you weren't involved? In some cases, yes, clearly, we would have written it if it's a discovery paper, so then how did you make it different? How did you make it better? How did you shape it? Or if you're leading a small analysis team and a group of people working on a set of papers, what did you do with that leadership role? It's great that you got asked to do it but were you just booking the rooms and chairing the meetings? What happened and what science input did you have? And it's very difficult to fake that, so in the end you've got to have the things that you actually want to work on and in the end, that's the story to tell and I don't mean a story to tell in a kind of made up way – I mean you have a plan yourself. And if you're applying for, well, initially postdocs, but in the end fellowships, a Royal Society fellowship or a Research Council fellowship, or in the end faculty positions, it's that story people will be looking for because that's a sign that not only can you be useful –which is a kind of minimum requirement – but if someone's looking at employing you for 30 years, well, your experiment won't last that long. If you have a plan, it doesn't have to be all mapped out for 30 years. It just means that if you've been able to steer yourself in the right direction then they can have some confidence that it will carry on doing that when you're on to the next experiment and you have a driving force in physics which is different from just being carried along by the collaboration.
Julie Gould
The Higgs boson discovery was a huge success and it created a lot of media attention for CERN and for physics, so I wanted to know two things. Firstly, what's it like being at the centre of attention in the world of physics and secondly, what impact does all this media attention have on physics as a discipline?
Jon Butterworth
It's difficult. I think the key thing is you have to be genuinely excited about your project and want to tell people, and then the rest of the attention is a bonus. I think the way the whole publicity about the Large Hadron Collider and the Higgs, and it's a very esoteric question that we're trying to answer in one way. On the other hand, it's a really easy thing to understand – we're just looking at what nature is made of If you look through the best microscope you can what do you see? That's really the bottom line. And then you've got the inspirational kit which some people really like seeing the engineering and the scale of the enterprise.
Julie Gould
Oh, it's enormous. I've been to visit. It's incredible.
Jon Butterworth
It's amazing. But you said when they switched CERN on, but actually CERN started in the 50s.
Julie Gould
You're right, they did.
Jon Butterworth
The tunnel was dug for an experiment that started in the 90s, in early 1990 actually when I was starting my PhD, which was an electron positron machine, but it was in a 27-kilometre tunnel. It was the same thing. It was studying the fundamental gauge boson that we already knew existed, but we found some very fundamental things out about how many generations of matter and things there are. It's not obvious why that wasn't such an exciting thing and I think the difference was our attitude to public engagement had changed and we had been making more of an effort to take people along with us and share the excitement, partly because, as I say, we need the consent of the people who fund it, but also because why not? What's the point of finding out new stuff if you're the only one who knows. So, we did sort of ask for it. I mean I was involved in some documentaries in the run up to it. We'd had a long build of here's another milestone of building the thing, here's another one, so we couldn't really complain then when we did suddenly get all the attention and we were very glad of it, in fact. And one of the nice things with particle physics is it's not all down to like one PI and their lab. There's a huge number of us, so it was good that wherever anyone in the media pointed their microphone, they found someone who was excited because the excitement was real. But it was also good that, you know, some physicists' worst nightmare is to be in front of the camera and that's absolutely fair enough. Everyone doesn't need to do it. So, we're kind of used to it in particle physics that we specialise. The 3,000 people on the Higgs discovery paper from ATLAS, some of them write code, some of them do electronics, some of them do physics analysis in the final stages and make the final plots, some of them have mainly spent their lives arguing for the funding and putting the teams together to build the thing.
Julie Gould
So, what is some of the fallout from this media attention that projects like the Higgs boson have had? Does it feed through to young kids at schools becoming more excited and interested in physics?
Jon Butterworth
I'm not sure whether it really persuaded more people to do physics, but if you tell your mum you're doing physics now or your dad and you say physics like what they do at CERN, it's more likely that you'll get kudos for it in a way that you maybe wouldn't have done before. I'm sure it's not quite up there with, 'I'm going to be a doctor', but at least it's something you can tell them. I think that's true. This is just from interactions – I don't have hard evidence of this – but it's from interactions with candidates to do physics at UCL and also kids in schools that I give talks at and things. One nice thing is I give… my kids were in primary school, now they're both in secondary school, and it seems to be a trend at least in North London that we have these silent auctions where parents put up things they can offer and other parents will bid for them. I got persuaded to put in an hour, either an after-dinner talk or a lecture or tutorial or whatever they wanted basically, discussing the Higgs – this was around the time that we were finding it – and I was a bit embarrassed about it, thinking it's a bit stupid, that. The primary school is in Kentish Town and there's high-power parent body I think, and someone was Lady Gaga's designer and they put a pair of Lady Gaga's boots in there as well, and I'm thinking how can you put the Higgs up against that? It's ridiculous. Actually, my thing went for more than Lady Gaga's boots so I was quite pleased with that.
Julie Gould
Alright, nice. That's something to put on your CV.
Jon Butterworth
Yeah, of course, that was the peak. That was when it was in the news all the time, but I'm still doing that now and it hasn't died away. I'm not sure I'd take on the boots anymore but I always put it in because they always ask and it always sells and I always end up giving a talk to a group of, usually they buy it for the kids but not always, sometimes it's for them and their mates after dinner and things. Although obviously, we've seen a peak and now, gravitational waves came along next and there are these big physics news stories that hopefully we've lowered the bar so that more physics stories can get into the news.
Julie Gould
Thank you to Professor Jon Butterworth. Now, another way to inspire others into a physics career is to become a physics teacher, and one physicist who decided to go down this path is Dr Tom Weller. Although he now works as an innovation analyst at Evenlode Investment, he spent eight years working as a physics teacher at St Paul's School in London. Now, his teaching story starts in 2011, after his second postdoc position at Harvard University in Boston. So, at that time, Tom and his wife Vicky came back to the UK and Tom took some time to reflect on his future career.
Tom Weller
So, when we came back from the States, it gave me a bit of space to have a think, and to fill in time whilst I was having a think, I started doing science parties and those science parties were a lot of fun, which reminded me of all the teaching work that I'd done little by little over the years. So, I went and helped out in some classrooms in Woolwich whilst I was at UCL. I'd done a gap year teaching English in Shanghai and lived there for nine months. So, I'd had this smattering of teaching experiencing, not least during my PhD and postdoc time when I'd actually been training other students, so I guess that was there in the background but I'd never really considered it a career, and then these science parties just made me recognise how much I loved explaining stuff in a way that was fun and engaging. And when it got to the stage that our tenants were going to be finishing their tenancy and we were going to move back into our place and again I'd have to start paying the mortgage I thought okay, hang on, how can I do this every day of the week, this science party thing? I know, maybe I'll be a physics teacher. And I was lucky enough to find this job at St Paul's. For my interview, I took my plasma ball in and I was sitting in the waiting room. There was another very nervous young man in the waiting room, but he was nervous because he was interviewing to become a student at the school. So, I just started showing him the plasma ball and we got on like a house on fire and I was like, okay, this is brilliant. This is the kind of kids we're going to have here. We're going to have students here who are really fascinated. And then I spoke to the secretary years later, the secretary that sort of looked after me on the day, and she said that was one of the main things that she said was the way that I'd handled that young student who was nervously waiting for his interview. That was one of the things that swung it.
Julie Gould
And so, what was one of your favourite demonstrations that you did at the kids' parties whilst you were figuring out what to do?
Tom Weller
Once, I did a party for three- and four-year-olds. Luckily, I had a big box of bouncy balls, and everything was bombing until I got out the box of bouncy balls. I got out a couple and then realised they were really in to the idea of these bouncy balls, so I just tipped the box of bouncy balls on to this hall floor and they just spent the rest of the 25-30 minutes running around after these bouncy balls and throwing them.
Julie Gould
I can imagine there was a lot of Brownian star motion going on there.
Tom Weller
There was, amongst the balls and the kids!
Julie Gould
What is it like teaching day to day? You said earlier in the conversation that you wanted to have a job where you could basically have kids' science parties every day of the week – is that what it felt like?
Tom Weller
Not for the first two years. I think there's a period when you start teaching when you think you have to do loads and loads of marking and you think or you feel you have to be at the front of the classroom performing all the time, and those two things are both exhausting, unnecessary and potentially counterproductive. For instance, a lot of marking that gets done, the kids look at the number at the top and then they forget about it, and actually there are way better ways to give feedback. Performing at the front of a classroom takes all your energy, doesn't give the kids a lot of opportunity to do stuff, so those two things, the sooner you can divest yourself of the sense that you should be doing them all the time, replace that with the sense that you need to do things that focus on what the students are doing in response to what they're doing and in response to what you're asking for, the better. Now, not everyone will have the same problem as me. I quite like to perform.
Julie Gould
How would you suggest someone makes sure that they don't fall into that trap of relying on marking and the numbers and the figures and making sure that they don't perform?
Tom Weller
The crucial thing with not performing is to focus your planning on what the students are going to do, not what you're going to say. And if you can focus on what the students are going to do, that gives you a good start in avoiding you doing stuff.
Julie Gould
Can you give an example of a typical physics lesson where you focus on the kids doing things?
Tom Weller
Let's say you've got to teach centres of mass, levers, that sort of thing. You could show the video of Penn and Teller creating the trick where they drive a lorry over – Penn or Teller, I don't know which one is which – and when they do that trick, they then afterwards do a reveal. And you could quite easily show that video and then explain that video and then have a conversation with the children, but you can easily end up doing a longer explanation than you need, and you might have had a lot more fun if you showed them the video but up to the point of the reveal, stop it and then ask them to design, using the few facts that you've given them up front at the beginning or that you've taught them in previous lessons using other techniques. You show them up to the point of the reveal, stop the video, and then you have a competition to see who can design the best way of achieving that trick. You set some simple rules for that competition like you've got one sheet of A4, you've got to have a sequence of at least three diagrams that show what's going to happen through time. You don't make it complicated. Once they have then created those resources, leave a reasonable amount of time which you decide based on your class and your knowledge of your class. Having done that, you get them to come up and present before you then get the students to judge them, so notice at this point I've done nothing except tee up this and facilitate the competition and keep it moving, and all the time they're working and I'm just going around and spending my time looking at them, watching them work, asking them questions, so all of my effort is put into looking at what they are doing.
Julie Gould
What made you move away from teaching because clearly, from the way you explained your job and your role, you loved being a teacher. It's been part of your life since you were a teen, so why move away from teaching as a career?
Tom Weller
I haven't moved away from it. I've moved toward something else and this sort of started from how to use my summer holidays in a constructive way. So, two years ago, I was talking with my friend about projects in the sort of VC area, and he's a financier so I decided to ask him about what sort of things would be useful from an analysis point of view for a financier when it comes to thinking about VC and he said, 'Well, we've been thinking about trying to do more to analyse the innovations that might disrupt or replace some of the products of some of the investments we make on behalf of our clients.' And so, we concocted a six-week research programme, so back to research again, and then it became a contract that I ran in my spare time which became holidays and weekends and evenings. Gradually over time it snowballed a little bit to the point where we were talking about creating a full-time role.
Julie Gould
For those of us who have no idea, what is an innovation analyst?
Tom Weller
An innovation analyst is someone who looks at the innovations that are happening on the horizon and tries to work out what impact they might have on other businesses. I get the opportunity to get paid to go out and quiz people about really fascinating businesses, many of which are based in the sciences, so I talk to various different quantum technology businesses and I might talk to a woman who wants to set up a business looking at biomarkers from different data sources in health technologies and build that into a dataset that can be used to train an AI. That is now a typical meeting if I can get it.
Julie Gould
It sounds like your job is incredibly varied and you meet a broad range of people from various backgrounds in various scientific disciplines. Does it ever make you feel like you're out of your depth?
Tom Weller
I've spent my entire life feeling like I'm maybe, slightly out of my depth and I think that that's a common feeling amongst human beings, right? You just keep working and you just make sure that you're ahead, and as long as your ahead and as long as you're being open and honest and you keep talking to the people that you work with, then any shortcomings that you have will be presented to you, and don't second guess yourself. Let other people tell you when you're coming up short and then do something about it or rationally observe what it is you need to do to train yourself up to the level that you want to be at and get at that. Otherwise we'd all just be hiding in corners.
Julie Gould
Thanks to Dr Tom Weller. In the penultimate episode of this series, I'm going to explore transitions between different disciplines. I'll speak again to two different scientists, one who has transitioned from physics to biophysics and another who has moved from neuroscience to physics. Here's a sneak preview.
Stuart Higgins
It was very liberating in the sense that there was very much no expectation I would understand much about the biology of the work I was doing because that wasn't my background – my background was in making things and engineering things in the nanoscale. And so, the things like imposter syndrome weren't really there. It went away because I was very much an imposter. I wasn't expected to know these things. And so, weirdly enough, that was quite freeing and I could just be myself and ask lots of silly questions about what's that and how does that work, and not worry too much about it because there was no sense I should know that.
Julie Gould
Now, that's it for this episode, but you can always find out more about what the Nature Careers is up to. We're on Facebook, we're on Twitter and of course, there's the website – www.nature.com/careers. Thanks for listening. I'm Julie Gould.