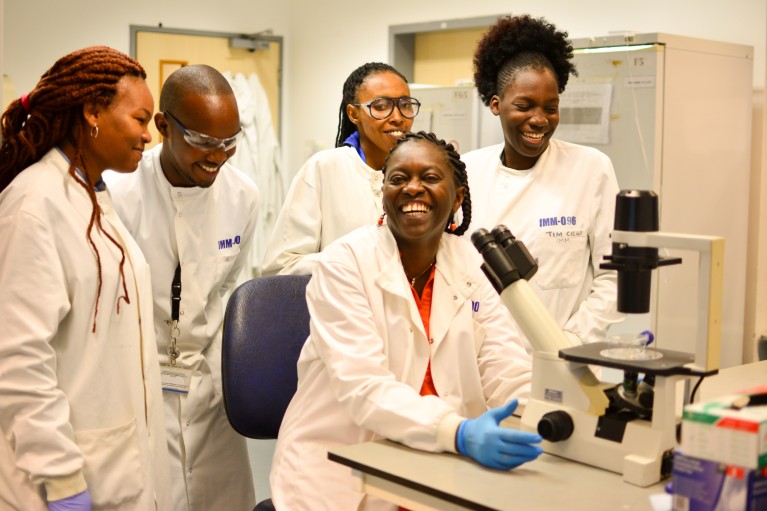 Immunologist Faith Osier, the first African and second woman to be elected president of the International Union of Immunological Societies (IUIS), will begin her three-year term in October. During her presidency, Osier, who holds faculty appointments at Heidelberg University Hospital in Germany and the KEMRI-Wellcome Trust Research Programme in Kilifi, Kenya, will oversee an effort to train 1,000 African PhD students in immunology over the next 10 years. This training, dubbed the Federation of African Immunological Societies (FAIS) Legacy Project initiative, aims to bolster the representation of African scientists in immunology.
How did this initiative come about?
When I was elected vice-president of the IUIS in 2016, I got more involved in the organization. I realized that representation in academic societies from low- and middle-income countries was very low, yet they arguably have the greatest need for immunological expertise. People from Africa, for example, are not around the table with me at international research meetings. In Africa, we have more students than places to train them. The IUIS has more than 60,000 members, and represents a massive, global faculty that is bigger than any institution could assemble alone. It seemed to me that the solution to African under-representation lies right here with the IUIS, whose mission is to promote immunology without borders. If we could get even 1,000 of its members to each mentor one African PhD student in their laboratories, we could train 1,000 African immunologists.
What's the response been like from IUIS members?
It's been mixed. I'd estimate that 60% have been wildly enthusiastic about the initiative — they appreciate its value and feel that this is what IUIS societies should be doing. The other 40% have been less enthusiastic, worried perhaps that I am underestimating how big a task it will be.
Describe the need for a programme like this.
A colleague at the West African Center for Cell Biology in Ghana advertised for PhD positions; by the mid-February deadline, they had received 518 applications for 10 positions. Students are ready. Supervisors are ready. Someone just needs to join the dots with funding.
What is the status of the training effort?
IUIS gave us US$50,000 in seed money to fund the first phase of the project. We gave each of 10 African students $5,000 to finish the final year of their PhD in international labs. There's a Malawian student at the University of Leicester, UK; a South African student at the US National Institutes of Health in Bethesda, Maryland; and a Tunisian student at the Pasteur Institute in Paris. The money we provided enabled them to go to international labs and process samples on equipment that is unavailable in Africa. For the second phase, we're looking to raise $50,000 to support each of the remaining 990 students with a monthly stipend, travel allowance and health insurance over the next 10 years — roughly 100 students per year. Their supervisors will cover research costs.
How will IUIS members find students to bring into their labs?
We launched a website that lists the 102 labs participating so far — half in Africa, half around the world. The University of Pennsylvania in Philadelphia was the first institution to sign up all of their participating labs in one go. It works best to collaborate around a shared interest; to that end, the website maintains a short description of each lab's pursuits and a link to the lab website so that students can make mutually beneficial connections. For example, a researcher might develop a treatment for malaria, and want the student to test the treatment in Africa. Recently, we've also got expressions of interest from other institutions that want to sign up.
When will phase two start?
It will start as soon as money hits the bank. That's the only limiting step.
How many students in Africa now leave the continent to get training?
There is currently no central place to find that information, so one of the goals of the FAIS is to create such a database. All of us in the FAIS know other Africans in the diaspora who are heading labs and doing research, but they work on an array of diverse topics, which makes it difficult to make connections. There's no common place where we can come together and connect. One of the goals of this effort to produce more African immunologists is also to build a stronger international network and tap the resources we have that are not necessarily within the continent.