Olafur Eliasson: In Real Life 11 July 2019 – 5 Jan 2020. Tate Modern, London.
Amber mist envelops you. You can see nothing else, but you must step forward. Look up, and glowing panels on the ceiling suggest that you are in a corridor. Relieved, you follow them until they vanish. Ignore the lick of anxiety. Green and blue flecks — hallucinations — appear, then a shadow looms ahead. Another human. You urge each other on.
Disorientation, heightened senses and communal spirit are the essence of Olafur Eliasson's work, on display in a mid-career retrospective exhibition at London's Tate Modern gallery. The Danish–Icelandic artist is revisiting the gallery where he made waves in 2003 with The Weather Project, a huge installation featuring an artificial sun glowing in the cavernous expanse of the Turbine Hall not long after the gallery opened. His current show, In Real Life, reveals the drivers of the acclaimed artist's work along three themes: geometry, sensuality and conviviality.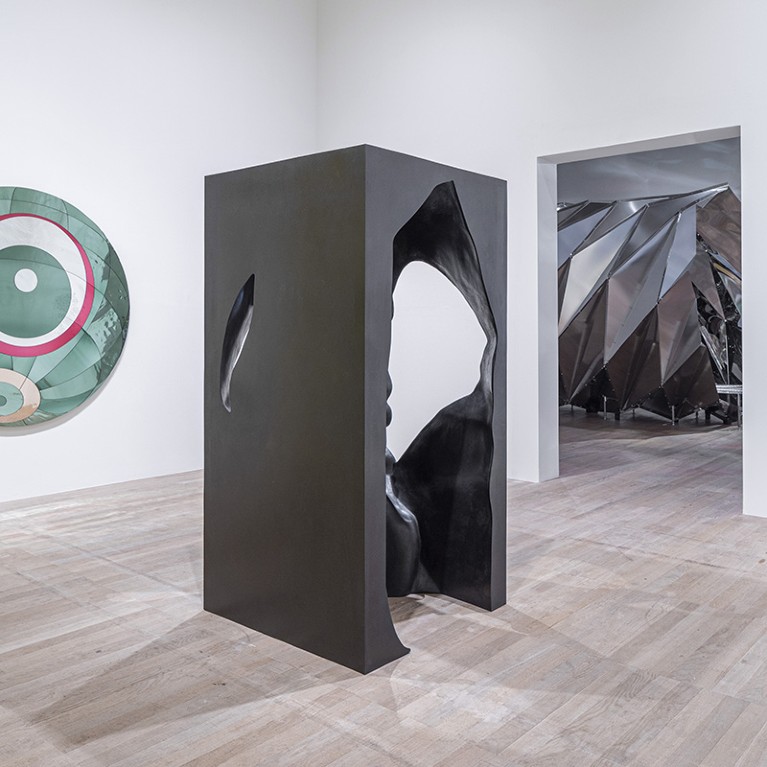 Eliasson's early works occupy the first few rooms. They largely aim to convey various natural forces — from the shades and fracturing of light to the motion of waves, reflections and illusions. Soft evening light falls though a simulated window onto a back wall. A vast sheet of Icelandic moss fills the air with sweetness. Raindrops stream down a pane of glass. Rivers of bronze fluid surge slowly along narrow tanks on the floor. Outside, a waterfall cascades through a tower of scaffolding.
Other optical games await. In the next room, Eliasson demonstrates the kaleidoscopes that he has made since he was a child. You walk through a vortex of mirrors, and revel in the colours scattered by a giant disco ball of reflectors. Out in the concourse, he has donated his Stardust particle (2014) to the Tate in recognition of Nicholas Serota, the gallery's former director. This illuminated ball of glass shards creates a shimmering grid of shadows on the wall.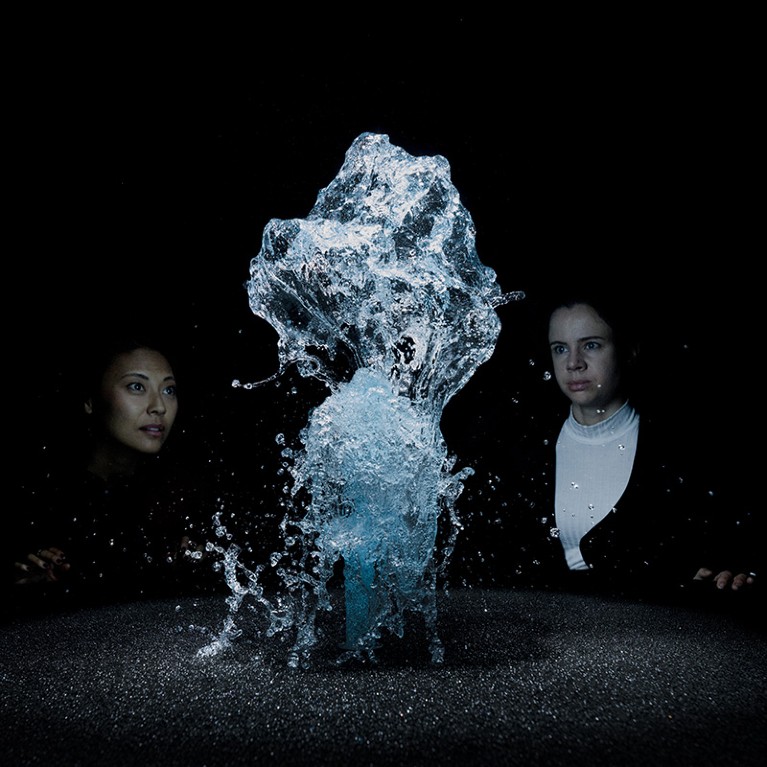 In the darkened rooms beyond, sheets of falling mist shed rainbows as light levels shift. You're encouraged to play with a parade of your own multicoloured shadows. Tortured light rays, knotted as they bounce off rotating mirrors, conjure up distant galaxies, or embryos. The 'Big Bang' erupts every ten seconds, as strobe lights capture freeze frames of a spurting fountain.
Eliasson's concerns are earthly, however. Part of his goal here is to highlight climate change. At the Paris climate conference in 2015, and on multiple occasions since, he has placed lumps of melting ice in cities to highlight the glaciers' demise. Here, he has cast an ice block in bronze to emphasize the space where lost ice should be. Eliasson is also capturing the ebb of Icelandic glaciers in a series of photographs, some on display. Like all his works, these seem to transport you to another world — then remind you that it is this world.
A strength of the show is in a back room, where an 'A to Z' of brainstorming from his studio is laid out on boards across a wall. Cutouts of newspaper and scientific articles sit alongside quotes, ideas, sketches and diagrams — seeds that inform his thinking about the world and his art. On entry to the exhibition, dozens of studio models are displayed too, from wire skeletons reminiscent of black holes to architectural designs and cardboard polyhedra.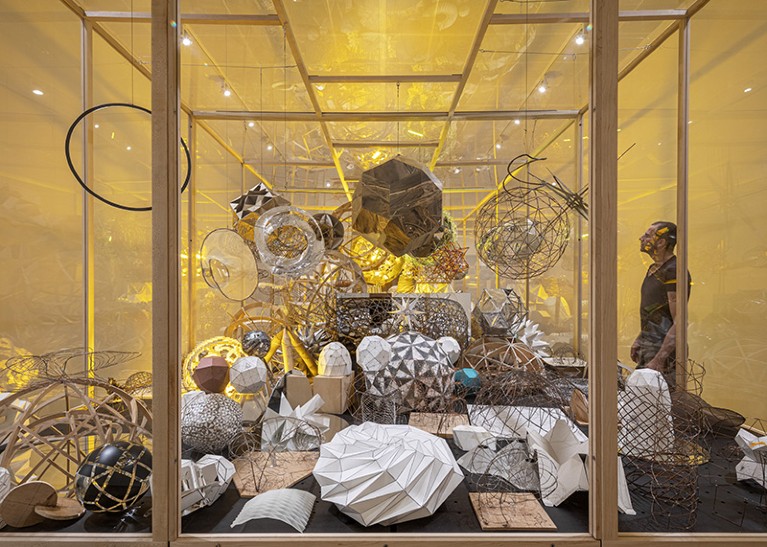 The A to Z asks questions. What are the limits of quantifiability? What is the Universe made of? What is light, and how should we think of mass and void? Eliasson inquires about our place in the world, about migration and collective action. He is intrigued by perception: how do we experience the world? How should we know reality? How do we occupy space?
He makes good on his wish to help people to live more sustainably, equitably and lightly. The cheap sunflower-shaped solar lamps he has developed are being used around the world to offer light in places off the grid. And at workshops in Europe and the United States, he has invited migrants and locals to come together to make other 'green lights'. Eliasson advocates sharing healthy food, and a communal lunch is the hub of the working day for the almost 100 staff members at his Berlin-based studio. The Tate's café will serve his vegetarian recipes over the course of this exhibition.
Eliasson inspires hope that we can improve the world through recognition, consideration and creation. As he writes on his wall of quandaries: "Within uncertainty, there is room to act."