How I lost my identity — and embraced a new one
"Your visa arrived and your offer letter is ready; you can come tomorrow to our office to sign it." It was true at last — I was finally leaving the bench to move into the 'real world'. I had been waiting for that phone call for weeks, but when I finally received it, I was equally elated and terrified.
My position as 'assistant head' would be at the institution where I had just completed a postdoc — but in its central, strategy and support division. My tasks would include setting up a science-communication training programme for PhD students, postdocs and principal investigators, and working as an editor of the institution's internal publication, A*STAR Research. No more experiments for me.
And I would be leaving behind much more than my work as a postdoc. I felt as if I had turned my back on the eight years I'd spent in the only full-time paid job I'd ever had, as well as on a world that, although sometimes dysfunctional, was one that I knew intimately and could navigate blindfolded. All of my colleagues and most of my friends were people I had worked with in the lab.
Most of all, I was leaving behind what I had thought as a kid (and for years afterwards) would be my dream job: scientific research. I had got there and had found it didn't suit me, like an ill-fitting dress that you can't wear comfortably. It was more than a disappointment — I was leaving behind a very large part of my identity. And I wasn't at all sure what I would be replacing it with.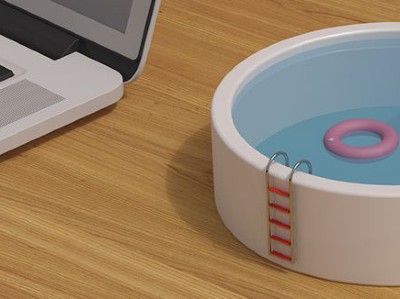 Collection: Work-life balance
The first few days of my new job were hard. When someone asked me, "What do you do?" I found it hard that I couldn't say — as I had done for the best part of a decade — that I was a researcher in immunology. During those early days, I literally didn't know what to call myself. It took me a while to adapt to my tasks. On my second day on the job, my supervisor told me that I was on the organizing committee for a large scientific conference and was in charge of the speakers. The presenter expected about 800 attendees and was looking for Nobel-prizewinner-level speakers. At that point, I had never even set up a departmental seminar. While I stood there processing this terrifying information, the head organizer for the conference — a world-famous scientist of whom I was in awe and to whom I had never spoken — strolled by, shook my hand warmly and said, "Hi, I'm David, I understand we will be working together on this conference — it's going to be great!" I was speechless and was left wondering what I had got myself into.
That first year was a steep learning curve. With my awkward job title that never seemed to roll off my tongue, I navigated attending and acting as secretariat at high-level strategic meetings on finance and organizational restructuring that the standard postdoc I used to be would never have been privy to. These gave me valuable insight into how a large institution operates. I did a lot of editing work on the institution's journal and I organized well-received training for my now-former colleagues who were still at the bench. Most of all, I learnt so much that I would never have come to know if I had remained in the lab. There was something new every day.
While I navigated my learning curve, I realized that my former research colleagues were very, very curious about my transition. Explaining to them what I was doing helped me enormously in coming to grips with my new job. Seeing their interest in my career gave me enough confidence to finally start building a new professional identity, one that was still steeped in science but was no longer tied to the bench. That first year, crucially, helped me to appreciate that there is much more to science than pure research — and that the management of a large research institution is no less challenging or intellectually stimulating than running a lab.
It took me months, but I finally woke up one morning knowing what I was doing in a professional world that was immeasurably broader and more diverse than the labs in which I had worked. That first move away from the bench also smoothed and facilitated my subsequent job changes and moves into different professional roles. I realized that whatever my title would be (and I've changed it since that first position), I was going to be a scientist forever — just not a researcher. And, at last, the question, "What do you do?" no longer stumps me. Instead of using a job title to reply, I say what I've been doing: organizing training for scientists, working as an editor or managing fellowships.
I am still a scientist. I see research that is much more diverse and varied than I did when I was a researcher. If researchers at my institute were actors, I would be the person behind the scenes, helping them night after night to put on the very best performance that they could. I may no longer be at the bench — but my work has more impact now than it did when I was there.
doi: https://doi.org/10.1038/d41586-019-02123-4
This is an article from the Nature Careers Community, a place for Nature readers to share their professional experiences and advice. Guest posts are encouraged. You can get in touch with the editor at naturecareerseditor@nature.com.