Sudan's universities are shut, flights have been suspended and the Internet remains almost entirely blocked after a brutal crackdown in which paramilitaries are thought to have killed some 100 pro-democracy protestors. A number of politicians opposed to the current military-backed government were also arrested.
But none of this has dented the resolve of the protestors, whose ranks include several prominent academics and whose demands include freeing universities from government influence.
On 9 June, the Sudanese Professionals Association (SPA), an umbrella organization of pro-democracy groups that includes academics responded to the crackdown by launching a campaign of civil disobedience against the current, ruling military council, which has been in place since the country's long-standing dictator was toppled in April.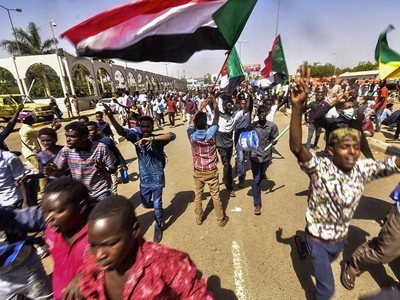 Prominent Sudanese geneticist freed from prison as dictator ousted
The SPA says it will continue until political power is handed to civilians and "all the demands of the revolution are fully met". This includes a requirement for all vice-chancellors and presidents of public universities appointed by the former regime to step down, according to SPA member Muntasir El-Tayeb, a molecular geneticist at the University of Khartoum.
The campaign aims to bring normal life to a halt. Protestors set up roadblocks on Khartoum's main streets and bridges, and the SPA demanded strikes at work places across the country, both public and private. The military has called the building of roadblocks a crime and says it has beefed up its presence across Sudan "to restore life back to normal", according to the news network Al Jazeera.
Mounting protests
The recent violence comes six months after protests in the country's capital, Khartoum began, which involved thousands of academics, students and members of the SPA.
Sudan has been a military dictatorship for three decades, and SPA members have been demanding the establishment of democracy after the country's soldiers toppled their long-time ruler Omar al-Bashir in a military coup.
An economic crisis, with inflation rising to more than 70% at the end of last year, has also fuelled the SPA protests.
The group's leadership had been negotiating a transition to democracy with army representatives, who call themselves the Transition Military Council. Amid an outpouring of euphoria in April, political prisoners — including geneticist Muntaser Ibrahim — were freed and the army began talks with the SPA about handing power to civilians.
After al-Bashir fell, the army and SPA initially agreed on a three-year transition period before any elections would take place, but on 20 May talks broke down over whether the transitional body should be headed by a military or civilian figure.
Soon after, demonstrators staged a sit-in outside the military headquarters and paramilitary soldiers belonging to a loyalist group known as the Rapid Support Forces began clearing the protests using live ammunition.
The Sudanese health ministry has said that 61 people died in the crackdown, according to media reports. But on 5 June, the Central Committee of Sudan Doctors, a professional association that is part of the SPA, said 113 protesters had been killed. On 6 June, the African Union suspended Sudan's membership until a civilian-led government is installed, which it said is "the only way to allow the Sudan to exit from the current crisis".
Killing dreams
El-Tayeb says the atrocities were "beyond description", and that the SPA is still counting and trying to identify the fatalities. "Casualties are in the hundreds, bodies are thrown in the Nile, some still alive," El-Tayeb told Nature. "They are killing the dreams and bodies of young people."
One of the largest protest camps is just outside the University of Khartoum.
Clare Robinson, advocacy director of Scholars at Risk, a New York-based campaign group that helps academics fleeing conflict, says that the organization is "deeply concerned". Particularly worrisome, she adds, is the use of lethal force to retaliate against people peacefully exercizing their rights to freedom of expression and assembly.
Along with this week's crackdown, military leaders announced they would cease negotiations, but hold elections within nine months.
Democracy uncertain
Although most are still hopeful, there is growing concern that the protestors won't prevail in their demands for democracy and free universities. Mohamed Hassan, a Sudanese mathematician and president of the World Academy of Sciences, which is based in Trieste, Italy, is among those stranded because of the flight ban.
Speaking to Nature from Dubai, from where he was due to fly to Khartoum, Hassan said that the academic community was initially "very optimistic" about a brighter future for science, technology and education in a post-military Sudan.
"Now it's turned 180 degrees in the other direction," he added. "If the Transition Military Council remains, I don't see any independence of the universities. It will be more or less the same system."
Hassan, who is keen to get home, is hopeful the situation doesn't reach a level, "where people like me stay outside as refugees". He said that no matter what the outcome of the unrest, he is sure to return to Sudan, and does not wish to live in exile. "We have to be inside," he insisted.
Nature made repeated attempts to contact the Transition Military Council through Sudanese embassies in a number of capital cities, but received no reply by the time this article was published.