Why collaborating with industry can provide a career boost
In 2014, I was researching biomarkers for neurodegenerative diseases at the Florey Institute of Neuroscience and Mental Health in Melbourne, Australia. I'd produced exciting results1,2, early on using a technique assessing protein expression in blood, which led a senior colleague to introduce me to the chief research officer of the Cooperative Research Centre for Mental Health, an industry–academia consortium in Melbourne. After he heard more about my results, it was clear that he wanted me to join the consortium.
Doing so would mean becoming part of a collaborative network of about 20 organizations including universities, pharmaceutical and diagnostic companies, and hospitals. Each organization contributes funding to a pool that supports the shared goal of discovering and validating ways to diagnose mental illnesses.
Although it sounded interesting, some colleagues told me that I should steer clear. They said that I wouldn't be able to publish because of intellectual-property concerns, and that my work would not be my own. Students and collaborators would be reluctant to work with me, they warned, because it would be difficult for them to publish, and because I'd have to follow industry direction. Some voiced concerns that my laboratory would be seen as interested only in 'applied research', and that the grants for which I could apply would be limited.
In short, it seemed my academic career would suffer if I decided to join the consortium.
Fast-forward to today and my career is on an upward trajectory, thanks largely to my industry collaborations.
In 2014, the year I joined the consortium, I published six journal articles. In 2017, I published ten. My industry collaborators have strongly encouraged me to publish. I had expected I would need to wade through lengthy approval processes with them before submitting manuscripts, so I was surprised to discover that the consortium's review team called for a single intellectual-property assessment. I usually receive the consortium's approval to publish within a week.
The few times that approvals have taken longer have been when industry collaborators thought that my research findings would translate into intellectual property in which they might have an interest. When this happens, the review team moves quickly (typically in 2–6 weeks) to protect the research. I've found the process to be faster than that of the academic technology-transfer offices I've worked with, and it did not provide any significant hindrance to publication. My collaborators' interest in the research has often developed into extra funding, blood samples for me to analyse and in-kind support — such as access to new equipment — that help to move the discoveries towards commercialization.
Publication boost
Being part of the consortium has also had a very real impact on the scale and quality of my publications. In biomarker discovery and validation research, getting access to large clinical data sets can be a challenge. Sample sizes of 10–20 are the norm for many studies. By contrast, my industry collaborations have allowed me to access clinical blood, plasma, cerebrospinal fluid and imaging data for between 200 and 2,000 volunteers — and this has been extremely valuable in building a global view of neurodegeneration.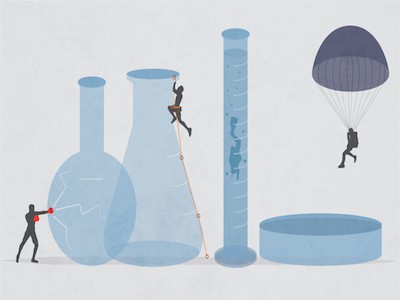 Collection: Work–life balance
Despite my colleagues' misgivings, my professional networks have grown dramatically since I joined the consortium. Instead of limiting grant opportunities, my partnership has greatly increased the number of grant mechanisms available. For example, I have secured grants that link industry with academia, such as Australian Research Council linkage grants, and philanthropic requests that benefit from evidence of collaboration with industry. I wouldn't have been eligible for these had it not been for my industrial relationships and projects.
I've also benefited from industry's nimble networking approach. Several times, an industry member of our consortium has seen alignments between my work and that of another academic researcher with whom they've had contact, and have introduced us. Those meetings have led to several new research collaborations for me in different countries (these partnerships are in their early days and have not yet led to publication).
My industry links have also proven to be an incentive for students to join my group. We've become known as a lab group that helps early-career researchers to explore multiple career paths and that can help them to explore non-academic jobs.
This has been increasingly important as more students and mentors realize that fewer than one in ten students will find a long-term academic appointment.
In the past 4 years, 11 of my lab members — 6 postdocs, 3 research assistants and 2 students — have been offered or have taken industry positions as senior scientists and technicians at large biotech companies and contract research organizations such as CSL and Racing Analytical Services, both in Melbourne.
Our group's existing relationships with industrial employers mean that we are often the starting point for companies that are recruiting. The fact that we are familiar with the skill sets that industry needs, including technical skills such as good laboratory practice for quantitative-assay development and broader skills such as teamwork, means that I can recommend sound candidates for these positions.
Valuable tips
I've also found that asking industry collaborators about student-support programmes, such as PhD scholarships or training initiatives, identifies funding opportunities that students might not have otherwise known about. As a result, some of our students have been trained on mass spectrometry technology that is not yet widely available.
I encourage scientists to actively pursue collaboration with biotechs and other large industry partners. For me, the process of finding the right industry partners meant talking with other researchers and business-development professionals to identify possible collaborators — organizations that were likely to be interested in my research, had the resources and willingness to partner and that were open to discussions.
Here's how I pulled it together:
Cast a wide net. I met with many different groups and people from industry, including biostatisticians and those who work in research and development or clinical-trial design. With each new contact, I aimed for common research interests, the ability to get along and the willingness to trust in each other's commitment to the research.
Get granular. I found it useful to meet with as many different groups as possible in each company to get a sense of the organizational approach to partnering. This meant meeting not just with industry scientists, but also with people who were responsible for research translation and for regulatory affairs, and with executives.
Be patient. It took around six months of frank and honest discussions with an industry partner for us to agree expectations around balancing the pursuit of research that's of interest to me and research that my partners wanted to conduct. According to the chief executive and the business development manager of the Cooperative Research Centre for Mental Health, this is commonplace and it should be built into your planning time frame.
Establish agreements. I agreed to terms that both I and my industry partners were happy with around the treatment of intellectual property, freedom to publish, shared resourcing and regular catch-ups.
My collaborations have produced great research outcomes, but for me, the real value is in the working relationships and ideas. In one example, my industry collaborators urged me to think more critically about my lab group's standard operating procedures. I did that, and now, if we have two unexpectedly different results from an assay, we can rapidly identify where in the process the discrepancy occurred and solve any problems that might have contributed. The rigour of this approach means that we have greater confidence in our results and in the ability of new lab members or collaborators to repeat the results.
Working with industry has surpassed my expectations and has benefited my institute, lab and career. I was promoted in February 2018 to principal research fellow and associate professor, the closest I can get at my institution to a tenured position. The scientific promotion committee cited clear evidence of a rising trajectory of publication impact, a strong record of grant funding, my collaborations with leading industry organizations, and successful student supervision.
And I achieved each of those goals after I joined the industry–academia consortium.
doi: https://doi.org/10.1038/d41586-019-01572-1
This is an article from the Nature Careers Community, a place for Nature readers to share their professional experiences and advice. Guest posts are encouraged. You can get in touch with the editor at naturecareerseditor@nature.com.
References
1.

Roberts, B. R., Dratz, E. A. & Laffoon, S. Method of identifying Biomarkers of Neurological Disease and Diagnosis of Neurological Diseases. Australia patent AU2013903257 (2014).

2.

Hare, D. J. et al. ACS Chem. Neurosci. 6, 398–402 (2015).