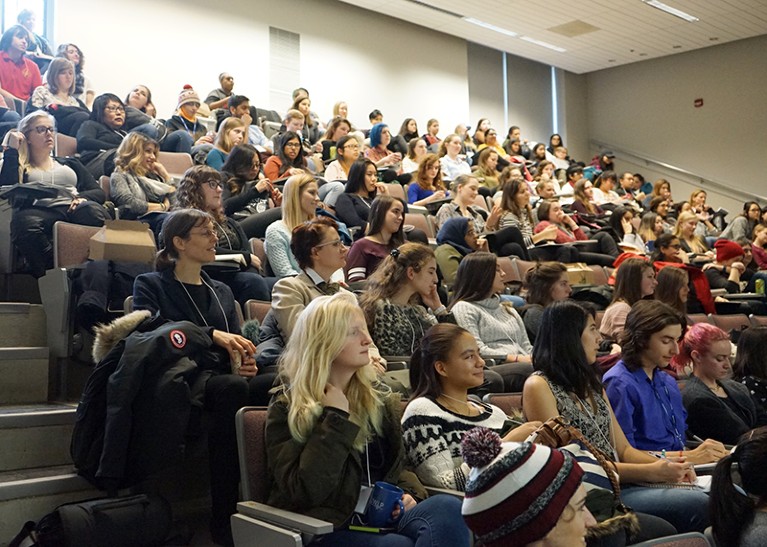 In a survey of women pursuing US undergraduate degrees in physics, nearly three-quarters report having experienced at least one type of sexual harassment during their science studies.
The research1, conducted in 2017 at a series of US conferences for undergraduate students, was published on 22 April in Physical Review Physics Education Research. It is one of the first reports to document the pervasiveness of sexual harassment in physics.
"A lot of times, people study how women can change to better fit in a field or be more successful," says physicist Lauren Aycock, the study's lead author and a science and technology policy fellow at the Department of Energy in Washington DC. "Perhaps physics needs to think about changing itself."
Aycock and her colleagues recruited students who identify as female and who were attending one of the Conferences for Undergraduate Women in Physics, a series of meetings held at various universities. The scientists asked participants to answer a questionnaire about sexual experiences, adapted from a version that has been used in many rigorous studies, including to assess harassment in the US military2.
Of the 455 people who responded, 338 reported experiencing some form of sexual harassment, including gender harassment — such as being ignored because of their sex or gender, or being told inappropriate jokes — unwanted sexual attention or a combination thereof during the previous two years. The incidents had taken place in settings associated with physics: including in research labs, classrooms or university departments, or at work-related events.
Researchers found that experiencing harassment correlated with a sense of not belonging to the broader physics community, and with a feeling of succeeding because of external factors such as luck rather than innate ability.
A wake-up call
These findings "should be a wakeup call for all physicists who believe that participation in science should be meritorious", the authors write. "If we want to produce the great advancements and impactful work, we need to decide together to create an environment that makes it possible for all capable physicists to join and remain in the field."
The survey results mesh with those from a major 2018 report3 by the US National Academies of Sciences, Engineering and Medicine, which concluded that sexual harassment in academic science is pervasive and severe, and that it harms the careers of women.
Aycock notes that much of the attention on sexual harassment in the physical sciences has come from subfields, such as astronomy. She hopes that the larger community of physicists will use this latest report as an opportunity to talk about and fight harassment. "It's really important for physicists to start talking about this — to understand what sexual harassment is, to recognize it and to speak up about it," she says.
The latest study did not explore levels of harassment that are specific to women of colour or people with non-binary gender identities. A 2016 report4 by the American Physical Society found that many people from sexual or gender minorities, especially those who are transgender or gender-nonconforming, routinely encounter hostile work environments. And a 2017 study5 of astronomers and planetary scientists found that women of colour are at particularly high risk of experiencing gendered and racial harassment.