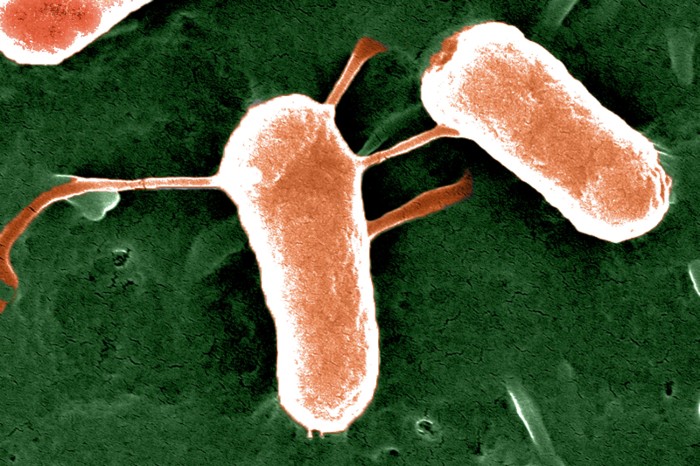 Microbiology
Menacing microbes drain host cells with stealthy 'straw'
When it's dinner time, some bacteria insert a 'straw' into human cells and extract available nutrients.
The human intestines are a brutal environment for disease-causing microbes, which must compete with resident bacteria for food while avoiding detection by the immune system. In response to this challenging environment, the diarrhoea-causing Escherichia coli bacteria and other pathogens evolved a syringe-shaped apparatus on their exteriors. This structure anchors bacteria to human cells, allowing the microbes to inject their targets with proteins that dampen the cells' immune response.
But how such bacteria take in nutrients had remained unclear. Now, a team of researchers led by Sigal Ben-Yehuda and Ilan Rosenshine at the Hebrew University of Jerusalem, have discovered that E. coli bacteria form a straw-like structure to drain amino acids, and perhaps other nutritious molecules, from gut cells without inflicting collateral damage. This straw seems to be widespread in bacteria, the authors say.
The same set of bacterial proteins is needed to form both the syringe and the straw, which can be deployed from the bacterial membrane at the same time.