British scientists are ramping up preparations for a 'no deal' Brexit on 29 March — a situation that would instantly affect travel, data collection, clinical trials and crucial laboratory supplies.
The widely feared scenario means that the United Kingdom would crash out of the European Union without any trade and migration agreements in place. It became more likely on 15 January, when the UK Parliament overwhelmingly rejected a hard-negotiated agreement with the EU. The deal included a transition period until the end of 2020, during which the UK–EU relationship would have remained largely unchanged, allowing time to negotiate the parties' future relationship.
A no-deal split is likely to cause immediate disruption because the many essential supplies that come from mainland Europe would face extra checks and tariffs.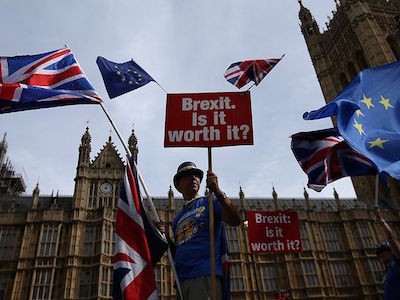 Six months to Brexit: how scientists are preparing for the split
The government's priority is to minimize chaos at hospitals, borders and businesses, but scientists and research institutes are also making efforts to make sure that their work can continue uninterrupted.
Many scientists are hoping that the situation can still be avoided. "A no-deal Brexit would be a disaster for British science and innovation," says Venki Ramakrishnan, president of the Royal Society in London. "I urge our elected representatives to put the interests of the country first and get a new plan to prevent this catastrophic outcome."
"It's critical that the government does everything in its power to avoid a no-deal Brexit," agrees Paul Nurse, director of the Francis Crick Institute in London, where 40% of the scientific workforce comes from other EU nations.
A range of outcomes is now possible — including a delay to the planned exit date. Prime Minister Theresa May has until 21 January to present a 'Plan B' to Parliament. Parliament is then scheduled to debate and vote on that on 29 January.
As the clock counts down, Nature looks at the measures that scientists and institutes are taking to prepare for the possibility of a no-deal Brexit.
Plans to make up lost EU research funding
Leaving without a deal could leave UK-based researchers immediately unable to access the €1.3 billion (US$1.5 billion) that they currently receive every year through the EU's major research funding programme, Horizon 2020 (H2020).
Non-EU countries can be part of Horizon 2020 as 'third' countries and, if necessary, the UK government has pledged to step in to pay for UK-based researchers to participate under third-country rules in both existing and future projects. It is considering how this process might work.
Since September, the country's central public research funder UK Research and Innovation (UKRI) has been gathering details of UK researchers with existing EU grants. UKRI has also begun to recruit the staff it will need to cover the extra workload from managing any future EU grants in the event of a no-deal scenario, a spokesperson told Nature.
However, as a third country, UK researchers would become ineligible to apply for some Horizon 2020 funding — including prestigious European Research Council (ERC) grants and some Marie Skłodowska-Curie Actions, which promote researcher mobility. UKRI is looking at how it might make up for this funding loss.
Options include re-routing similar levels of funding through existing mechanisms, such as research council fellowship schemes, or creating initiatives that mirror the lost funding streams, says Mark Condren, political affairs officer at the umbrella group Universities UK in London. In 2014, Switzerland created temporary replacement programmes after national immigration changes rendered the country ineligible for EU schemes, he says.
University College London (UCL) is among those who have called on the government to ensure that a replacement scheme would be open to applications from all over the world and integrated with the immigration system, so that international researchers would be able to carry out the work in the United Kingdom.
Universities are advising their researchers to continue applying for ERC and Marie Skłodowska-Curie Actions as usual, says Luke Georghiou, deputy vice-chancellor at the University of Manchester, UK. "We have to hope that there will be a H2020 association agreement in place by the time projects are awarded following submission to the next calls, even in the event of no-deal," he says.
In response to Brexit, institutions including UCL and Imperial College London have already introduced funding schemes to encourage continued collaboration with Europe — which many scientists fear will be badly affected.
Universities UK is also advising institutions to examine how many of its grants are priced in euros and, where possible, to 'hedge' against the risk of their income dropping if the pound falls in value. This is usually done by locking into current exchange rates.
Partly in response to the uncertainty caused by Brexit, the Wellcome Trust said on 17 January that grantees will now be able to take most awards with them if they move abroad. One-third of the charity's grantees are non-UK nationals, and grants could previously be transferred only to institutions in the United Kingdom, Ireland or a low- or middle-income country.
Universities are preparing to stockpile lab supplies
Universities have been preparing for delays in importing lab supplies, which are likely to occur because of increased checks at the UK border.
"From day one of a no-deal Brexit, delays at borders would impact supply of medicines, with the need to enact robust, but inherently risky, contingency plans," says Aisling Burnand, chief executive of the UK Association of Medical Research Charities in London.
UK universities purchase many of their lab resources through consortia, and the group that represents the consortia — the UK Universities Purchasing Consortium group — is surveying its suppliers to work out which areas will be affected by a no-deal split, whether because of bottlenecks or increased costs. Information-technology and lab equipment are the areas we are focusing on, says Don Bowman, director of the London Universities Purchasing Consortium.
To prevent disruption to experiments, UCL is preparing for a period without imports of animals and animal products, in the event that revised licensing procedures do not immediately come into effect. The university is planning to stockpile mouse bedding, says Robertus De Bruin, a molecular biologist at the university.
The Medical Research Council Laboratory for Molecular Cell Biology, based at UCL, is stocking up on fly food as well as Danish-made Petri dishes and tissue-culture plates, says De Bruin. "The things we stock have to do with making sure we can keep our model organisms alive," he says.
The Francis Crick Institute has contacted vendors to ensure that crucial resources such as supplies for animals and flows of liquid nitrogen and carbon dioxide will continue, said a spokesperson. In case of disruption, the institute is ensuring that it has at least a month's worth of stock for everyday consumables, such as gloves, goggles and lab coats, he added.
Among wider advice to staff, the University of Lancaster is suggesting that lab heads planning to purchase specialist equipment from overseas consider doing so before 29 March.
The UK health department has pledged to charter a plane to fly in radioisotopes essential for medical screening for conditions such as liver disease and cancer. These currently come from the Netherlands through the Channel Tunnel and are too short-lived to be stockpiled.
Immigration, travel and recruitment
How immigration systems will handle a no-deal Brexit remains unclear and a key concern. EU citizens enjoy the right to live and work anywhere in the bloc, but this 'freedom of movement' between Britain and the continent would end immediately on Brexit day.
The government's — and universities' — priority has been to ensure that EU citizens already living in the United Kingdom can remain there (and vice versa). EU citizens already in the United Kingdom before 29 March can apply to 'settle' in Britain for a fee of £65 (US$84) — a cost that universities including UCL, Imperial and the University of Manchester are paying for their staff (many EU countries plan similar measures for UK citizens). UK universities have been holding clinics to share information on travel and immigration issues with their worried EU workers.
The European Commission has confirmed that UK citizens would not need a visa for visits of up to 90 days — even in the event of no deal — as long as the same applies for all EU citizens entering the United Kingdom, which means that travel for conferences and collaborations should be largely unhindered.
Less clear is how new workers planning to move between the countries would be treated, says Christine Sullivan, an attorney at Fragomen, a law firm in Brussels that specializes in immigration issues.
The UK government eventually plans for EU citizens to pass through the same system as migrants from the rest of the world. But implementing any major change to the immigration system in the United Kingdom would be difficult to do at short notice. The government has said that in the short term, EU workers coming to the United Kingdom after 29 March would still not require visas.
Still, the uncertainty has prompted Universities UK to recommend that institutions consider moving forward the arrival date of new hires from the EU to before 29 March.
UK researchers going to work in Europe after Brexit will probably need to get work permits from individual EU countries, says Sullivan.
Migrants with PhDs are likely to qualify for permits, but the process will vary according to country and could take up to six months, she says. "There are a good number of researchers, academics and PhD students who move from the UK into Europe each year. Are they ready for the fact that a no-deal Brexit could scupper those moves?" says Sullivan. "What we're recommending to clients planning a move is to try to bring it forward to before Brexit, to delay it or cancel it."
Applications from EU scientists have already fallen, says De Bruin. In his group, applications from EU nationals for postdoctoral positions have dropped by 90% since 2015.
The Russell Group of research-focused UK universities said earlier this month that the number of EU postgraduate research students enrolling at its institutions had fallen by 9% for 2018–19, dropping for the second year in a row.
Data sharing and clinical trials
EU member states are governed by common legislation — so the United Kingdom's departure will introduce legal hurdles for researchers in UK–EU collaborations. Data is one major area of concern.
The United Kingdom's data regulations should, technically, still align with the EU's after departure. But the ability to transfer data from the EU to the United Kingdom after Brexit relies on the European Commission first formally deciding that the new non-member-state's data protection laws are adequate — something it will do only after Brexit day.
To make sure that research data can continue to flow in the meantime, universities might need to work commission-approved language into every individual contract that involves data transfer within the EU.
Clinical trials currently regulated by EU law would also be affected. Trials that involve patients in EU countries but are led by UK institutions would need either to transfer responsibility for the trial to a collaborator in an EU country or to establish a legal presence in the bloc. That could be through a subsidiary or contractual agreement with a company or institution to represent it.
Contingency costs
The United Kingdom is having to spend huge amounts of money on no-deal contingency planning, "hoping that it's a complete waste", says Mike Galsworthy, who co-leads the Scientists for EU campaign group.
"It's like taking out a very expensive insurance policy on a house, in case we decide to set fire to it ourselves," he says.
The potential damage of a no-deal Brexit makes it increasingly likely that the EU and United Kingdom will try to extend the 29 March deadline, says Galsworthy.
The group is calling for a 'people's vote' on the next steps. Now that the deal has been voted down, Galsworthy hopes that pro-remain leaders in the scientific community "will find their voice again".