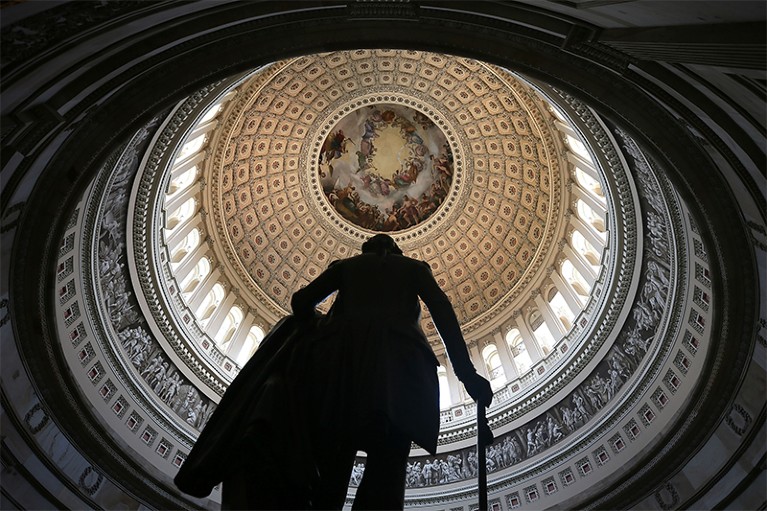 Update: A partial US government shutdown began on 22 December.
The clock is ticking for US lawmakers, who have fewer than four days — as of 18 December — to pass a new budget for many government agencies, or they will trigger a partial government shutdown. Nature explains why politicians are struggling to reach a deal, what is at stake for science and whether a crisis can be avoided.
So, what's the problem?
Congress hasn't finished its work on the government's 2019 spending plan, even though the 2019 budget year began on 1 October. Lawmakers have negotiated a full year of funding for about three-quarters of federal agencies, but others ― including NASA and the National Science Foundation (NSF) ― have been operating under stopgap funding that expires on 21 December.
Unless Congress and the White House agree on a plan to pay for those agencies' operations beyond that date, they will run out of money. By law, these agencies would be forced to cease many government services and shutter facilities until lawmakers approve new budgets for them.
The biggest sticking point in Congress's budget negotiations is the US$5 billion that President Donald Trump wants to build a wall along the US border with Mexico. Democrats say that they won't support a plan that includes money for the wall — and Republicans don't have enough votes to pass a budget bill without some Democratic support.
This sounds … familiar.
That's because the US government has shut down twice in 2018. The first shutdown began on 20 January, after a fight over immigration policy delayed budget negotiations in Congress. Lawmakers reached a deal to reopen the government two days later.
Three weeks later, on 8 February, the government shut down for nine hours after the temporary spending measure approved in January ran out.
What are the chances that a shutdown can be averted this time?
It's hard to say, because negotiations over the US budget often come down to the wire. In April 2011, for example, Congress and the White House reached a deal less than two hours before a shutdown would have begun.
The current negotiations have been complicated by the House of Representatives' decision last week to take a six-day break. It won't end until the night of 19 December, leaving little more than two working days to hammer out a budget deal.
Lawmakers might ultimately approve a temporary fix to fund the government until sometime after the holidays. This would give politicians more time to hammer out a plan for the remainder of the 2019 budget year, which ends on 30 September. But passing another stopgap measure could leave the government vulnerable to a shutdown next year.
Are government agencies preparing for closure?
Each federal government agency or department has a plan that outlines how it will operate during a shutdown. (The White House Office of Management and Budget lists them here; many agencies have updated them this week.)
Federal law allows agencies to keep some workers on the job if their duties are deemed necessary to protect life and property — such as weather forecasters at the National Oceanic and Atmospheric Administration (NOAA). The numbers of these essential employees vary by agency.
How would a shutdown affect science?
The effects would vary according to the length of the closure and by agency.
The National Institutes of Health, the Centers for Disease Control and Prevention and the Department of Energy would not be affected by a partial shutdown, because Congress has already approved their 2019 budgets.
But other agencies that have been operating under temporary funding measures would be forced to halt many activities. These include NASA, the NSF, NOAA, the US Geological Survey (USGS) and the Food and Drug Administration (FDA). The Environmental Protection Agency (EPA) is a notable exception: it plans to use unexpired multi-year and "no year" funding to keep most of its roughly 14,000 workers on the job — at least until that money runs out.
Some effects of the shutdown would be widespread; most government employees from affected agencies would be barred from attending scientific conferences or meetings. Websites and databases run by the affected agencies would go offline, and employees classed as non-essential would be barred from using their government e-mail addresses.
Other clues can be gleaned from agencies' experiences during the 16-day shutdown in October 2013 (see our complete, archived coverage) and the 2-day shutdown last year, their current shutdown plans and reporting by Nature's US news staff.
Okay, so tell me more about NASA.
The two US astronauts aboard the International Space Station would stay on the job, as would the ground staff who support the station's operations and those who track the agency's satellites.
All operating science missions would continue, including the InSight geophysical probe that landed on Mars last month, the OSIRIS-REx asteroid-sampling mission that reached its target this month, and the New Horizons spacecraft that is set on 1 January to fly past the most distant world ever visited.
Engineers at Northrop Grumman Aerospace Systems in Redondo Beach, California, are working around the clock to finish assembling and testing the $9.6-billion James Webb Space Telescope, which is set to launch in 2021. That work can proceed until and unless NASA employees are needed to participate in tests; the next round is scheduled to take place before Christmas.
The biggest challenges for NASA would be related to its human spaceflight programme. The first uncrewed test flight of SpaceX's astronaut-carrying spaceship — one of the two intended replacements for the now-retired space shuttle — is set for January. A government shutdown would halt all work at the launch site, the Kennedy Space Center in Florida.
What about the NSF?
Just 60 of the agency's roughly 2,000 employees would keep working during a shutdown, according to the NSF's latest contingency plan. The agency would stop reviewing grants or issuing payments. After the 2013 shutdown ended, for instance, the agency rescheduled the due dates for proposals to roughly 50 programmes.
The 2013 shutdown also interrupted the annual field season of the agency's Antarctic research programme. At first, the programme was allowed to continue operating to ensure the safety of NSF staff, researchers and contractors at three Antarctic research stations. But the agency was eventually forced to put those bases into 'caretaker' status, halt research and begin evacuating personnel as funding dwindled.
A government shutdown now would begin towards the end of the Antarctic summer field season, which normally runs from October to February. That could minimize the damage to scientific research.
... and NOAA?
Roughly 5,500 of the agency's 11,400 employees would stay on the job, with many supporting the work of the National Weather Service.
Most other scientists would be sent home, but there are exceptions — for example, a skeleton crew would ensure that NOAA's greenhouse-gas monitoring stations continue to collect data, and scientists would continue to staff the agency's tsunami-warning centres. NOAA maintains an extensive fleet of research vessels, and most of these would be directed to return to the nearest port.
... and the USGS?
The agency would keep 75 of its roughly 8,000 employees on the job, including on-duty seismologists in Golden, Colorado, who monitor earthquakes worldwide to produce real-time analysis and damage estimates.
Another 450 employees would be kept on-call — able to return to work to protect life and property in the case of a natural disaster, such as a volcanic eruption, or other emergency.
... and the FDA?
About 59% of the agency's employees would stay on the job. FDA scientists would discontinue most research, but drug reviews would continue because these activities are funded by fees from the pharmaceutical industry.
Would a shutdown save money?
Probably not, judging by what happened in 2013.
The Government Accountability Office reports that 850,000 government employees — roughly 40% of the federal workforce — were 'furloughed', or ordered to stay home without pay. But Congress eventually approved about $2 billion in retroactive compensation for these workers, erasing any payroll savings.
More broadly, a report released in November 2013 by the administration of former president Barack Obama concluded that the shutdown led to 6.6 million lost work days for civilian federal employees and might have prevented the creation of up to 120,000 private-sector jobs.
How many times has the federal government shut down, anyway?
More than you might think — at least in recent decades. The US Congressional Research Service says that there have been 20 shutdowns since 1976. Five of those occurred between 1977 and 1980, as then-president Jimmy Carter fought with Congress over federal funding for abortion.
At 16 days, the 2013 shutdown wasn't the longest in US history. That honour belongs to a 21-day closure that began on 16 December 1995, after a temporary funding measure expired.
Are you a scientist affected by the shutdown? Nature wants to hear from you. E-mail Lauren Morello at l.morello@us.nature.com.