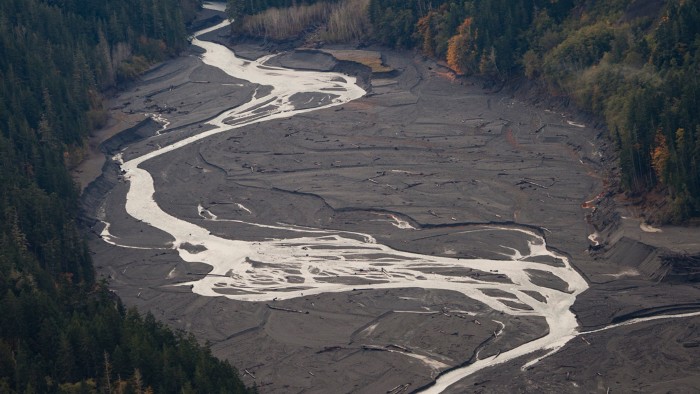 Geophysics
River bounces back after world's largest-ever dam removal
Freed from two large dams, a small river in Washington state has efficiently flushed vast amounts of mud, sand and gravel towards the sea.
In the world's largest dam-removal project so far, two obsolete barriers on the Elwha River — the 32-metre-tall Elwha Dam and the 64-metre-high Glines Canyon Dam — were dismantled between 2011 and 2014 to restore the river's flow from source to mouth. Amy East at the US Geological Survey in Santa Cruz, California, and her team monitored river flow and topography before, during and after the dams' removal.
The release of some 20 million tonnes of sediment that had been trapped in the reservoirs behind the dams substantially altered the shape of the river, filling pools and creating new sandbanks. But the major disturbance lasted no more than five months; by the end of that time, most of the debris reached the river's mouth at the Strait of Juan de Fuca.
Rivers of sufficient stream power seem to be able to cope with large dam removals without serious harm, the authors conclude.