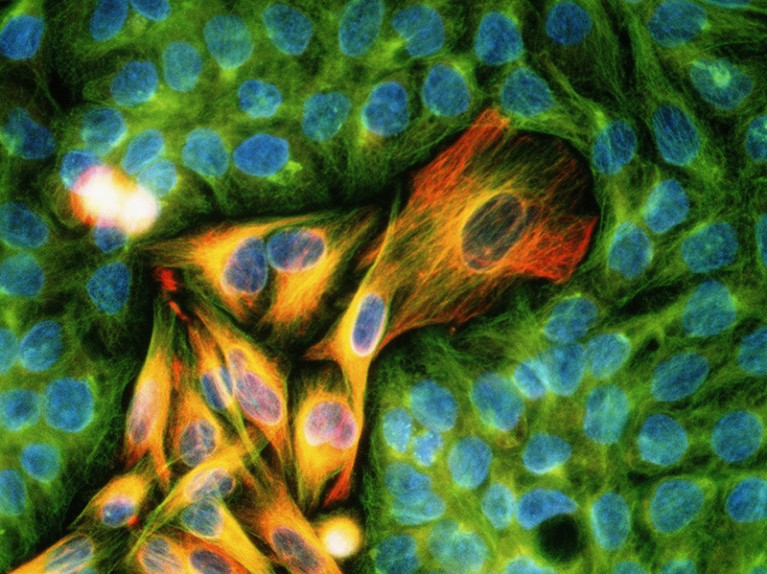 The stunning failure of a once-promising cancer drug has got some researchers arguing that the field has moved too fast in its embrace of therapies that unleash the immune system.
The drug, epacadostat, blocks a protein called IDO that hobbles immune cells if left unchecked. Early trials suggested that the drug could be a powerful weapon against some advanced cancers when paired with existing therapies that bolster the body's immune response to tumours. But a large, controlled study of epacadostat was halted in April after the drug failed to show benefits.
Now, a researcher who helped to conduct some of the first trials of the drug says that it was pushed into large clinical studies too soon — and that the same could be true of other cancer immunotherapies in development. "People ask me right now, 'What are you excited about?'" says Jason Luke, an oncologist at the University of Chicago in Illinois who aired his concerns last week at a meeting of the Society for Immunotherapy of Cancer in Washington DC. "And I say, 'Unfortunately, little to nothing,' because almost none of this is done properly."
Early data from small trials of epacadostat, which is made by Incyte of Wilmington, Delaware, excited researchers. Luke recalls one trial participant with advanced cancer who was so weak that it was difficult for him to travel to the clinic. From the first dose, the man showed improvement. But Luke now attributes those gains to the treatment given alongside epacadostat in the trial: an approved immunotherapy called pembrolizumab, made by Merck of Kenilworth, New Jersey.
After Incyte and Merck reported in April that a larger trial of epacadostat and pembrolizumab had failed, other companies announced that they were halting their own programmes to develop cancer drugs that block the IDO protein. "The field has completely evaporated," says Luke, who notes that more than 1,000 participants were once enrolled across various studies of IDO-inhibiting drugs.
This failure should be a wake-up call for other cancer researchers, says Felipe Campesato, a cancer immunologist at Memorial Sloan Kettering Cancer Center in New York City. "We can take that challenge as an opportunity for improvement, and maybe a turning point in the field."
Lessons learnt
Looking back, Luke says that scientists did not have a firm understanding of epacadostat's mechanism of action. Nor had they found a test that could select the participants who were most likely to respond to the treatment. There were scant data as to how well epacadostat worked on its own, and the drug had been moved into a large trial on the basis of data from clinical studies with no control group.
"We were way out over our skis," says Luke. "I think we just sort of lost track of the fundamental principles of drug development."
Now he worries about other combinations of cancer drugs and immunotherapies that are moving forward into large clinical trials. At the meeting in Washington DC, researchers presented data from an experimental drug called NKTR-214, made by Nektar in San Francisco, California. The drug produced a response in 63% of participants when combined with another immunotherapy in a small initial trial. But the response rate fell to only 53% in a slightly larger trial.
Nektar is starting a large, randomized clinical trial that could be used as part of an approval application. Luke hopes that the drug will do well, but he sees some of the same warning flags from the IDO experience.
Nektar's chief scientific officer, Jonathan Zalevsky, says that data on the NKTR-214 trial are comparable to those from trials that test combinations of approved immunotherapies — with fewer side effects. He adds that 24% of participants in the clinical trial of the NKTR-214 combination therapy have seen all signs of their cancer disappear.
Companies' rush to large clinical trials is driven in part by fierce competition to be the next to develop a hit immunotherapy drug, says Chris Shibutani, an analyst at investment bank Cowen in Boston, Massachusetts, who has studied pharmaceutical companies' research and development spending. "Immuno-oncology we consider to be quite clearly the most intense area of focus across biopharma," he says. "The competition is what's breeding this level of urgency, and to a certain extent the tendency of industry to be very aggressive — at the risk of being overly aggressive."
Shibutani notes that, like epacadostat, NKTR-214 has so far been tested only in clinical trials that lacked a control arm. In the past, researchers would often perform a small controlled study before moving into larger trials. But they are increasingly resorting to faster, smaller, uncontrolled trials instead, he says, as researchers, companies and regulators all push for speedier translation of medical discoveries to the clinic.
This speed needs to be balanced with rigour, Luke says. "We still want to go fast," he says. "We just want to go fast in a way that we feel confident is scientifically justified."