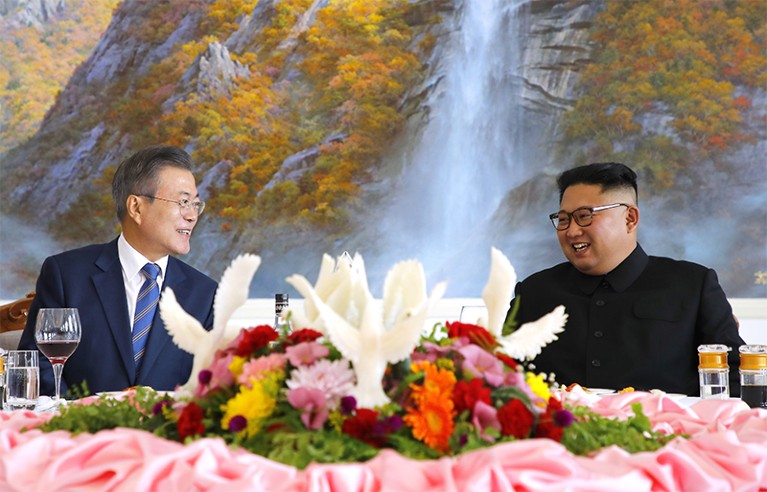 North Korea and South Korea will establish a joint response system for fighting contagious diseases such as tuberculosis (TB), a major public-health threat in North Korea.
A pilot programme is set to begin by the end of the year, and will see the two nations exchanging information on contagious diseases through a liaison office in Kaesong, on the northern side of the border.
In a 7 November announcement, the two countries also agreed to work together on the diagnosis and prevention of TB and malaria. The agreement is part of a pledge to expand public-health collaboration, laid out in a declaration that South Korean President Moon Jae-in and North Korean leader Kim Jong-un signed in Pyongyang on 19 September.
The agreement is timely and a necessary first step in planning for free movement between the Koreas, or for eventual reunification, says Shin Hee Young, a paediatric oncologist and director of the Institute for Health and Unification Studies at Seoul National University. He has worked with North Korean hospitals since 2003.
Disease patterns across the two countries are markedly different, he notes. The bacterial diseases, such as tuberculosis, rheumatic fever and scarlet fever, that are rampant in North Korea are far less common in South Korea, where paediatricians now have little experience responding to them, says Shin. "When these people cross the border without any restrictions, there will be an epidemic of tuberculosis in the South," he says.
By contrast, if border restrictions are lifted, the viral infections, such as influenza, that are more common in South Korea will start to hit especially hard in North Korea, where immunity is low and suppressed by malnutrition, says Shin.
More than 107,000 cases of TB were reported in North Korea in 2017, resulting in an estimated 16,000 deaths, according to the World Health Organization. A growing number of those cases involve multi-drug-resistant strains of TB, with more than 4,000 such infections reported last year.
Efforts to combat the illness in North Korea were dealt a blow in June when the non-profit Global Fund to Fight AIDS, Tuberculosis and Malaria ended its programmes in the country, citing the challenges of operating there.