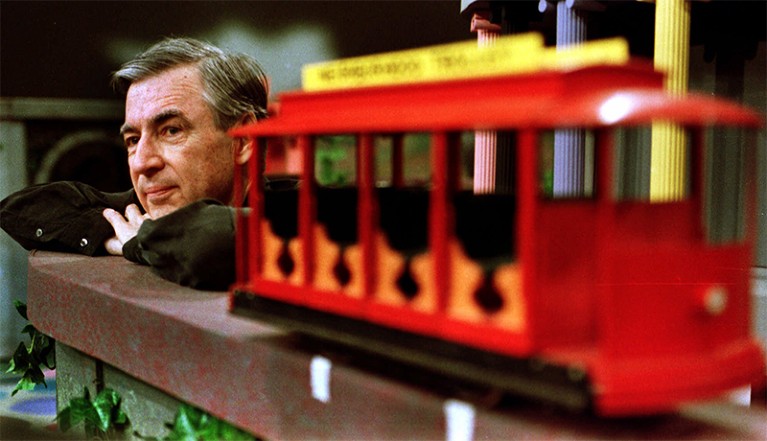 The Good Neighbor: The life and work of Fred Rogers Maxwell King Abrams (2018)
At a time marked by repugnant politics, school shootings and the separating of migrant families, many US citizens seem to be turning to an unexpected source of psychological and ethical solace. The hugely popular children's television show Mister Rogers' Neighborhood first aired nationwide 50 years ago and ended in 2001; yet a marathon showing of all 886 episodes last year drew more than one million views in its first few days.
To some, the appeal might seem elusive: the show's cardigan-wearing host, Fred Rogers, spent much of each episode talking slowly to camera. Yet Rogers was one of the most unusual figures in children's television. Working with child psychologists, he crafted scripts that went to the heart of issues deeply affecting the young, from difficult emotions to divorce, racism and death. Neither zany entertainer nor earnest pedagogue, Rogers was instead a respectful mentor who promoted tolerance. Now, the anniversary has sparked several high-profile takes on Rogers, who died in 2003. In addition to Oscar-winning director Morgan Neville's documentary Won't You Be My Neighbor? (2018) and You Are My Friend, a film starring Tom Hanks due to debut next year, philanthropist Maxwell King has written a biography, The Good Neighbor.
King traces the roots of the programme to Rogers's early interests. Rogers's training in music composition, for instance, fed into the show's trademark songs. He was also an ordained Presbyterian minister, but no 'televangelist': Mister Rogers' Neighborhood was religion-free. Instead, his requirement for expertise in counselling led him to the field of early child development; and it was his immersion in it that most profoundly shaped the show. From the 1950s, Rogers had studied at the knee of Margaret McFarland, a child psychologist renowned for her depth of knowledge and use of storytelling as a pedagogic tool. In McFarland, we see a scholar much like Rogers: a forceful and passionate personality tucked inside a meek exterior. Both were experts in gentle persuasion.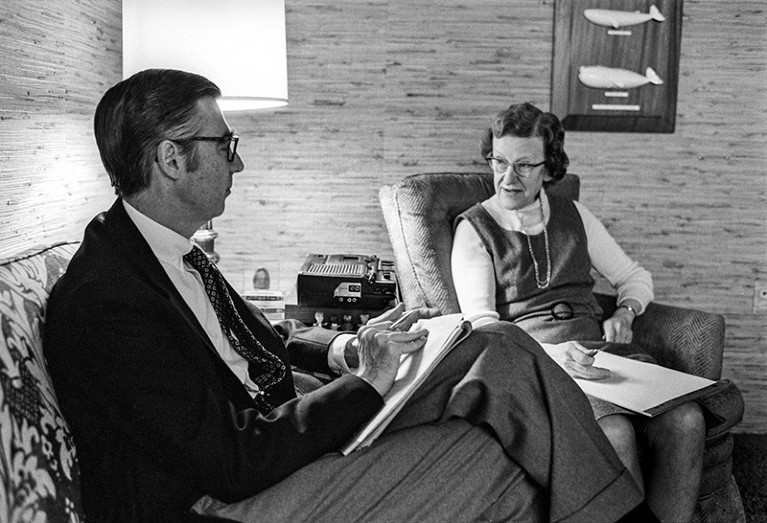 McFarland believed it was important for child psychologists to rely on empathy and memories of their own childhoods to interpret behaviour in children. She had lengthy discussions with children and their parents, and worked from the idea that a child's first few years of life were crucial in forming the adult they would become. At the University of Pittsburgh in Pennsylvania, she collaborated with paediatrician Benjamin Spock, author of volumes including the record-breaking 1946 bestseller The Common Sense Book of Baby and Child Care.
Through Rogers, McFarland's nuanced approach to children's development reached millions. As King shows, Rogers spent hours consulting her, even heading for her office in the middle of a shoot when something about a script didn't feel right.
It's difficult to imagine the show they forged being made today. The pacing was serene, the sets simple, the storylines subtle. Interspersed with conversation, Rogers would interact with visiting 'neighbours' as well as with puppets in a fictional kingdom, who dealt with everyday dilemmas such as coping with jealousy. Rogers took exceptional care over language, aware that children can be exactingly literal and lack experiential context. When a nurse inflating a blood-pressure cuff in one episode said she would "blow this up", it was redubbed so children would not brace themselves for an explosion.
Both McFarland and Rogers focused on a young child's emotional intelligence before their academic achievement. King notes that Rogers's emphasis on unconditional acceptance — "I like you just the way you are" was a trademark line — has led some critics to say that he fostered a generation of children unwilling to work hard and improve themselves. As a member of that generation, I take umbrage. Rogers taught children to take time to think. His insistence on acceptance and fair-mindedness offered a model for altruism.
Given today's political divisions and digital disruptions, reading The Good Neighbor left me with a profound feeling of loss. King notes that as Rogers aged, he watched in dismay as violence ramped up on television, even on children's shows — to the point that he wondered how useful his work as a children's advocate had been. Furthermore, with 'good' parenting now often centred on intensive extracurricular classes and academic kudos, Rogers's emphasis on pastoral care seems to have got lost.
The book is very much a popular biography. At times jumpy and repetitive, it focuses heavily on anecdotes about McFarland's life and work, without giving enough heft to the theory. The historical context to her work is patchy — a frustrating omission, given the richness of twentienth-century child psychology. At times, the book is almost too reverential, and King — who was, for instance, director of the Fred Rogers Center for Early Learning and Children's Media in Rogers's home town of Latrobe, Pennsylvania, for two years — be considered completely unbiased regarding Rogers's life.
However, King does reveal that Rogers's co-workers were at times frustrated with his stubbornness and perfectionism. Emerging from a particularly contentious meeting, one colleague said, "I wonder at what age is it that Fred no longer likes you just the way you are?" Despite his forbearance, Rogers also reportedly lost his temper when he caught his teenaged sons growing marijuana in the basement. Still, remarkably, Rogers seems generally to have been as considerate and insightful as he seemed on television.
Mister Rogers' Neighborhood turned 50 a few days after a mass shooting at the Marjorie Stoneman Douglas High School in Parkland, Florida. Our times attest to a perennial need to acknowledge, and manage, emotions.