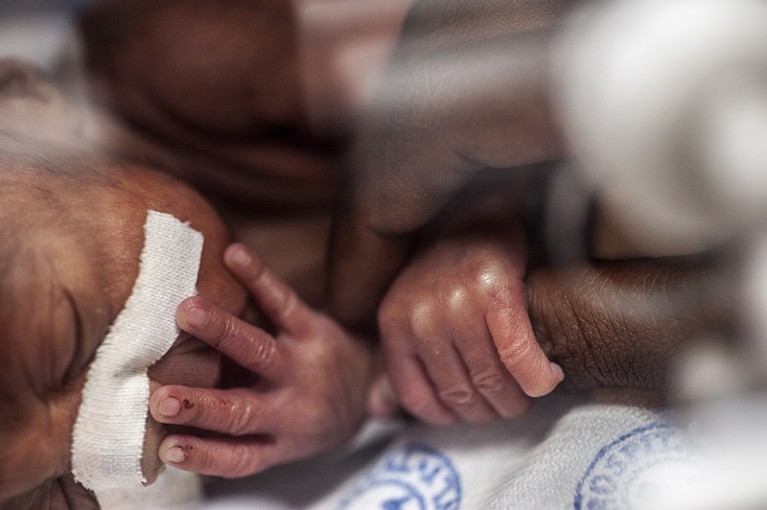 A major US non-profit group focused on improving child health has abruptly terminated US$3 million in research grants — leaving nearly 40 scientists confused, angry and scrambling to secure new funding.
On 24 July, 37 grant recipients received an e-mail from the March of Dimes Foundation in White Plains, New York informing them that their 3-year grants had been cut off, retroactively, starting on 30 June. Many of the researchers were only a year into their projects, and had had just enough time to hire and train staff, purchase supplies and generate preliminary results. Now, several say that they might need to lay off employees, euthanize lab animals and shelve their research projects if they cannot find other funding — fast.
The March of Dimes, which is supported largely by individual donations, made the decision to revoke the grants because of a budget shortfall, says Kelle Moley, the group's chief scientific officer. "I know this is harsh news," Moley says. "As a former grantee, this would be devastating to me as well."
That is small consolation to many researchers whom Nature spoke to. "It's hard to not have money, but it's much harder to start a project, get it going and then lose it all," says Andrew Holland, a molecular biologist at Johns Hopkins University in Baltimore, Maryland. His $250,000 grant to study microcephaly — a condition that causes children to have abnormally small heads and stunts brain development — has been revoked.
Financial distress
US president Franklin Roosevelt founded the March of Dimes — then called the National Foundation for Infantile Paralysis — in 1938 to fight polio. It now focuses on preventing and treating pre-term births and birth defects. The organization's current name refers to its historic campaign in the late 1930s to solicit small donations of just $0.10 (a dime) from the US public.
In recent years, the organization has faced financial challenges. The March of Dimes' research budget shrank from $20 million last year to $17 million in 2018, Moley says. And an independent audit commissioned by the organization, and posted on its website, shows that the organization's expenses exceeded its income by almost $11 million in 2017 and $13 million in 2016. The audit was carried out by accounting firm KPMG in New York City.
To cope with this funding shortfall, the March of Dimes' board of directors has decided to restrict the group's research support to studies on reducing pre-term births, Moley said. The organization will continue to fund young investigators through its prestigious Basil O'Connor awards. But it has moved to end "individual investigator" grants for research on the Zika virus, Down's syndrome and other congenital disorders, as well as some awards that focused on fundamental biological processes. "We need to be able to communicate to our donors the significance of the work," Moley says.
It is unusual to see a non-profit organization cancel grants so abruptly, says Marc Kastner, president of the Science Philanthropy Alliance, a group in Palo Alto, California, that advises research funders. "I have never heard of a case where commitments are not fulfilled," he says. "To get academics working on a project and then cut them off in the middle is horrendous."
The letter that the March of Dimes sent to grant recipients on 24 July explains that their funding was cancelled because the group is "transforming and modernizing its operation". Several researchers affected by the move told Nature that in subsequent e-mails and calls, March of Dimes staff members gave several reasons for the cuts, including a shift in research priorities and unforeseen budgetary troubles.
Uncertain future
The researchers who lost their grants say they are not upset by the organization's decision to shift focus — but rather its decision to terminate their grants early. Maria Jasin, a developmental biologist at Memorial Sloan Kettering Cancer Center in New York City, is scrambling to work out how to pay the salary of a Polish postdoctoral fellow in her lab who is in the United States on a work visa.
And Robert Johnston, a developmental biologist at Johns Hopkins, fears for his chance at tenure next year. "This is a huge blow right now," he says. "I had two grants and now I have one." He is anxious that he will not be able to continue his strongest research project, on gene regulation, before his work is up for tenure review — and that his work overall will suffer if he cannot hire the technicians he expected to support with his grant.
Researchers also say that the March of Dimes is months behind on tens of thousands of dollars in grant payments stretching back to late 2017. In many cases, scientists were unaware of the late payments until their grants were cancelled.
Moley says the late payments are due to the March of Dimes' unpredictable cash flow, and notes that the group's grant policies state that awards can be cancelled at any time. "Even though researchers are upset and disappointed," she adds, "I hope they will continue to believe in us — we believe in them."
But Holland says that he will not apply again for a March of Dimes grant. "One week of notice is inhumane," he says. "I didn't know this was possible until it happened."