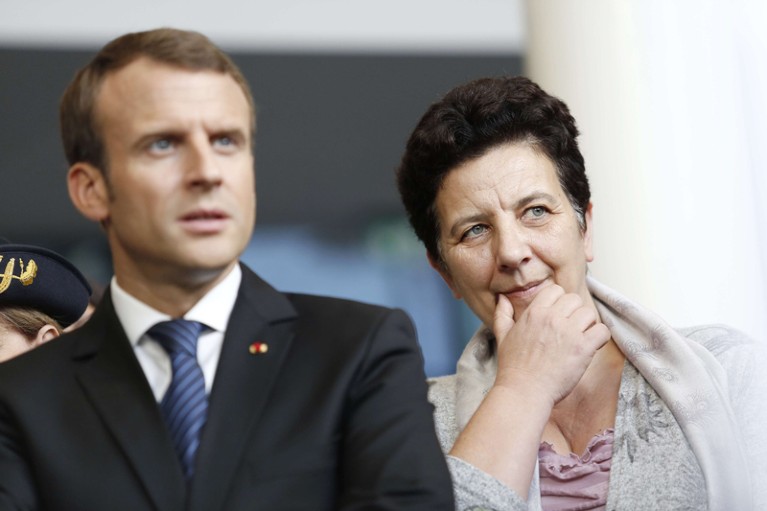 Until 2017, Frédérique Vidal, a molecular geneticist and president of Nice Sophia Antipolis University in France, had no political experience and fewer political ambitions. But when she was asked to become the country's science minister following Emmanuel Macron's election as president in May last year, Vidal didn't hesitate. It was a now-or-never opportunity, she says, to help put higher education, research and innovation at the heart of Macron's plans for France's most radical transformation in decades.
Nearly one year after her appointment, Vidal tells Nature about her experiences as a minister and why science is central to Macron's agenda. This interview was translated from French and edited and condensed for clarity.
What persuaded you to join Macron's government?
I'd first met Macron in 2016 and was really impressed by his thorough understanding of research, education and innovation issues, by how well he listened, and by the questions he asked. He sees things very differently from most other politicians. He puts both the collective interest, and the evidence on an issue or policy, up top, above partisan politics.
How has Macron's election changed how the French government handles science and evidence?
Parliament now has many more people from civil society — including from the academic and education worlds. The president and this government are making it very clear that science, facts and knowledge must underpin public decision-making. The government doesn't have preconceived or partisan positions on subjects, and instead really studies them in depth. No matter the topic we look at, we seek input from the best experts.
You frequently take part in the delegations accompanying Macron on official visits abroad. Why is that?
Official trips often include issues that have to do with research, higher education and innovation — including climate change, youth unemployment and economic development. When they do, President Macron asks me to come with him. As a researcher, there is a lot to learn. But it's a truly unique experience.
Has France become more attractive for foreign investment, including in research and development (R&D), since Macron's election?
Yes, it has — and yes, it's very much a result of President Macron's election. We saw, for example, the €3.5 billion in foreign investment announced by business leaders at the 'Choose France' meeting at the Palace of Versailles, just outside Paris, on 22 January — including investments by Google and Facebook in artificial-intelligence research. I don't think this would have happened without the election of Macron. Confidence is not something that can be created by decree.
What are your plans for innovation and for encouraging start-ups?
Once a month, I invite a different group of young entrepreneurs to the ministry for an informal chat, to stay in touch with the issues that grassroots innovators face, and to ask them how we could make their life easier. A big problem in France is getting the transition funding needed to grow start-ups into larger companies. We have too many 'old' start-ups, but start-ups shouldn't be old — they should either succeed or disappear. We also need to make it easier for researchers in the public sector to switch back-and-forth to the private sector.
France is famous for its generous tax credits supporting research, but some say that these don't boost private-sector R&D enough and that they favour big companies. Are any changes in store?
The big industrial groups are experienced in managing these tax credits. The challenge is to make things easier for small and medium-sized companies. At the same time, the research tax credits are one reason why young entrepreneurs choose to locate their businesses in France, and why many of the big industrial groups keep their research labs here even if it's not their biggest market. The system of research tax credits is important for French research.
Macron is very pro-EU. What ambitions does France have for science in the European Union?
France has high expectations for the next EU Framework research programme, Framework Programme Nine, which is due to launch in 2021. Our thinking on this is in line with the influential July 2017 Lamy report, which called for the EU to become a scientific, technological and economic powerhouse that can compete with the rest of the world, and recommended a substantial increase in the Framework budget. Besides the tools and approaches already used in Horizon 2020, we also need to develop breakthrough innovations; this could be the role of a dedicated agency.
We also want to boost France's performance in Horizon 2020. The success rate of France's applications for Horizon 2020 grants is the second-highest of member states, but we have the potential to do better. We will soon announce a national plan to improve the level of participation by French researchers in Horizon 2020.
How might Brexit affect research in Europe?
It is too early to have a clear view of Brexit's consequences on European research, and negotiations between the EU and the UK are still ongoing. I'll be very attentive to the way things evolve. We are keen to maintain a high level of partnership, despite the departure of the UK from the EU.