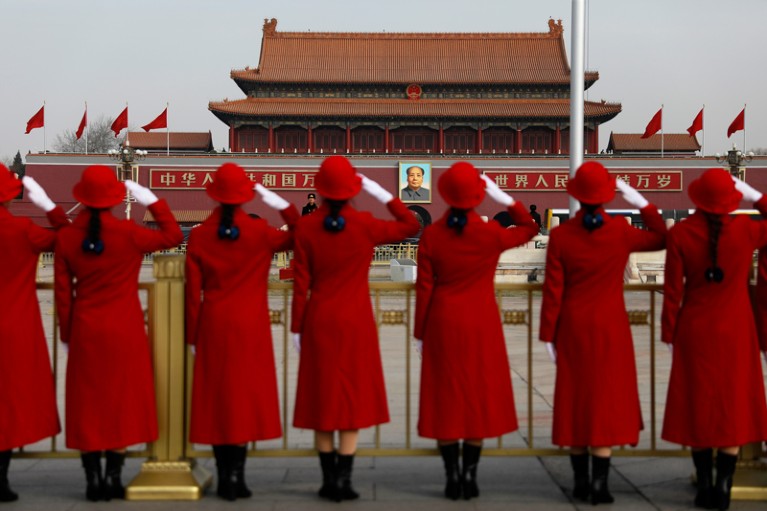 As Chinese leaders gather for the government's most significant meetings of the year, researchers are anticipating major policy announcements for science and innovation that could shape the country's research agenda for years.
The annual assembly of the Chinese People's Political Consultative Conference opened in Beijing on 3 March, followed by the National People's Congress, which started two days later. Chinese politicians are expected to select the country's leaders for the next five years and to reform government agencies during the two meetings, which run concurrently for about two weeks.
"China will announce new policies to promote development of science and technology," says Yutao Sun, an economics and policy expert at the Dalian University of Technology. He says that fostering innovation, and using it to drive development, are among China's most important strategies. Yutao expects the government to renew its support for basic research and emerging technologies, such as electric vehicles, artificial intelligence and biomedicine. These are fields in which "China has a good chance to catch up" with other world leaders, such as the United States, he says.
Leadership changes at key government agencies are also expected. These can be announced before, during or after the official meetings. On 27 February, the government announced that materials scientist Yang Wei had stepped down as the head of the National Natural Science Foundation of China, the country's major research-grant organization. Yang had led the organization since 2013 and became a crusader for research integrity in China. He has been replaced by chemical engineer Li Jinghai, a former vice-president at the Chinese Academy of Sciences, who is a current vice-president of the Paris-based International Council for Science.
Decisions made during the meetings are likely to result in an overhaul of government science and technology institutions. Cao Cong, a science-policy researcher at the University of Nottingham, Ningbo, says there are suggestions that agencies could be merged into a bigger ministry system, which could affect oversight and planning of science funding, education, intellectual property and other science-related areas. "The merger is supposed to make the science and technology system more efficient and more coordinated, but the transition may be difficult as there is resistance from within the system," says Cao.
Xi's vision
But the most highly anticipated change at the meeting will be the constitutional amendment that abolishes two-term limits on the presidency. Changes proposed last month would allow the country's leader to stay in office indefinitely. This year marks the beginning of president Xi Jinping's second term in office. According to state media, eliminating the term limit would give Xi more time to see through his policies and vision — including his goal to make China the world leader in science by 2050. Xi often rallies the research community by calling their work essential for the country's progress.
Duan Yibing, a science-policy researcher at the Chinese Academy of Sciences' Institute of Policy Management in Beijing, says that there is a much greater appreciation for the role of science and technology in promoting national well-being in China than there is in Washington, where President Donald Trump has left key science posts unfilled and has sidelined the White House's science-planning office. "Compared to President Trump's laying aside of the Office of Science and Technology Policy, the new system of reform [in China] and the new appointments may be amazing," says Duan.
Rapid performance
China is already rapidly outpacing other countries in the volume of its research publications. In 2017, it published nearly 480,000 papers, accounting for 20% of the world total, narrowly trailing the United States, which produced 22% of global publications, according to data from Elsevier's Scopus database.
But a report by the US National Science Foundation, published in January, placed China ahead of the United States in terms of total publications, using a counting method that divides the credit for a publication fractionally among its authors.
China has also shown rapid growth in overall citation impact — a measure of the number of scholarly citations garnered by its publications. Although it currently hovers around the world's average, it's still far below that of the United States, according to data from SciVal, an analysis tool also owned by Elsevier.
China's spending on basic sciences doubled in the five-year period from 2011 to 2016. Figures released in February put China's spending on research and development at 2.12% of the country's gross domestic product (GDP). The United States invests 2.8% of its GDP in research and development.
But Xi's top-down approach could also weaken science if it remains a "service to a national political agenda and to national development projects", says Richard Suttmeier, an emeritus professor specializing in science and technology in US–China relations at the University of Oregon in Eugene. This approach denies China the benefits of a pluralistic, decentralized research and educational enterprise, in which professional interests coexist with national missions and commercial objectives, he says. Research in the United States has flourished because of these conditions, says Suttmeier.
Xi's emphasis on political education and the role of the Communist party could slow scientific productivity, he says. "There are reasons to ask whether its progress might still be attenuated."