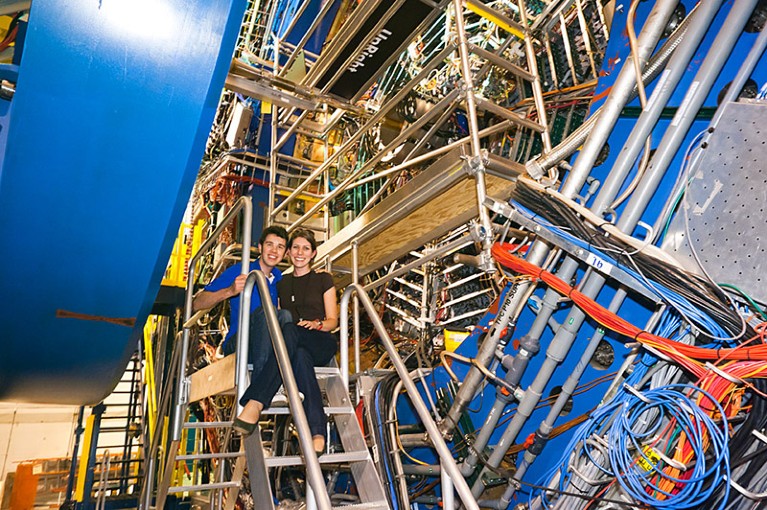 Scientific papers often inspire new ideas and questions, and sometimes even tinges of professional jealousy. But on the rarest of occasions, a publication will go straight to the heart. A few researchers have taken the opportunity to register their love in the nerdiest manner, by hiding a proposal of marriage in their manuscripts.
Caleb Brown wanted his proposal to endure like the fossils he studies. The researcher at the Royal Tyrrell Museum in Drumheller, Canada, decided to pop the question to girlfriend Lorna O'Brien, a fossil technician at the same museum, in the acknowledgements section of a paper1 describing a new species of horned dinosaur, Regaliceratops peterhewsi.
Because the paper was the first description of the creature, Brown knew it would have longevity and be cited in future research. "It was my attempt to attribute some immortality to the proposal," says Brown, whose manuscript was published in Current Biology in June 2015.
But O'Brien — who said yes — wasn't the only one who read the paper. When journalists spied the proposal, Brown's efforts triggered news stories around the world. "I was so naive. I had no idea it would go viral," he says.
Perfect timing
Former marine biologist David Tamayo wanted to memorialize his proposal to girlfriend Carolina Muguruza, a neuroscientist, before he gave up science. "I was preparing what was likely to be my last paper and I realized it was now or never," says Tamayo, who now teaches at a high school in northern Spain. But his surprise was almost ruined in May 2016, when the journal editor put the paper2 online before telling Tamayo. "I was suddenly in a rush. If someone discovered it before her, then it would've been no surprise at all," he says.
At their home, Tamayo asked Muguruza to read the Marine Biology paper's acknowledgements. "I asked her to check that section because I was worried the journal had missed someone," he says. When Muguruza realized what was really going on, Tamayo was already on one knee holding a ring. The couple married last June.
The acknowledgements section is rarely the most important part of a peer-reviewed paper. Which is probably why materials scientist Keqiang Chen had to ask his girlfriend, Qiaohui Zhong, to read his paper3 in Nanoscale twice when it came out in May last year. Zhong, who works in the same laboratory as Chen at Wuhan University of Technology in China and is a co-author of the paper, didn't notice his proposal on her first reading. "I asked Miss Zhong to study it carefully," he says. When she finally spotted the offer, she accepted. Their wedding is planned for June this year.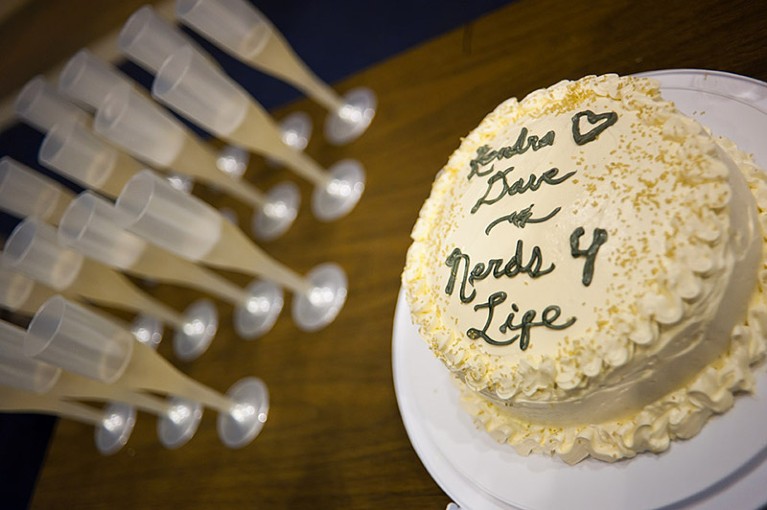 Sentimental location
Manuscripts aren't the only mechanism that people in science have used to make their proposals. Carl Mehling popped the question to his now-wife, Fiona Love Brady, while excavating for sharks' teeth and other marine fossils at Big Brook in New Jersey, an activity the pair enjoyed together.
One Monday evening in June 1998, Mehling convinced a friend to drive him to the site, where he hid a garnet ring inside a coffee tin and buried it in the stream bed, marking the spot with some plants. "I wanted to place the ring shortly before dark and get there before dawn so there was no chance of any collectors finding it," says Mehling, who manages a fossil collection at the American Museum of Natural History in New York City.
The next morning, Mehling pretended he'd just discovered the tin when he handed it to Brady, who is a reading teacher. She tipped its contents onto her sorting screen and found a glass vial containing the ring, a poem and an uncut diamond. Mehling says he was thrilled when Brady agreed to marry him. The engaged couple then celebrated with a bottle of red wine that he'd also stashed the night before.
Science writer Kendra Snyder met her partner because of a particle collider, so it was only fitting that the instrument featured in their engagement, she says. Snyder got to know David Mosher, also a science writer, through mutual colleagues; they had both worked at the Fermi National Accelerator Laboratory outside Chicago, Illinois, although not at the same time.
Two years after they met, on a Friday in July 2011, Snyder, who was then working at the Brookhaven National Laboratory in Upton, New York, was asked to write a story about unusual crystals forming in her facility's particle collider, which had been shut down over summer.
Little did Snyder know that the story was a ruse. As she descended into the bowels of the instrument, she was surprised to find Mosher there. "I was completely shocked. I did not see it coming at all," says Snyder, who now manages science communication at the American Museum of Natural History. Her colleagues had even asked the lab director's permission to have champagne to toast the happy couple. "It was definitely a team effort," she says.