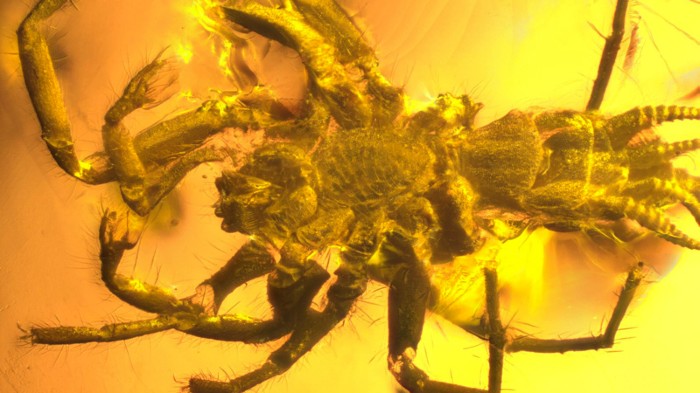 Evolution
Eight-legged crawlers spin controversy
An arachnid found in 100-million-year-old Burmese amber from Myanmar boasts a curious mix of characteristics.
The spider-like creature (Chimerarachne yingi) has a tail-like appendage similar to those of other early arachnids, but also has traits seen in modern spiders, such as multi-segment silk-spinning organs.
Gonzalo Giribet at Harvard University in Cambridge, Massachusetts, Diying Huang at the Chinese Academy of Sciences in Nanjing and their colleagues analysed two fossils of the animal dating to about 100 million years ago. On the basis of the creature's tail, they conclude that it belongs to the Uraraneida, a group of spider relatives that was thought to have gone extinct around 275 million years ago. But Bo Wang, also at the Chinese Academy of Sciences in Nanjing, and his colleagues examined two other fossils of the species and argue that its advanced silk-spinning apparatus shows it was part of a lineage of tailed spiders that survived until at least 100 million years ago.
Silk-spinning spiders with and without tails co-existed for millennia, the authors agree.