Desert snow, mudflows and monkey clones — January's top science images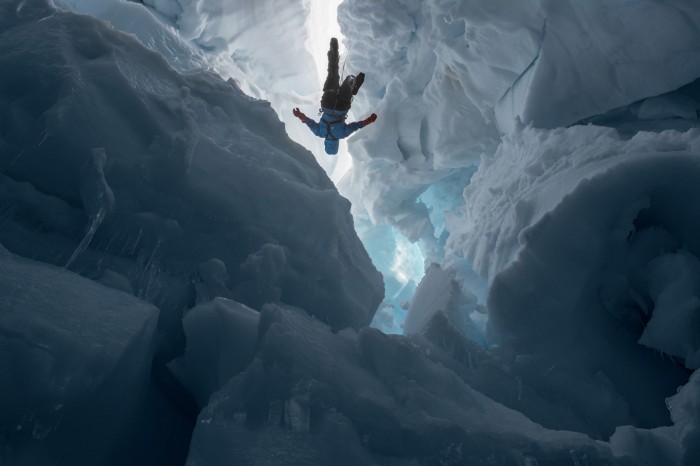 Caught in the act This image of a researcher seemingly suspended in an Antarctic glacier is part of a monograph called Human Nature by photographer Lucas Foglia. Foglia captured researchers, including climate scientists and neuroscientists, as they explored how humans are benefiting from, and rapidly altering, the natural world. The works are on view at the Foam museum in Amsterdam.
Underwater volcano In January, researchers reported the first detailed investigation of the underwater volcano that produced the largest deep-ocean eruption in history. This high-resolution visualization of the Havre volcano, the top of which sits 650 metres below sea level near New Zealand, was created using data collected by autonomous underwater vehicles. The feature was spotted in 2012, when passengers on an aeroplane saw a 'rock raft' on the sea below, made of pumice that had formed from erupted material.
Antarctic light trick This image might look like vintage snap, but US photographer Christopher Michel captured it on a recent expedition to Antarctica. The central halo and three bright spots are the result of an optical phenomenon called a sun dog — or parhelion — which occurs when ice crystals in the atmosphere refract sunlight.
Rarely seen remains Spain began experiencing its worst drought in decades last year, as dry conditions, wildfires and crop deaths wrought havoc, and reservoirs hit historic lows. In this image, taken on 11 January at a reservoir in Vilanova de Sau, Catalonia, the usually submerged remains of an eleventh-century church are exposed by low water levels.
The deep freeze Readers on North America's east coast will recall the New Year's frosty welcome, thanks to an icy weather system dubbed a bomb cyclone. Pictured here is a frozen observation point on the Canadian side of Niagara Falls.
Warfare and wildlife When humans wage war, what happens to other animals? A study published in January made one of the first attempts to address that question. Elephants and other wildlife in Mozambique's Gorongosa National Park — pictured here — were devastated by civil war in the 1980s and 1990s, but have bounced back in the past decade thanks to a concerted conservation effort by the country's government.
Snow in the Sahara You're not imagining it — that's snow in a desert. The Sahara desert. Residents of Aïn Séfra, a nearby Algerian town, woke up to snowfall in early January. It's the third time in about 40 years that snow has fallen in the Sahara. Desert air often cools to near freezing during the night, but rarely does enough water accumulate in the air for snow to form.
Monkey clones Meet Zhong Zhong and Hua Hua — some of the world's first baby monkey clones. Biologists in China revealed on 24 January that they had created the first primates cloned using a technique similar to the one that produced Dolly the sheep. Primates have proved tricky to copy using the usual cloning technique, so researchers in Shanghai combined several methods developed by other groups. They created 109 cloned embryos, and two of the long-tailed macaques (Macaca fascicularis) survived to birth.
Surgery as you've never seen it A January story in The New York Times detailed how surgeons at New York City's Lenox Hill Hospital are the first in the United States to perform surgery 'in 3D' using a device called a videomicroscope. Physicians, here operating on a brain, wear 3D glasses to watch a monitor that allows them to see magnified, high-resolution and three-dimensional images of surgery sites.
Devastation in California Mudslides tore through southern California in mid-January, weeks after huge wildfires ravaged parts of the region and burned vegetation, making the land less resistant to mudflows resulting from a heavy rainstorm. More than 20 people died. Here, emergency services respond to the situation in Santa Barbara.
Furry friend This unusual visitor to 10 Downing Street, the UK Prime Minister's residence, might have been hoping to influence the government's 25-year environmental-protection plan, released on 11 January. (Unconfirmed reports suggest the fox may have been drafted in to lend its cunning to the notoriously fraught Brexit negotiations.)
Covered in ash More than 80,000 people near Mount Mayon in the eastern Philippines have been evacuated because of ongoing eruptions in the nation's most active volcano. The mountain has been spewing lava and ash for more than two weeks.
Blue on green This image of the majestic Thórsmörk valley (the valley of Thor) in Iceland won Polish photographer Witold Ziomek a category prize in this year's Outdoor Photographer of the Year competition. The overall winner will be announced on 17 March at The Photography Show in Birmingham, UK.