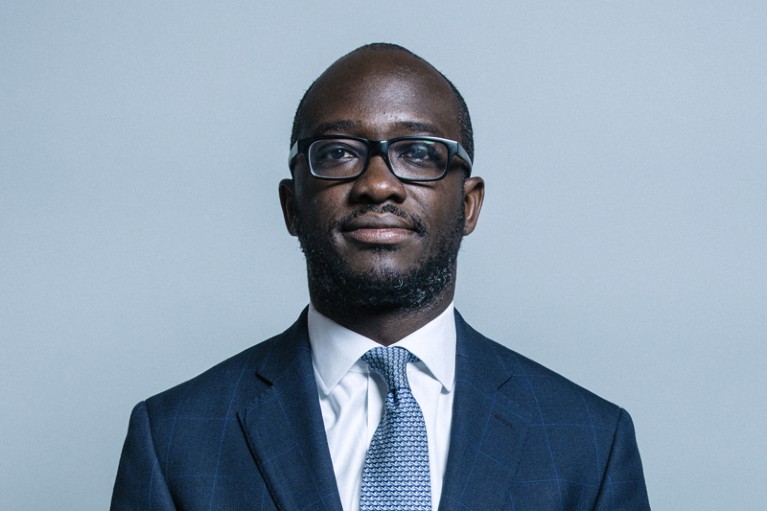 The United Kingdom has gained a new science minister as part of a broader reshuffle of government posts. Sam Gyimah, who moves from the Ministry of Justice, was appointed minister for universities and science on 9 January, replacing Jo Johnson.
Johnson, who had been in the job since May 2015 and had overseen some major reforms in the role, has moved sideways to become a minister at the Department for Transport.
Gyimah, who is 41, became a Member of Parliament in 2010 and is seen as a rising star in the governing Conservative party. He campaigned for the United Kingdom to remain in the European Union as part of the 2016 referendum, targeting young voters in particular. He has also called for immigration reforms that would make it easier for highly skilled people, such as computer scientists, to obtain visas.
Beyond that, Gyimah's record so far shows little engagement in scientific issues, says Sarah Main, director of the London-based lobby group the Campaign for Science and Engineering. But previous interest is not a requirement for a new minister, says Main. "What is very helpful is if they are really engaged with the brief and willing to get their teeth into it," she says.
With Britain's departure from the EU looming, an early priority for Gyimah should be ensuring that science remains at forefront of Brexit negotiators' minds, says Main. "That will be a big challenge this year as negotiations start to go faster, and become more high stakes," she says.
In particular, Main hopes that Gyimah will continue hosting a monthly forum, started by Johnson at the end of 2016, that is designed to inform the United Kingdom's position in Brexit negotiations. Representatives from science and higher education attend the meeting, along with a minister from the Department for Exiting the European Union. Engaging with the Home Office to ensure that the scientific community's interests are reflected in a coming immigration bill should also be a priority, says Main.
Education focus
Although he is little known to the research community, Gyimah has expressed an interest in education. Writing on a now-archived page of his constituency website, he attributed his drive to enter politics to "the positive role education has played in my own life and how that could be made possible for all".
Born in the United Kingdom to Ghanaian parents, Gyimah attended state-funded schools in both Ghana and Britain, and has a degree in philosophy, politics and economics from the University of Oxford, UK. He spent five years at the investment bank Goldman Sachs, later setting up small businesses in the recruitment and Internet sectors before entering politics.
Before becoming a justice minister, Gyimah served for a year as minister for childcare at the Department for Education, where his work covered children's and young people's mental-health services.
Fight for funding
As it was under Johnson, the role of universities and science minister will remain split between the Department for Education and the Department for Business, Energy and Industrial Strategy.
Gyimah is likely to face a steep learning curve in his new role, says Nick Hillman who is director of the Higher Education Policy Institute, a think tank in Oxford, and served as an adviser to a previous science minister. While familiarizing himself with the higher-education and research systems, the minister should also work to cultivate "the closest possible relationship with the Chancellor of the Exchequer" — Britain's finance minister — "particularly in relation to R&D spending", he says.
During Johnson's time as minister, the Conservative government committed to boosting the country's combined public and private spending on research and development from 1.7% of gross domestic product in 2015 to 2.4% by 2027. This support for science from the top echelons of government means that although higher education may absorb much of the new minister's time, from a political perspective, he may find the science brief "quite appealing", says Main.
Johnson's tenure will also be remembered for the introduction of controversial and sweeping reforms to the UK higher-education and science-funding system, which were passed by Parliament in April 2017. The shake-up included the creation of UK Research and Innovation, a powerful new centralized science-funding agency responsible for distributing Britain's £6-billion (US$7.8-billion) research budget.
He also introduced the Teaching Excellence and Student Outcomes Framework, a system intended to evaluate teaching at UK universities. "He certainly rocked the boat, but he did a lot in two and a half years," says Main.