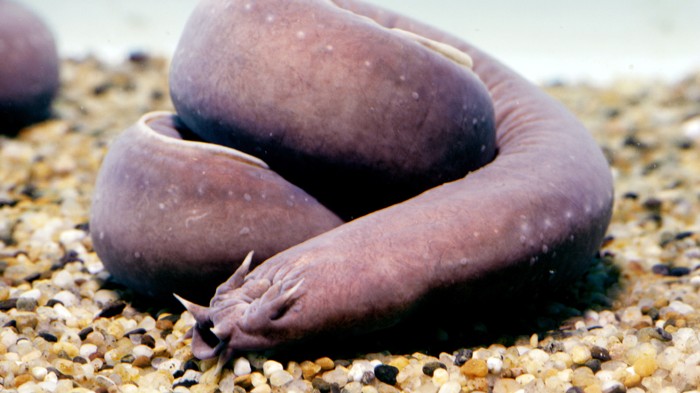 Zoology
Baggy skin keeps hagfish safe from danger
Even a shark bite can't damage the vital organs of a slimy scavenger called a hagfish, thanks to the fish's loosely attached, flaccid skin.
After a chomp from a hungry predator, hagfish emit a cloud of goop that repels foes. To find out how a hagfish survives the initial attack, Douglas Fudge at Chapman University in Orange, California, and his colleagues fastened a mako-shark tooth to a makeshift guillotine and plunged it into fresh corpses of both Pacific and Atlantic hagfish (Eptatretus stoutii and Myxine glutinosa, respectively) and the closely related, but taut-skinned sea lamprey (Petromyzon marinus).
The flexibility of the hagfish's skin allowed its innards to slip away from the tooth when the skin was punctured. The lamprey suffered a bloodier fate: in every test, its muscle was punctured. The finding showcases the versatility of the hagfish's saggy skin, which also allows the animal to tie itself in knots and burrow into the sand and mud.