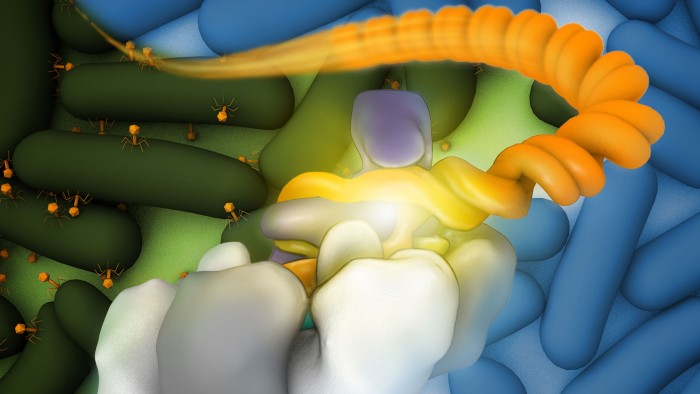 Molecular biology
CRISPR seen in action
Electron-microscope images reveal how a CRISPR system marks specific DNA sequences for destruction.
Microbes use CRISPR as a defence system to fend off viruses and other invaders, and geneticists have harnessed it to alter DNA sequences in a process called gene editing.
Sriram Subramaniam at the National Cancer Institute in Bethesda, Maryland, and his colleagues used cryo-electron microscopy to watch a CRISPR system from the bacterium Pseudomonas aeruginosa as it bound to DNA. The team found that this process causes large structural changes in an enzyme complex called Csy — which recognizes the target DNA — and the fragment of 'guide' RNA that steers Csy to its target. These changes could be important for allowing other enzymes to cut the targeted DNA. The team also showed that three viral inhibitors of CRISPR work by preventing the binding of Cys to its target.